It's quite vexing when things don't go according to plan. If you're trying to add Cash App to Fanduel, you may experience failure because Fanduel doesn't seem to work with the Cash App as yet.
Loading funds into your Fanduel account through the Cash App can be quite easy and secure, but the real question is: can you?
Maybe you've already tried linking your Cash App account to Fanduel but eventually failed, so you've stumbled upon our site.
You don't need to lose your pecker up, as we've workarounds that will help you solve your issue, which may not be straightforward.
In this blog post, we'll discuss how you can use the Cash App card to make payments to your Fanduel account with ease.
So without further ado, let's jump right in – You can skip the mundane part and jump to the main part of the article.
What Is Cash App?
Cash App is one of the best peer-to-peer mobile transfer apps developed by Square, Inc. It allows users to send and receive money to and from friends and family, buy stocks, bank, and invest in Bitcoin.
It is one of the most popular mobile payment apps in the US, with over 40 million active users as of now. If you have a Cash app Visa prepaid card, you can pay for goods and services both online and in-store.
Additionally, Cash App offers rewards and cash-back programs that reward users for using their app. Besides, it also offers a loan from $20-$200 for direct deposit users.
When it comes to payment methods, Cash App accepts credit and debit cards licensed by Visa, Mastercard, Discover, and American Express.
All you need is a phone number and a bank account to get started. You can simply link your debit or credit card and start sending and receiving cash.
What Is Fanduel?
Fanduel is a fantasy sports and money-making online gaming platform founded in 2009 as a daily fantasy sports platform and has since expanded to offer more options, including a sportsbook, casino, and horse racing.
On Fanduel, players can create teams of real-life athletes or play in live or simulated games. Players can wager on various sporting events.
The platform has become one of the most popular fantasy sports platforms in the world, with over six million registered users.
With its variety of options and great customer service, Fanduel has become a go-to destination for gamers and gamblers alike.
How Does Fanduel Work?
Fanduel is a daily fantasy sports platform that allows you to play various sports games like hockey, college and pro football, baseball, and more.
It's an exciting way to get involved with the world of sports betting and offers a wide range of contests and games for players of all skill levels.
It offers both free and paid entry options, so you can choose the one that works best for your budget. With free entry, you can join in on a variety of games, while with paid entry, you can enter larger tournaments with bigger prize pools.
When you join a game on Fanduel, you'll first need to create a team. You'll be given a virtual salary cap, and you'll need to select the players who will make up your team.
You'll have to consider the players' stats and their potential performance in the upcoming game or tournament.
Once you've selected your team, you'll join the pool of participants in the tournament or game. Your team's points will be calculated based on the performance of the real-life athletes you selected.
The team with the most points at the end of the game or tournament will be declared the winner and will win the cash prize!
Fanduel also offers a variety of bonuses and promotions to help you get the most out of your experience. So no matter what kind of fantasy sports fan you are, Fanduel has something for everyone.
Fanduel Payment Methods
Fanduel offers a host of payment methods to make it easy and convenient for users to deposit funds into their accounts. These include credit and debit cards, PayPal, PayNearMe, Gift Cards, Wire transfers, checks/e-checks, and Green Dot MoneyPak.
All major credit and debit cards are accepted by Fanduel, including Visa, Mastercard, American Express, and Discover. However, some banks or credit unions may block transactions from Fanduel due to their gambling policies, so it's best to check with your bank if you run into such issues.
PayPal is a quiet payment method among Fanduel users. It's fast, secure, and convenient, allowing users to deposit money quickly into their Fanduel accounts.
But it doesn't have a Cash App option or any other third-party source except the options listed here. Maybe we can see more third-party options in the next updates.
Here's the catch: even though Fanduel doesn't support Cash App, you can still use Cash App to add funds.
Can You Use Cash App card With Fanduel?
Unfortunately, no, you can't use Cash App directly. That means Cash App cannot be added to the Fanduel by your username, email, or phone number. So how will you actually add it?
Well, you can order a Cash Card, a Visa debit card that turns your Cash App account into a full-fledged bank. It uses your Cash app balance and allows you to make a payment online or in-store, or it can be integrated into Apple Pay or Venmo.
On top of that, you can get paid up to two days early when setting up a direct deposit account.
So, you must order the Cash Card, activate it, and then link it to your Fanduel account to deposit funds.
Here's how to order Cash Card
Launch the app on your phone.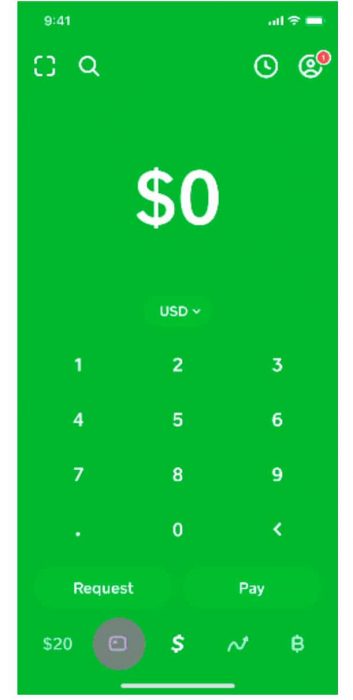 Tap the Cash Card option located at the button on the screen.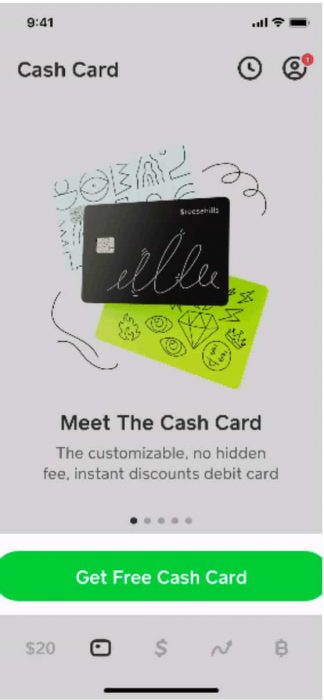 Tap "Get Free Cash Card" and continue.
Follow the prompts.
Note: You must be at least 18 years old and have a bank account to be eligible to order this card. You will receive your card within a few days if you're eligible. Activate it through your CashApp account by scanning the QR code.
How To Use Cash App With Fanduel Sportsbook
As we know, there is no direct way to link your Cash App to your Fandual account, as we first need to order the Cash card in order to load funds using the Cash App.
We've already mentioned how you can order the Cash Card. Once you've received and activated your card, follow the steps below to add it to your Fanduel account.
Go to the Fanduel website and log in to your account.
Click on the green "Deposit" button at the top right corner of the screen.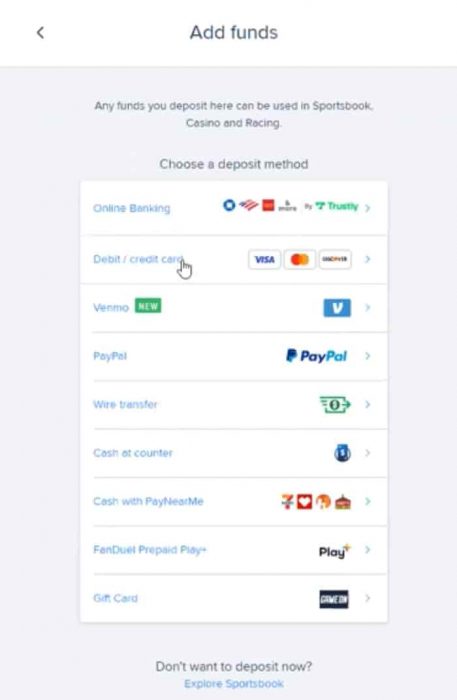 Now you'll see all the available payment options for depositing cash. Simply, select Debit/Credit card.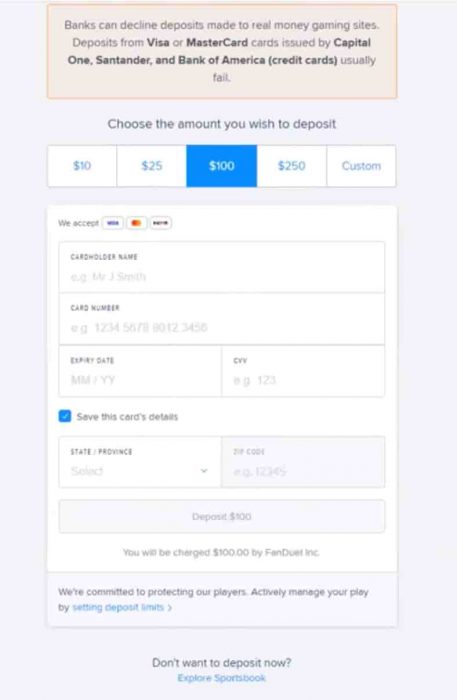 Now enter your Cash App's Cash card details and hit the "Deposit" button.
Your payment option should have been added successfully, and you'll be charged the amount you want to deposit.
Make sure you enter the correct card details, or it will be declined. If your card is declining or throwing errors, confirm with your bank or credit union if it has blocked real money gaming sites. Also, ensure that your bank account has a sufficient balance to initiate a transaction successfully.
The Benefits Of Using Cash App With Fanduel
Unarguably, Fanduel accepts a host of payment methods to deposit and withdraw funds. CashApp could be a decent option, but it doesn't carry as much weight as PayPal or online banking.
Debit and credit cards are still the primary options for so many users, with Paypal being the most useful third-party source for secure and convenient transactions.
However, plugging Cash App into the Fanduel might be a great option only for users with a Cash Card. Since you cannot add your Cash App account directly, you must have a Cash Card, a Visa debit card offered by the Cash App.
Regarding the benefits of using the payment App with Fanduel, both services can take a load off users' shoulders by making deposits quickly and easily. But you won't find Cash App in the Fanduels Withdrawl's options, which is a huge drawback.
Another advantage is that Plaid supports Cash App, which can enhance users' security further by keeping their financial data safe and secure.
Furthermore, Cash App offers fraud protection of up to $250,000 per user with the help of FDIC "pass-through" insurance, giving you peace of mind when making deposits.
Wrapping up
Using the Cash App with Fanduel is a great way to manage your money and play games on Fanduel. You can easily deposit funds and withdraw winnings to get the most out of your Fanduel experience.
Plus, it's simple to set up and use so that you can start immediately. Cash App provides an easy, secure, and convenient way to play and pay with Fanduel. The Cash App is a great option if you're looking for a reliable and efficient way to pay with Fanduel.
Frequently Asked Questions (FAQs)
Why is my deposit not going through?
If you're unable to make a deposit to Fanduel using your Cash Card or other card options, make sure the details are correct and your bank has no restrictions or is blocking the transaction.
Why can't I use the Cash app with Fandeul?
Fanduel has no option to link your CashApp account, but you can use your Cash Card to deposit funds from your Cash App balance.
Does Fanduel support Visa?
You can use Visa cards, but some banks don't support real-money gaming sites. So confirm with your credit union or bank if your transaction is declined.
You might Like:
– Can you use Cash App with Spotme?