No doubt Chime has been in the buzz since its launch. It is one of the most reliable mobile banks with over 13 million users, making banking a painless experience.
Chime is still hard to grasp for many users who've only used the app to manage their money. If you want to know how to see your Chime balance without an app, you're in the right spot.
When someone downloads an app, especially a banking app, the most common use of it is to check a balance.
What is Chime's running balance?
Balance is the amount of money your spending and savings account holds. It's the money you can withdraw, transfer, pay bills or shop online using a debit or credit card. In fact, without such a balance, there is no meaning in opening a bank account.
Whether it's Chime or any other bank app, you need to load your bank or credit card to use the services that your financial institution offers. When you set up a direct deposit, your payroll provider deposits funds to your checking account, that'll also reflect in your Chime funds.
There are three types of Chime balance you can view –
Checking account –
The Chime active debit card is associated with a checking account, not a savings account. This means the funds will be visible in your checking account whenever your direct deposit hits or when someone cashes a check or transfers money. It's the balance you don't want to hold or save.
Savings account –
In a Savings, you save money by earning interest and in money round-ups. It's an optional account you can open if you want to save money automatically for a rainy day or any other cause.
However, you've to fund your savings account through your checking or spending balance since there is no direct way to transfer cash to your savings.
Credit builder –
It's a line of credit that Chime offers for free for members who receive $200 or more in direct deposits. You need to transfer funds from your spending account and spend on your Chime credit card to grow your credit score.
Your on-time payments are reported to the major credit bureaus whenever you spend with your credit builder card, wherever a Visa is accepted.
How to view Chime balance without app?
Check via website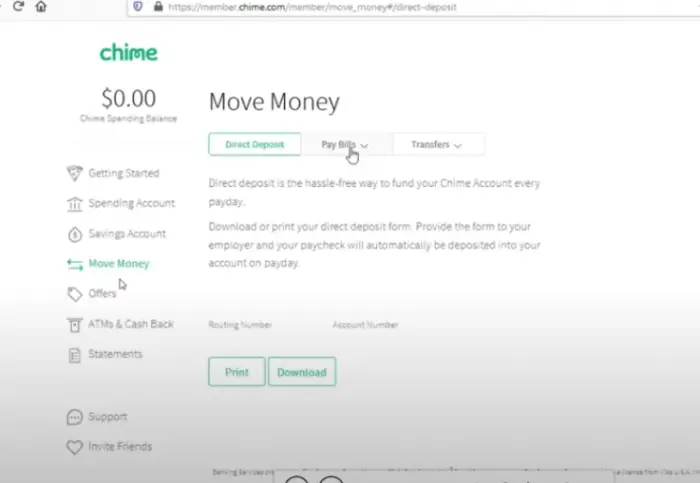 Spending
Go to Chime.com and log in to your dashboard.
In the dashboard, you'll see your Chime Spending Balance on the top left side of the screen, below the logo.
Savings
On the home screen, navigate to the Savings account tab from the list of options.
Here, you'll see the savings balance that you've transferred from your spending account.
Credit builder
Again, you've to land on your Chime dashboard.
You'll see your Credit builder balance right above your spending balance on the top left side of the screen.
Using ATM
Drive down to any fee-free ATM which is nearby your location.
Insert your debit card into the machine so it can read your card instantly.
Enter your Pin, and you'll be forwarded to the main screen.
Choose "Statement and balances", and you can see your current money.
(Note: You can also use a Chime credit card at an in-network ATM to avoid fees.)
How to check my Chime direct deposit funds?
Your direct deposit funds are deposited in your spending account. So whenever you receive your paycheck, Chime post it directly to your checking account. However, if you don't see your deposit, it may be in your pending transactions till the bank clears it.
To check if you've any pending deposits in your spending account, check a grey transaction yet to be posted.
How to view mobile check deposit balance?
If your mobile check deposit has successfully been processed, you'll see the funds in your Chime spending account shortly. You may've to wait for the fund to reflect in your bank.
Frequently Asked Questions?
Why do I not see my Chime balance?
You've to reload your Chime account via an external account or active debit card to see any funds. If you've already deposited funds, wait up to 5 days for Chime to post your fund. To see any pending deposits, you can check your transactions.
Can I check my funds using a Credit builder card at ATM?
Yes, you can view Chime funds via your debit or credit card at any In-network or Out-of-network ATM. There are more than 60,000 fee-free ATMs you can put out your money from. If you use any out-of-network ATM, fees may be applied.
Can I check the chime balance without logging in?
ATM doesn't require a login. However, it is quite a workload that you may want to avoid.
Why do I have a negative balance?
If you're a Chime SpotMe member, your balance could reach negative up to your SpotMe limit. With SpotMe, you can borrow cash from Chime with zero balance. However, your account can be closed if you keep a negative balance for 120 days.
Wrapping Up
This is how you can check your Chime balance without an app. There are a few ways to do that we've already mentioned in this article. Whether you want to view your checking account, credit builder or savings funds, you can follow this article.
In case your internet is poor, and you want to view your Chime funds, ATM is the only option left.
Related Articles –
Chime Bank Holiday pay schedules