Chime is an online fintech company that simplifies banking. As of now, it has garnered more than 14 million active users in the U.S who are growing their money and getting early paychecks.
Chime has a bevvy of features that takes time to understand for neophytes. So if you're starting out with the app and want to locate where it shows your pending deposits, you've stumbled upon the right place.
Since Chime manages millions of direct deposits from thousands of payroll providers, it will ask for trouble if it does not show pending deposits to users. So without any further delay, let's barge forward.
What is Pending deposits or transactions on Chime?
Chime pending deposits are the payment you've received from your benefits provider or employer, which is still being processed and not cleared by your financial institution. Your deposits will hit on any business day once they get cleared by the bank. It may take up to 5 business days from the day of transfer.
You'll see your pending transactions also when someone deposits funds to your checking account via direct deposit, mobile check or bank transfer.
Can you check pending deposits on Chime?
Yes, you can check all your recent pending and paid deposits in the transactions tab. If you've set up and verified your account and received your first deposit, you will see it in your transactions tab, whether paid or pending. Chime sends you a push notification whenever any payment hits your account.
However, to receive push notifications on your smartphone, you've to enable the "Transaction notification" on your Chime app.
How to check pending deposits on Chime?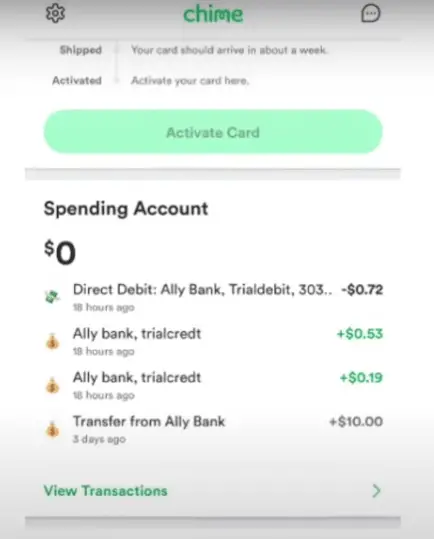 Go to your phone's home screen.
Launch your Chime app (Make sure you're logged in.)
Under the spending account, you'll see your greyed-out pending deposits right on your active screen.
You can sort your transactions by Chime transfers, direct deposits or mobile checks.
Why is Chime pending my transactions?
Usually, direct deposits can be in pending transactions for up to 5 days due to many factors. It may occur due to exceeded deposit limit or when the system faces any technical difficulty. With Chime, you can make up to 3 three deposits a day and cannot deposit more than $1000 per day or $10,000 per month in total.
So, if you exceed your deposit limit and accidentally initiate a deposit, you can cancel a transaction.
How to Cancel Chime pending payment?
Open your Chime app and login in.
Navigate to your pending transactions.
Find and tap the transaction you want to cancel.
Hit the Cancel Transfer button and confirm it.
Note: Contact your payroll provider to confirm cancellation after cancelling your direct deposit.
If your Chime transaction is still pending and not cancelled, you can file a dispute over the phone or shoot a mail to support@chime.com. However, it may take up to five days to clear it.
You might like – Why is my Chime direct deposit is taking longer?
Frequently Asked Questions (FAQs)
Can I get a refund if the payment is pending?
You'll get a refund on your Chime debit or credit card if a merchant cancels a pending transaction. It might take seven business days for the refund amount to reflect in your Chime checking account or credit builder card.
Can I check my pending deposits at ATM?
No, you cannot check your pending transactions at ATM, but you can check bank statements or all completed transactions of your bank account.
Why my Chime pending transaction expired?
Whenever a merchant or recipient has failed to complete the process or does not claim a fund, your fund will be reverted to your account within seven days. However, pending transactions expire in 2 or 3 days or may take up to 7 days. If you've sent a "Transfer a friend" payment and want to cancel it, you can also call Chime support to cancel your payment.
Why am I not seeing any Chime pending deposits?
You're not seeing any pending status because you've no pending deposits or your deposit didn't go through well by a sender. In the case of Chime transactions, you'll see your funds in your account, but if you don't see your pending direct deposit, contact your benefits provider to know more about a transaction.
How to check my Chime pending mobile check deposit?
On the same activity page where you check all your transactions, you can choose your transaction type from all the types of deposits that Chime supports.
Wrapping Up
This is how you can see or check your Chime pending deposits easily. To sum up, transactions which have been processed and completed are shown in green text, while transactions which are still being processed are in greyed-out text.
If you're looking for any specific transaction, you can sort by its type to make this a little easier.