SpotMe is an optional Chime feature that covers up to a $200 overdraft fee without any additional charge. Loans are offered for qualified direct deposit members who receive a steady cash flow of at least $200 or more. With this feature, you can overdraw your account for free up to your qualified limit when using the Chime active debit card.
It is quite helpful to cover an extra expense or cash gap at gas stations or make a payment via Chime active debit card.
The best part of it is that it is free and doesn't cost any additional fee, unlike other banks that waive hundreds of dollars in overdraft fees yearly.
However, it allows only certain types of transactions via debit card, in which ATM withdrawals are included. Unfortunately, SpotMe doesn't cover "Pay to friends" or transfer to an external account. You can't use it with any Peer-to-peer app like Cash App, Venmo, Zelle, or Apple Pay.
Why can't you use Cash App with Spot me?
Cash App is a P2P money transfer app, not a bank, and so is Chime. But Chime acts more like a bank than a money transfer app, even though it supports fund transfers.
Both the platforms share almost the same features, be it a direct deposit, paper check, or money transfer, and recently the Cash App has rolled out a payday loan feature, which is quite similar to that of spot me.
Since both are two different companies with a different perspective, so it's impossible to interchange or use one's service with another. However, you can send cash from Chime to the Cash app or vice-versa.
SpotMe vs. Cash App borrow?
Both services provide up to $200 overdrafts to spend on your debit card. However, Cash App charges a flat 5% fee when you borrow a loan on your paycheck from any amount ranging from $20 – $200 – which is significantly low compared to the average payday loan.
Its payday loan service is not as popular as Chime's because it's new and available to only limited U.S users. Besides, to unlock Cash App loan, you must receive at least $1000 per month on your account, which is fairly a caveat for many users.
With Chime, you need at least $200 per month to qualify for a loan, and there is no interest rate. That could be why people are considering Spot me over Cash App borrow.
Discover: How to borrow money from Chime (Simple ways)
What's the best way to use SpotMe?
This feature will be life-altering if you're a Chime verified member with an active debit card. It allows you to overdraw your account by $200 on debit card purchases and withdrawals.
However, when your overdraw exceeds your limit, the transaction will not be processed. For instance, if your limit is set to $30 and you've $50 in your checking account, you can't make a transaction of more than $80.
You can see your current limit right on your Chime settings. Your limit is basically an ability to overdraw your Chime checking account. It can be increased over time based on your spending activity, account activity, direct deposits, and other factors.
SpotMe doesn't cover certain types of transactions.
Non-debit card.
Chime transfers, Pay anyone, or checkbook transactions.
How to get an overdraft with SpotMe?
The Chime will notify you once you're enrolled for SpotMe. It spots your account with a fee-free payday loan that you can use to cover bills or an expense.
It's the fund you cannot save or transfer, as you can use it with your Chime active debit card at ATM or when you need a little cushion to make online payments or pay bills exceeding your transaction limit.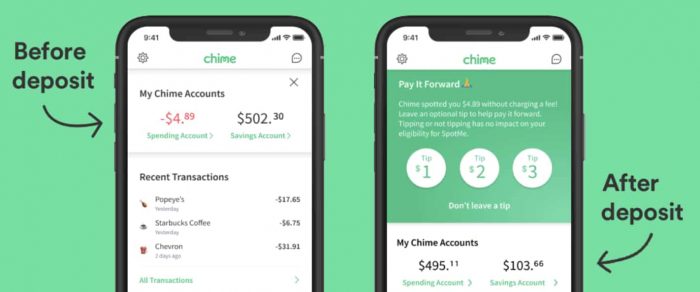 You receive your payday loan each month, which gets clawed back from your next paycheck. You can afford to get it as long as you're receiving $200 via direct deposit.
Set up SpotMe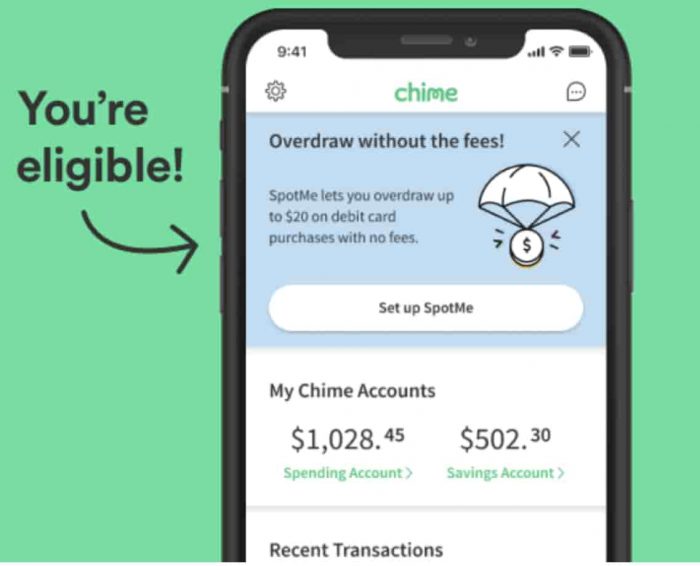 Tap "Set up SpotMe" (You won't see this feature if you're not qualified).
And it will cover your expense up to your limit (Which is $20 initially) whenever your debit card purchases or withdrawals go beyond your balance.
How to boost your SpotMe limit?
Since your limit depends on your spending history, including other factors. Chime also offers you four new monthly boosts to pay forward to your Chime friends when they are in a pinch. Likewise., your friends can return a favor by paying forward their boosts
you can also get boosts from your friends and fam and bump up your borrowing limit until the next payday.
Chime users can pay forward their overdraft loan every month after their negative balances are repaid. Anyway, it's not a reward; boosts are also added to a negative balance.
Also read: Check Chime balance without app?
How do you use Cash App Borrow?
With Cash App, you can get instant funds up to $200 and repay it on your next paycheck, in four installments, or total cash. It's a type of short-term loan that imposes up to 5% interest rates for four weeks of loan terms, and there is a $5 late fee for any outstanding balance not repaid within 7 days from the due date.
To use its Borrow service, one must have an active Cash card to make payments and withdraw funds. Once you get an instant loan from Cash App, you can use that fund anywhere, transfer or withdraw from any fee-free ATM: there is no restriction on transactions like Chime.
However, if you do not repay the loan within four weeks, it might have a negative impact on your credit score. Since Cash App Borrow performs credit reporting, you can leverage it to solidify your credit history as well – it's just another side of the coin.
How to unlock Cash App loan?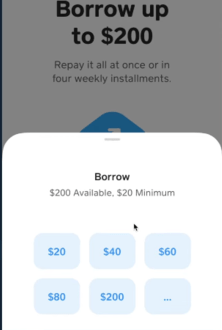 Launch the app.
Navigate to the Banking tab or Search "Borrow."
Next, scroll down to the bottom and tap Borrow.
You'll see your borrowing limit from $20-$200, tap Get started.
Agree to the loan agreement terms, and you're done.
(If you don't see any Borrow option, tap Contact Support to know more about your loan eligibility.)
Cash App loan requirements
Receiving a minimum of $1000 per month into your Cash App checking account via direct deposits for atleast three consecutive periods.
Activated Cash card and the state you're living in.
App Usage history.
Your credit history must be in good standing.
Who should borrow cash from Chime or Cash App?
It depends on how you want to spend your cash. If you get an advance from Chime, you can use it via debit card to make specific transactions. In contrast, Cash App lets you use funds from its Cash card in any way you want. If you need a loan for transfer purposes, Cash App is the best option.
The downside with Cash App loan is that it is difficult to get in, as it requires a whopping $1000 per month in direct deposits and decent credit history.
Chime loan doesn't levy any fees or interests and has greater approval odds than Cash App, so if you want a fee-free payday loan, Chime is the best bet.
Alternatives to SpotMe and Cash App Borrow
There are a few similar companies that offer short-term payday loans you might want to try.
Possible Finance – It instantly spots up to $500 at reasonable APR rates without any credit check. To qualify for a Possible Finance loan, all must be receiving $750 monthly direct deposits and be U.S residents.
MoneyLion – It allows you to borrow up to $250 at 0% APR rates via Instacash, an optional free service offered to direct deposit users. However, you can pay a turbo delivery fee if you wish to receive your cash advance within minutes. It doesn't check your credit or charge a monthly fee.
Frequently Asked Questions (FAQs).
Can you send money from SpotMe to Cash App?
No, Spot me covers certain debit card transactions, including online payments and withdrawals. It doesn't back non-AHC or ACH transfers in or out of the Chime, nor can you deposit a cheque.
Does Cash App have spot me?
No, it is only available for Chime members.
Wrapping Up
So it's clear why you cannot use SpotMe with the Cash App. We've covered almost every facet of both services and also piled up a few payday loan alternatives that are no less.