Taz Credit Card is an online Credit builder card that helps rebuild credit history. It's safe to use and available to download on Android and IOS. Also, it has a website that looks quite static and is not overwhelmed with many options.
Taz is basically built for people who are not getting any better loan opportunities due to poor financial history. If you're already Taz Cardholder or have recently become one and trying to log into your Taz account, we've your back.
How to Login to the Taz Visa Credit Card account?
You can access your Taz account via the website or app if you have already enrolled for the Taz Credit card. Either you sign in via the web or the app, you'll be able to manage your account, make a payment or contact support.
There are two ways to log into the website if you are a Taz cardholder. One from the Homepage when you simply land on the website, second via a separate Cardholder page.
Both options will redirect you to your account, so there is no need to bookmark the second option for login.
Here are the login pages of the Taz Visa credit card
www.tazcc.com/cardmemberservices/
How can new members apply for the Taz credit card?
If you're applying for the Taz Credit card, first, you need to sign up by filling in the basic information like your credit card number, SSN, Username, Password, Email address, and mobile number.
You'll receive an offer in the mail with the Reservation number and Access code if you're qualified.
After that, you must enter your Reservation number and Access code to activate your account or access your Cardholder page.
However, if you don't receive an offer, that means you are not qualified.
It may check your payment history, income, account balances, transaction history, and credit history. In order to qualify for a Taz Credit card, you should receive a steady income or balance in your bank account.
It doesn't check your credit score, but if your credit score is above 450, your chances of getting qualified are more.
How to get and use the Reservation number and Access code?
New members need to sign up to receive one of its Credit cards offers in the mail. You'll find your Reservation number and access code that you need to submit to get started with the Taz Visa Credit card.
Whether you'll receive the mail or not lot more depends on your qualification. Also, which offer you receive in the mail is up to the company what offer it selects for you while approving your account.
However, if your approval odds are less, you won't receive a mail so will the access code.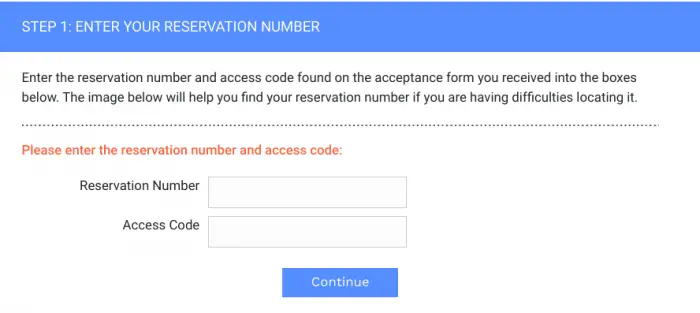 If you've already applied and found the acceptance form, copy your Access code and Reservation number and submit them on the website to activate your account and get a credit line.
Enter your Reservation and Access code here 
How do I find my Reservation number and Access code?
You'll find them in the Acceptance form you received in the mail. Again, the acceptance form won't arrive if your application is denied. In order to increase your approval odds to qualify for the Taz Credit Card, you must meet the requirements.
In the below picture, you'll find an example of what your Reservation Number and Access Code will look like. Both are placed inside the box connected to a different box, as shown in the image.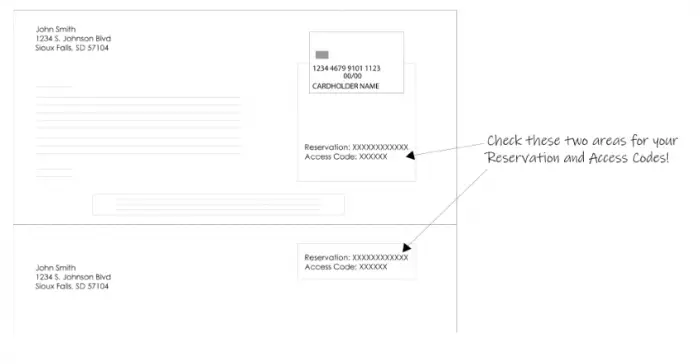 Why didn't Taz Credit card approve my application?
Taz collects some of your personal information when you register. If any of your information is wrong or not what they're looking for, your application could be rejected.
For example, if your SSN or phone number is incorrect, your account will not be approved. Also, your application will decline if your Payment history or income doesn't fit the company's needs.
Ensure you've no debt-to-income ratio or negative payment history to qualify for the Taz Visa Credit Card.
In case your application was denied because of income or payment history, you must clear all your debt before applying for the next time.
Your income doesn't have to be great; you just require a consistent cash flow to your bank account over three consecutive months.
Why can't I log in to my Taz Cardholder account?
You may have entered the wrong username or password if you can't access your Cardholder page. Ensure you're using the correct login credentials you've created while signing up. Double-check if your password has no typos: Passwords are case-sensitive.
If your login details are correct and you still can't access it, try to clean up your cache and cookies and then try again.
You can contact customer support and have them investigate this issue further.
How to Reset Taz Visa Credit Card Password and Username?
This is quite helpful if you've lost or unable to remember your login details. By resetting your password or username, you can create a new password or username. You must have your phone number and email address to receive OTP. Here's how to generate new login details.
Head over to the login page.
Tap Forget Username/Password below the login box, and then Continue to complete the security verification process.
On the Account Verification page, enter your Taz Credit card information.
Create your new Password or Username and confirm.
How to Contact the Tazcc.com Customer Support
You can contact this financial company by visiting its physical location or calling customer service. Its customer service is available on all working days & hours. When you decide to visit or call, always keep your credit card information for authentification.
You can ask about your Taz account and file a dispute if anything happens to your account or payment.
Correspondence Address
Taz Visa
PO Box 5081
Sioux Falls, SD 57117-5081
Contact Number – 888-803-6634
How Do I pay my Taz Credit card bills?
Paying off your Taz Visa card payments is super easy. You can pay your bills online, through the app, or cash a check. It only doesn't accept cash in an envelope.
You can directly send your payments to its Payment address. But the only problem with this type of payment is that they may arrive late. So make sure you send offline check payments atleast seven days prior to your due date.
Payment Address
Taz Visa
PO Box 2876
Omaha, NE 68103