Continental Finance's Reflex Credit card, issued by Celtic Bank, is one of the best options for People with a poor credit score or who are overlooked by traditional card issuers or banks.
So if you're a new Reflex card holder, you might want to know how to access your account. If you already know how to log in to your Reflex Credit card account, you can skip this article or learn more about payment methods, fees, customer service, registration, and more.
We've crafted this article so you can get a little insight into Reflex Card. So without any further ado, let's get started.
How to Login into your Reflect Credit card account?
You need to access your account to pay your card bills, check your credit history, and contact customer service. If you don't know how to sign in, don't worry, we've your back.
Accessing your Reflect account is quite easy; you just need to enter your login information, which will redirect you to your account page.
However, you can only access your account if you sign up. So, if you've received your login information, follow the steps below for Reflex login.
Login Via Website: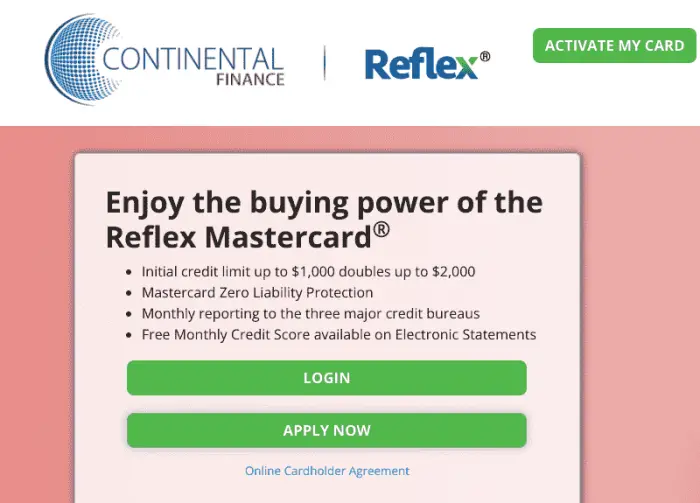 Go to www.reflexcardinfo.com.
Tap the green LOGIN button, as shown in the picture.
Next, enter your Username and Password and hit the blue button.
Or you can directly visit yourcreditcardinfo.com/?product=reflexput and sign in.
Via Android or iOS app
Why can't I log in to Reflex CC?
There could be several reasons you cannot log in to your Reflex CC account. You may be using the wrong Username and password, or it could be a technical issue from both company's and your side.
First off, ensure that your login credentials are accurate and you're not making any typos.
When using a web browser, clean up the cookies & caches, and then try again. And when you use the app, ensure it's updated to its latest version.
Apart from incorrect details, confirm that your Credit card is still valid and your account is not suspended. Many times due to unpaid fees, users' accounts can be blocked or suspended. In such case, contact customer service and confirm what's the matter.
However, If you don't remember or have lost your Login credentials, you can generate new ones.
How do you Generate a new Reflex CC username & Password?
When you forget your Login credentials, the platform allows you to create new ones. You don't have to pay any fee or reach out to the customer team to generate a new Username and Password.
You must have your Reflex Credit card information to be able to create a new Password or Username.
First, Go to the Login Page (Use the Website or App).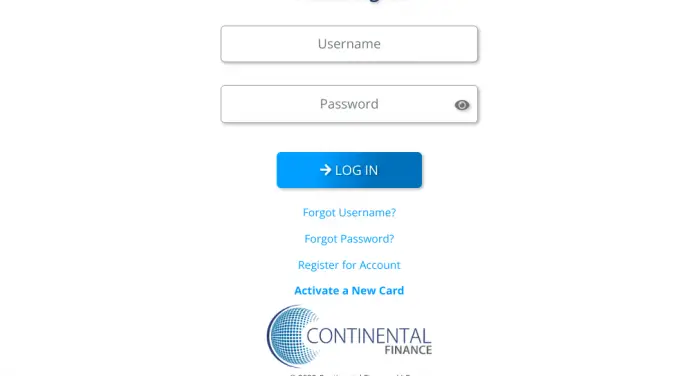 Tap "Forgot Username" if you want to generate a new Username.
Or Tap "Forgot Password" if you want a new Password.
Enter the last four digits of your SSN, Account Number, and Billing Zip Code.
Tap the Find Account button and follow the prompts.
(Note: You need to use your Username to generate a new Password)
How do I get my Reflex Credit Card Online?
Getting a Reflex Mastercard is the first step toward building a credit score. You don't need to wait in a queue, as you may apply for this card online, over the phone, or through the mail.
You will receive a mail where you have to fill in some of your personal information such as your Social Security Number, Full name, Resident address, and date of birth.
It requires your personal information for the verification process. Also, per federal Law, one must submit personal information to obtain, record, and verify who opens a checking account or credit services.
Anyway, once you fill in your details, it will check your credit bureau report and monthly income to approve your account and offer a credit limit. Qualified members receive a Credit builder Mastercard with the login details at their given address within 3 days.
Once you get your card through post mail, you have to activate it in order to use it.
Reflex card requirements –
Full Name (Your Government issued).
You must be a U.S resident and at least 18 years old.
You must have a Social Security Number (SSN).
How do I activate my Reflex Mastercard?
This is another step that you must follow after receiving your Reflex card. If you activate your card, it will work. So it's the crucial step towards getting started.
You may activate your new or reissued card via the website or phone. However, if you activate it over the phone, you need to call within 30 days to the toll-free number, which you can find affixed to your card.
Once activated, you can enroll in online banking services and use your Reflex card to make a payment, view payments/transactions, payment history, balance, and much more.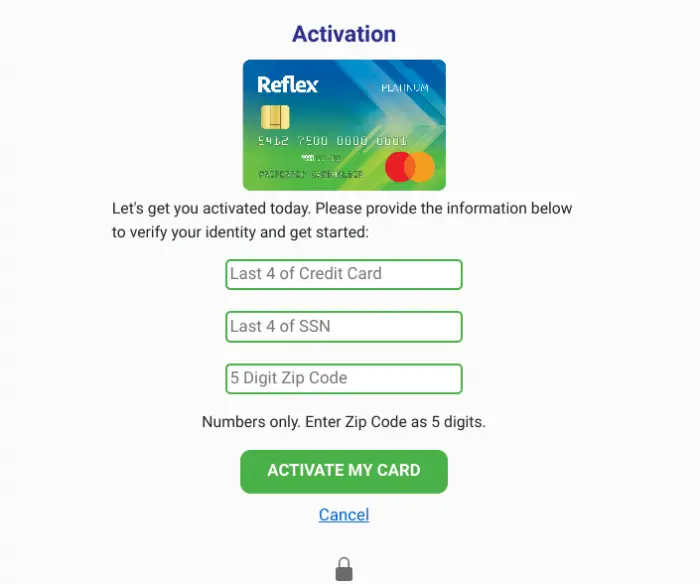 Head over to the Website.
At the top, tap the green "ACTIVATE MY CARD" button.
In the next window, fill your Reflex Credit card information
Hit the green button to activate your card.
How do I make my Reflex Credit Card payments?
Since it offers online services, you can pay bills via its website or apps. Apart from that, you can pay bills over the phone or through the mail, whichever suits your circumstances.
Before paying your bills, ensure that you're connected to the Internet; otherwise, a transaction could fail.
Via Website or App – 
You can use the Continental Finance website or app to pay off your Reflex Credit Card bills. Simply log in to your account, navigate your card bill info page and make a payment via your linked debit card.
Via Call
In addition to activating your account, you can also pay your bills by calling (800) 518-6142. Just make a call during business hours, and someone from their support team will pick up your call and help you pay off your card bills.
You just need to tell your Credit card information and verify your identity.
Via Mail
You can mail a check or money order to the given address below. When you're mailing, consider including your credit card number on your payment for fast processing.
Unlike other deposits, it could take a week to arrive. Your deposit may be late or arrive before your due date, so give enough time for Reflex to get your payment.
Here's the Mailing address – 
Reflex Card
P.O. Box 6812
Carol Stream, IL 60197-6812
Note: Reflex doesn't accept cash.
How to contact Reflex customer support?
Contacting the customer support team can be a little tricky here, as you won't find any specific support page dedicated to Reflex CC users.
With the help of the customer support team, you can activate your account, pay bills, or file a complaint.
For general inquiries, call – 1-866-449-4514
For Lost/Stolen card: Call 1-800-556-5678
Frequently Asked Questions (FAQs)
Can I activate my Reflex card Online?
Yes, you can activate your card online by tapping the button "ACTIVATE MY CARD" or calling on the phone number within 30 days of receiving your Reflect Card.
Can I pay my Reflex Credit card bills via phone?
Yes, the platform provides you an option to make your payments online or via its Android and Ios apps. You can also money order or send a check to the address listed above in this article.
Final Note:
That's all. This article will show the Reflex credit card login instructions with a step-by-step process. We've also piled up activation and registration in case you need to learn how to apply for the card.
We've also listed the payment address where you can send your bills via Money Order or check. Also, explore our site to learn more about such cards and services.
You might like:
Best Chime Builder Alternatives.
Cred.ai – Best Unicorn Metal Credit builder Card Review.