If you are a food enthusiast or gourmet, you already know about Caviar and Doordash. You are probably already familiar with these two giants, but if you are new to food-eating or selling a business, don't worry because we have a solution to your problems.
These marketing giants are currently ruling over the food industry, and you need to know the exact features of both of them so you can pick the right delivery service for yourself and don't end up wasting time and money. 
That is why we will be talking about the prominent features of Caviar and Doordash and their key differences to make things easier for you.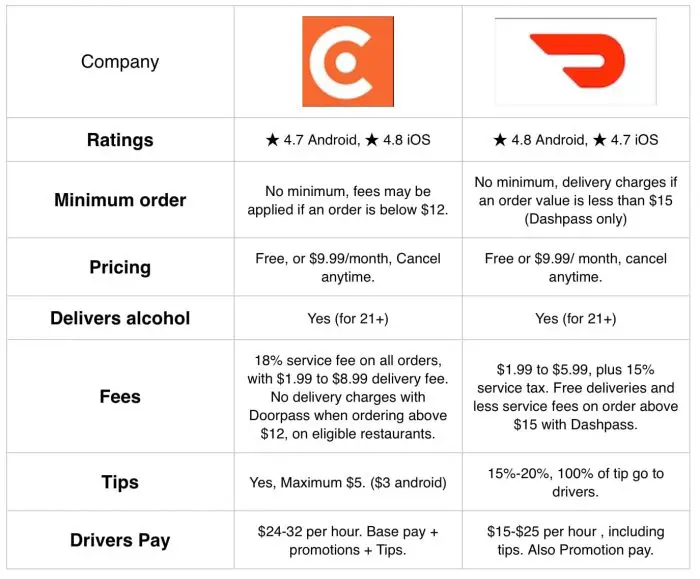 Caviar vs Doordash pay: Features
Key Features Of Caviar
Caviar is not a food that you were considering; it is a food delivery service. In fact, it is a great one, mainly because of the distinctive features that it offers. So let's have a look at those features and find out why the platform is all the hype these days. 

1. Menu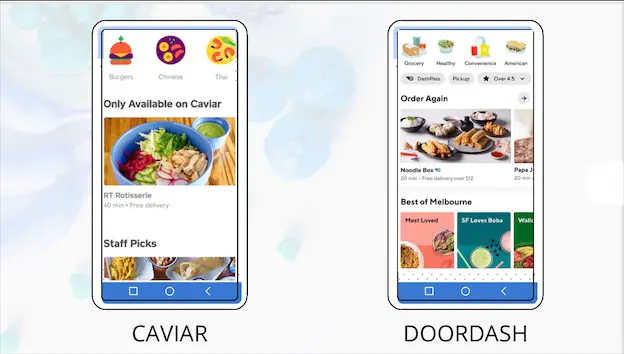 Both apps feature almost the same design menu since they share the same house. However, we notice Doordash's menu is intrinsically designed, whereas the Caviar menu appears so minimalistic that even a child can use it. In contrast, Doordash's menu is a bit intuitive, which makes personalization and discovering foods much easier and better.
 2. App 
The company's delivery service operates through an app available on both Android and iOS. Moreover, the service is available in all major cities in the US, like Brooklyn, Dallas, Chicago, Manhattan, and Los Angeles. 
3. No-Contact Delivery
Though the food delivery service is comparatively new, it has already expanded to around 20 locations. They also offer no-contact delivery, which is particularly popular these days, and it shows that they know all about the need for time. 
4. Delivery Time 
Also, the most important feature of this food delivery service is that you can order 7 days in advance or for instant delivery; they accept both kinds of orders and will send them to you right on time to save you from any hassle. 
5. Simpler Outlook
The platform has a very simple outlook and navigation, making it quite a user-friendly app. It looks very decent with its monotonous outlook, and navigating your favorite restaurants is easier than ever with this app. 
6. Delivery Charges 
Delivery charges obviously apply whenever you are ordering food from Caviar. Still, these charges completely depend upon where you are ordering, and if you live in a remote area, the delivery charges can be as high as $8.99 or as low as $1.99. 
Also, the instant delivery time is very quick, and you will receive your order before you expect but make sure to click on the instant delivery tab. 
Key Features Of Doordash 
It is one of the leading food delivery services in the region, and in a very short span of time, it has outgrown market giants like Uber Eats and GrubHub. Let's look at the features that make this food delivery service such a successful one. 
1. Technological Advancement 
It has been quite ahead of its time as compared to its competitors because it has made great use of artificial intelligence in its app. Because of this clever use of artificial intelligence, you get personalized suggestions of restaurants and top-rated ones among your peers. 
It is very convenient for the customers and the restaurants because now they can easily reach their target audience with the help of this third-party app and its intelligent use of AI. 
2. Top Menu 
The top menu option is something that makes navigation a lot easier because most of the time, we are not even able to decide what to eat.
So, with the help of Doordash's top menu bar, you can now discover what other people have ordered the most and which items are the best-selling in the food industry. It does make your decision easier than ever.
3. Pre-Delivery 
Akin to its competitor, you can now pre-order your favorite food items even a week prior. This feature is particularly helpful during Christmas and Thanksgiving when everything is booked, and you have to stand in long lines even for takeout food, so just save yourself from this hassle and pre-deliver. 
4. Tracking 
You can also track your order after placing it. This feature will tell you whether your order is on the way or is still in the restaurant. And you can do this order tracking on your phone using the Doordash app, so it makes things a lot more convenient.
 5. Restaurant-Friendly 
It is the type of food delivery app that even restaurants include on their list. The motive of Doordash is to be convenient for customers and restaurants, which is why this app is so popular among the top US eateries. 
6. Delivery Areas 
The company does not put all its eggs in one basket and does not only focus on the urban population.
The company knows how to build loyal and recurring customers, so they target people who live in areas away from the city and in areas where no other food delivery service provides its services. 
In such areas, Doordash is their only hope and savior for getting online food. And this tactic of delivering to places far away helped the platform acquire quite a lot of fans and a wider audience, so we can say that this feature has been working out just fine for them. 
Caviar X Doordash: Differences
Both platforms are very famous food delivery services in the US. Both of these services have a massive user base, but certain things are very different between the two, and these differences will help you a lot in picking the right service for you. 
● Pay Per Hour for drivers (Winner: Caviar)
Both food delivery services pay their riders differently. Caviar wins this race because, according to the company, the riders can earn as much as $25 every hour, which is quite decent considering it is a lot more than what the other leading eateries are offering to their riders. 
On average, dashers earn $2–$10 per delivery, which would certainly not be equal to $25 per hour in most cases. So, the Caviar drivers earn more money than the Doordash riders do. 
● Availability. (Winner: Doordash)
Caviar is the best app for the urban population and for people who are living in mainstream cities like LA and Brooklyn. That's why the platform has greater hype on the internet and is actually pretty successful in the city. 
On the other hand, Doordash, as we already discussed, is the holy grail for people living in areas far away from cities. It could be a marketing tactic or a business strategy that the targeted areas of Doordash are away from the city, but this tactic is definitely working so far.
● Customer Service (Winner: Caviar)
People are fond of the customer service of Caviar because of its faster delivery, easier tracking, and great customer support team. Doordash is also efficient in terms of customer service, but the features of Caviar outrun Doordash. 
Also, as Doordash deliveries are jampacked during the day, their app crashes sometimes, and you might get a wrong order as well. Though it happens rarely, in this case, its opponent's services are better.
● Double Delivery: (Winner: Doordash)
Caviar does not offer the option of getting double delivery at all, and you have to pay delivery fees for each of your orders.
But with Doordash, you get to choose what you want from different restaurants or shops, and all of them will be delivered to you in the form of one order. 
For example, you can order pizza, Thai food, and dumplings from different restaurants. When the order reaches your doorsteps, the delivery charges would not be as much as what you would pay to Caviar for three separate orders. DoubleDash is a total hit with people.
● Alcohol Orders (Tie)
Another significant difference between Caviar and Doordash is that Caviar accepts orders for alcohol delivery, whereas Doordash has a strict policy of not delivering alcohol.
Which One Is Better – Caviar or Doordash?
When we talk about both competitors, Caviar certainly looks like a promising candidate. However, since both of them have a different set of targeted audiences and areas, it cannot be apparent which one is better. 
From the data that we have piled up, Caviar is better in terms of customer service and paying their riders, while its opponent offers double delivery and also uses artificial intelligence in its app to make navigation easier. 
Interestingly, Doordash bought Caviar in August of 2019, and now it owns most of the rights to this food shipping company. So, they basically aren't competitors but branches of the same tree. 
Wrapping it Up
We have listed the key features and differences between both food shipping apps, and now you have to figure out which one is best for you and which one suits your personal needs. Caviar could be a better choice for people living in cities. 
While you can always use Doordash if you live outside of the city and none of the other delivery services deliver food to your location, we hope this article was useful to you.
Frequently asked questions (FAQs).
Which food app is better?
Both services are good in their respective fields. However, Caviar has a decent pay rate for drivers and offers better customer service. Doordash, on the other hand, has a good rating for ongoing product support and is available in many cities across 50 U.S. states.
Which pays less for drivers?
Doordash pays less and provides less time to reach delivery. It is busier during the day, so drivers usually earn decent money during peak hours.
Can we finance our purchases at both companies?
Yes, both services accept the Buy Now Pay Later platform Zip Pay, which lets you split the payment into six installments. 
Is Caviar Owned by Doordash?
Yes, Doordash acquired Caviar from Square in 2019. Caviar is a logistics company that works separately and has additional restaurant chains.