We've done the heavy lifting for you to find the best food delivery app to work for. As we know, food delivery markets are growing exponentially since the advent of smartphones.
Most of the revenue they generate is through smartphones. That said, out of every two people in the U.S order food or grocery items directly from their mobiles. No matter how many food delivery companies have been launched in the last two decades, Grubhub and Doordash still have a large market cap all across the U.S.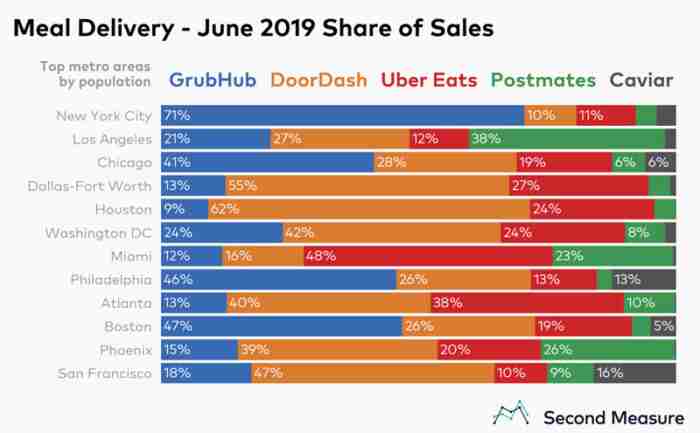 There are a few other best-paying food delivery apps that work with thousands of local chain stores and popular restaurants to serve stuff across the United States, including other countries like Canada and Australia.
Whether you're living in Newyork, Los Angeles, or anywhere in the U.S, you can be a courier partner with any of the listed apps. Without further ado, let's jump right into the best-paying food delivery apps for drivers. 
Best paying food delivery apps for drivers (Android & iOS)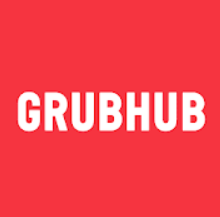 Grubhub is certainly the best food delivery app to work for. It works with the largest selection of local and national restaurants that are located all across Uniter stares. For buyers, it comes with amazing perks like unlimited free delivery, deals, and rewards.
While, drivers get paid around $2-3 per delivery base pay, along with a 100% tip. However, how much a driver can make depends on various factors such as time duration, location, and distance. With Grubhub you can always pass on the order if it pays less so you can save gas. 
And if the tip and the base pay are generous, you can consider the order worth accepting. 
On average, GrubHub drivers make around 22 cents per mile, in which a gas and mileage fee is not involved. 
So to make the most out of order, drivers have to rely upon a generous tip to compensate the vehicle's fees, and there seems to be no other option around. But riders get a choice to set their own schedule, meaning they can work whenever they want and can discard orders that don't suit their needs. Besides, Grubhub provides drivers with on-sleazy tools that help them track routes and manage accounts. 
Grubhub has its own terms and conditions that demand polite and punctual attitudes towards customers. Though you're working as an independent driver, still, you're a representative of the company. 
Grubhub pays every Thursday via direct deposit. You can also use the instant cash-out option to get paid whenever you want for an extra $0.50 fee for each instant withdrawal. To sum up, Grubhub is the best paying food delivery app for drivers with extra perks and massive area coverage. 
Pros
Riders can create their own work schedule.
Customers pay generous tips.
Pass on order if you don't like it.
Track route and earnings.
Get paid Thursday and anytime for an additional $0.50 fee.
Cons
Reimburse for gas or mileage fee.
No pay for additional distance. 
Only tips make up for 65% of the total wages.
Pesky technical errors.
You might like best car rental apps like Turo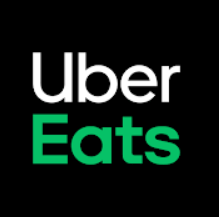 Ubereats, The most popular food delivery app with more than 66 million users and surpassing nearly $5 billion in annual revenue, is the best food delivery app to work for. It's working with over 600000 restaurants in 2000 U.S cities. According to Fortune (the popular tech news site), it controls over 29% of the total global meal delivery market, making it an internationally renowned company. 
As the Slice intelligence puts out, an average consumer spends up to $250 on Ubereats. These are the takeaways that drivers consider before partnering with the Ubereats. However, it's the best paying food delivery app that pays well if you're willing to put in hours of work per week.
You need to be at least 18 years old with a driver license to become a Uber driver. Once you're all set, you can take orders whenever you want. You can earn nearly $3-$20 daily, depending on the time zone or location you work in. On occasions like Christmas, earnings are likely to grow due to a large number of order requests. Akin to other food delivery apps, drivers pay for gas and mileage, including other expenses.  
Since Ubereats is a widely used platform, you can get paid handsomely without having to go miles away. On average, you can make about 0.90$/miles, and even more if it's a Mcdonald's restaurant.
If drop-off and pick-up time are well managed, each order would average around $5-$6 of pay, making typically around $12-$20 hourly by just delivering 3 orders. And in busy days, you can expect to bring a maximum of $11-$22 per hour.
Undoubtedly, this platform has the highest hourly paying rate, but as usual, drivers need to rely upon tips for maximizing their revenue.  
Pros
Work on your schedule
Work for unlimited hours.
Explore cities.
Peak days bring in more earning.
Cons
No pay for Wear & tear and gas.
Waiting time in restaurants.
Many Customers avoid adding tips.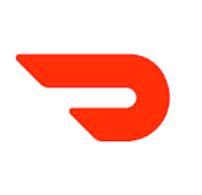 Next up in the line is Doordash, a food & drink delivery app. It is available in over 7000 cities across the United States, Canada, and Australia. It delivers food from more than 310000 menus from your favorites local and national restaurants. And if you're a first user, it offers a $0 delivery charge for the first month. Also, by subscribing to the Dashpass, you unlock more restaurants and lower service fees and $0 delivery fee forever. 
Whether it's no contact delivery, scheduled delivery, real-time tracking, no minimums or payments, Doordash ticks all the boxes. 
Since it is available in 50 states in the United States including rural areas, riders don't run out of order and have to cover longer distances to make out deliveries. 
To make things easier, it offers the application for drivers to track orders, manage payment, find work, and set schedules. Just set up your direct deposit account, and cash out weekly, each Monday through Fast Pay automatic. With Doordash not only can you deliver stuff from local restaurants, but you can also deliver stuff from grocery stores, convenience stores, and even pet stores.
As with other gig economy apps, you have to pay for logistic expenses like mileage and gas, but you can have any vehicle to be a Dasher. 
Just sign up, fill in basic requirements, and that's it. Once you finish setting up a profile, you can take orders straight away. The platform offers around $3 base pay for any delivery, along with 100% tips and promotions. Base pay is varied by distance, estimated time, and the nature of the order.
On average, you can possibly get paid $5 per delivery, excluding gas and mileage fees. If an order is from a high-end restaurant, your earning is much higher compared to when you receive an order from any local store.
So, if you make out two deliveries per hour, you would take the yield of nearly $10. However, tips dramatically impact earnings, so tips need to be factored in before anything else. However, it's a fact that after paying delivery and service fees, many Doordash users tend to avoid adding tips that result in fewer earnings. Undoubtedly, it is the best paying food delivery app for drivers to work for if they are ready to put in extra hours.
Pros
Highest earning records in peak days (promotion).
Massive selection of shops, restaurants, and other stores that Dashers can take orders from.
Cash-out weekly or daily for a fee of $1.99
Flexible schedule. 
Cons
No reimbursement for fuel, wear & tear, or accidents.
Inconsistency in earnings.
Minimal customer interaction.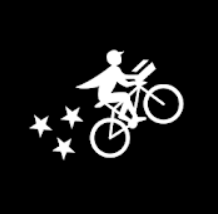 It's another best food delivery app for drivers that works with local store chains, including high-end fast-food chains like McDonald's, subway, or KFC.  
Postmates is the part of Ubereats that is founded in 2015 with a difference of delivering stuff from nearby local shops and restaurants. Apart from that, Postmates offers better promotions at the same prices compared to Ubereats.
Since Postmates works with thousands of local stores, Users get a vast selection of foods ranging from food, drinks, groceries, and more. Due to massive product lines, riders don't run out of orders – they earn an average base pay of around $4-$6 per drop-off. And as with any other gig economy app, tips make up for a total profit. 
Working as a driver at Postmates, you get the flexibility to work whenever you want, with daily cash out. You get a Fleet driver app to manage orders, track routes, and receive payments. But akin to other food delivery apps, you pay for gas and wear & tear.
Even though riders are allowed to work flexibly, they've to roam around town for hours to earn profitably. If you factor in gas expense, it pays a little less compared to the other gig economy apps like Grubhub or Turo. Sometimes you end up making no money with Postmates when a buyer doesn't add any tip.
However, certain areas pay more delivery fees than others. On average, Los Angeles has a $10 delivery rate, making you $100 per 10 deliveries in a day, and even more in large orders. 
Undoubtedly, Postmates is the best-paying food delivery app to work for, but it requires hours of work to make the job worth working. It operates in more than 50 states across the U.S, serving in more than +1,500 cities from over 500k merchant partners and growing. Considering locations, it is fairly better than Ubereats, but if you want to work in immediate partner locations, Doordash is the best choice.
Pros
Transfer money instantly for a $0.50 fee.
Flexibility to create schedules.
No rating system.
Get free food sometimes. 
Cons
Wating at restaurants.
Faulty GPS.
Doesn't pay for gas or other vehicle expense.
Not active in certain areas.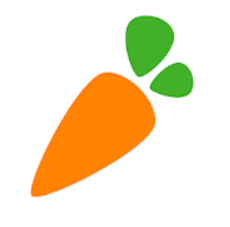 Instacart is one of the popular household names for Grocery shopping. Launched in 2012, it has managed to serve grocery and pick-up services in over 5500 cities across the United States and Canada. It has over 500 million products across the catalog and working with more than 40000 local grocers and chain stores.
If you don't like waiting at restaurants, Instacart is the best option to go for. It offers "Contactless delivery" as a default option for its customers to ensure safety in a crisis like the pandemic. 
Unlike other food delivery apps, you need to shop for each item ordered by users, which sometimes takes more time than waiting at a restaurant. However, Instacart offers 100 % tips, daily withdrawals, and flexibility to work whenever you want. Also, riders get paid by the amount of hours they work, regardless of the number of orders they deliver.
According to Glassdoor, an average Instacart shopper makes around $16 per hour (including mileage expenses) and even more depending on the location, distance, and size of the order. However, tips make up for around 15%-20% of the total earning for the order. Additionally, you also earn from extra incentives and promotions.
There are a lot of learning curves to be an efficient Instacart shopper. Not only working with Instacart is tedious and note-taking, but it also has slow service in summers. Once again, if waiting at restaurants ticks you off, this platform may fit your need.
Pros
Drivers are paid by the number of hours they work, not by commissions.  
No rating system.
Lots of works for beginners.
Pay on time.
Contributing to a good cause.
Available across the United States and Canada.
Cons
Doesn't reimburse vehicle expenses.
Poor support.
Low pay in the first four weeks.
29 hours maximum work for an in-store shopper with no health protection.
May face other drawbacks.
Wrapping it up
We have rounded up some of the best food delivery apps you'd love to work for. The listed apps are free to join and have services available all across the United States and other countries. If you're at least 18, have a smartphone with the internet, and have a vehicle, then you're good to go.
Even though these apps pay 100% tips with base pay, you've to be very careful at what orders you accept so you can get profit out of it. And, also make sure you look for large-size orders because they often pay more. 
As to payments, you get paid weekly and anytime for $0.50 – $1.5 for each transaction, vary by apps. Once you wrap your head around how the system works, you will never be at a loss.