Idle Breakout is our all-time favorite brick breaker game that really fills a void in the leisure hours. It's the opposite of the toughest game, where you don't get punished for a trivial mistake. No matter how you play this game, you will definitely be addicted to it and want to catch up with late rounds.
Since it goes more relaxing and demands a bit of strategy when climbing higher levels. However, you'll face hardships in late rounds if you play it with poor strategy.
To assist you with this, we've crafted this article so you can play the game with full throttle and fun.
Why do you need tips to play Idle Breakout?
The reason is simple, to ace the game. You may have found plenty of cheat codes to bump up your progress, but the real players who want to explore everything from scratch need tips to move forward.
If you play a neat game, time is the real threat. You complete levels with your skills, not a one-time code. So, implementing a good strategy from the beginning of the game is crucial to unlocking mighty levels that unleash powerful bricks and sturdy bosses.
Right tips will streamline the cash you earn throughout the game and prep you up to smash powerful bricks. So the right strategy is not only important to play Idle Breaker but also essential.
Are tips and cheat codes similar?
No, Tips and strategy are all about putting in the right kind of effort at certain stages of the game, while Cheat codes allow you to have infinite money and unlock all achievements without any hustle.
You can choose to play both ways, depending on how and why you want to play. Certainly, playing with proper strategy and technique makes this game even more compelling and challenging than one must vouch for.
With tips, you learn to tackle difficult circumstances the game throws you at. Don't worry; when you're stuck, you will not lose any progress or be thrown back to the previous level.
Idle Breakout Tips & Strategy for beginners
Since beginners succumb to making mistakes when they're getting started – If they get the right insight from the start, they can have the proper notion of stretching the game forward.
The very first thing a beginner should do is figure out the power and strength of the balls. You need to unlock six different balls and set the game at its pace.
But many players make the mistake of buying all the different balls and not upgrading them. The more powerful ball you purchase, the more you spend on its upgrade. So Make use of your money to upgrade one ball first, then the others.
Here are the best tips for beginners.
Start with clicking bricks and buy your first basic ball with enough money.
Keep upgrading the basic ball until it breaks off bricks easily.
After level 5, buy four more basic balls and one plasma ball.
Upgrade the spinner ball till it is powerful enough to smash bricks easily.
Similarly, after level 10, buy more plasma balls, unlock the next ball, and keep repeating this strategy till you unlock 50 balls.
When you follow this strategy, you can play this game easily and reach the late rounds step by step. Also, you will have ample cash while purchasing balls and upgrades. For beginners, this strategy could be more fun than a monotonous task.
Tips for using PowerUps
Powerups are the most important elements of Idle Breakout because of their hasty nature. They come for a few seconds and go for a long time. So when you're using Powerups, use them wisely.
With Powerups, you can wipe out dozens of bricks in a few seconds and rack up the 2X money and Gold. For example, Demon core deals waves of damage for 30 seconds. Snowball increases its speed and power with every bounce. CashedUp doubles up the money for 30 seconds.
So, play with knowledge and intelligence when you're utilizing PowerUps. When you require some cash, you can use Cashed up, and when there is a Gold brick, use 2X Gold to double the Gold. And Other PowerUps can be used to crack powerful bricks.
How to defeat the first Boss in Idle Breakout?
Undoubtedly, the game's hardest part is beating the first Boss brick, which unlocks after smashing 1000 bricks. If you don't have the right balls, you can't beat the boss even in a weak. Boss bricks are the real challenge for any player because they are a treasure and, at the same time, tougher than any brick, so they need the right kind of strategy to smash.
So what is the strategy to outdo the first boss? As we said, you need to have the right set of balls to finish the boss faster. If you have mixed balls, some are powerful, and some are bouncy, you can leave the game run by itself. But if you bump into the boss level, you must first upgrade your balls.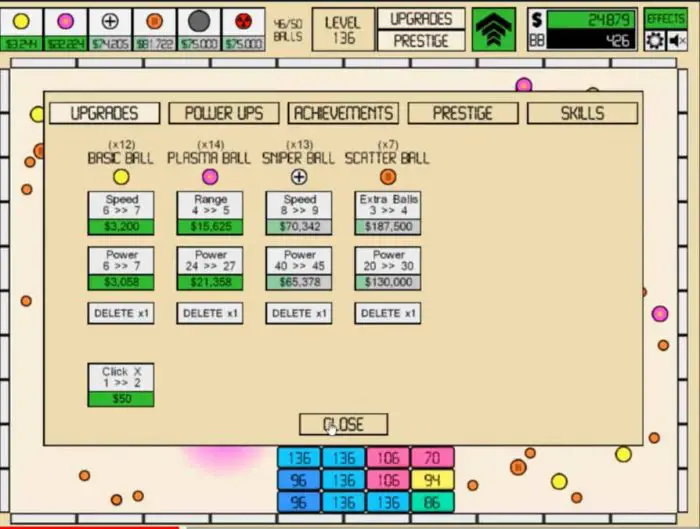 Make sure you've at least 7 scatter balls and 13 Sniper balls and mixed Basic and Plasma balls. To beat the first boss, you should upgrade these four balls, as shown in the picture.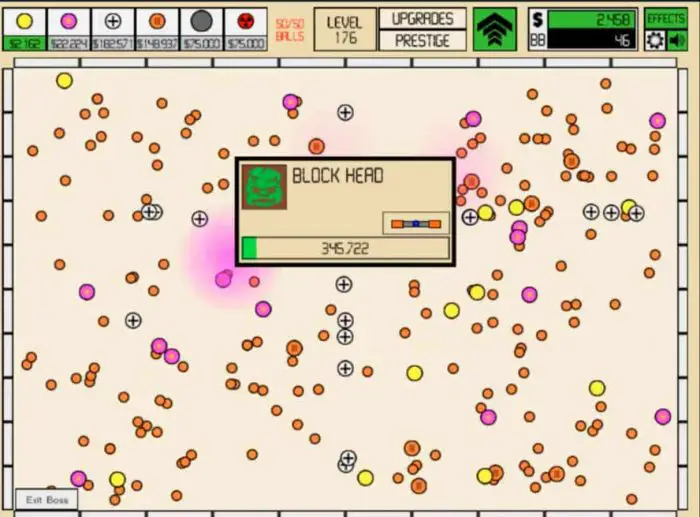 Compared to all the balls, Sniper balls pal a huge role in smashing the Boss brick because it bounces back and forth and gives more damage. In case you have a few balls, say 35, you can still beat the boss, but your balls should have a good range and power. There is no fixed rule to fighting with bosses; you require stronger and faster balls. The more balls you have, the more edge you'll have over any boss.
How to get to the late rounds faster?
Unfortunately, if you play the game without Cheats, there is no way to outrun the game. But Yes, you can save time and pull off the game further by adapting the right strategy from the start. To play Idle Breakout, you need patience and a lot of cash, so you can buy and upgrade your balls as you climb ladders.
You can unlock up to 1000 balls and slowly boost speed and power to break off bricks at a faster rate.
The whole crux of the gameplay is to solidify balls and slowly unlock all achievements.
Wrapping Up
These are all our Idle Breakout tips and strategy to fight bosses, earn cash, use powerups, and more. Whether you're a beginner or an elite, this article will be quite helpful in playing the game better.