Roblox has come a long way, and all the credit goes to its unique virtual gaming experience that users couldn't find anywhere else until now. It has millions of games, characters, and exclusive items developed by creators that add more value to the platform.
Now come the Google Chrome Extensions, which fill the gaps left by Roblox by adding more features. In this article, we'll learn about a few incredible Roblox extensions that may enhance your experience. Let's get started.
What Is Roblox Extension, And How Does It Work?
A Roblox Chrome extension or plugin is a great way to add features and other functionality to the Roblox.com website. Google Chrome extensions can be used on a PC in the Google Chrome or Mozilla Firefox browser applications.
With such extensions, you can increase transparency by adding filters, textures, charts, delete buttons, etc.
The Google Chrome Store houses dozens of Roblox extensions equipped with unique features that we will pile up here.
You simply need to download a suitable extension from the Chrome store and install it in your Chrome browser. It takes a few seconds to download and install such plugins. So let's know the best extensions to spice up your Roblox experience.
Best Roblox Chrome Extensions That Work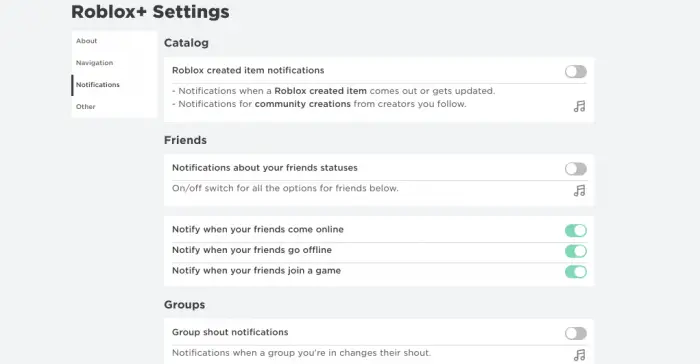 It is one of the most popular Roblox extensions by WebGL3D, with over a million downloads and 7,000 ratings. It is a free Google Chrome extension built to make Roblox.com more flexible and transparent.
This plugin offers free features, including texture download, asset content, avatar editor, navigation counters, and more. And in the premium version, you unlock features like game server tracking and sales + revenue charts.
You must buy a VIP server from Roblox+hub to activate a premium subscription.
This plugin allows it to access your Roblox inventory, your groups, the games you play, and everything else.
It's another extension you can vouch for and integrate with Roblox for a more immersive experience. RoPro has more than 1 million Roblox players who use it to enhance their experience.
If you're a fan of profile themes, don't look any further, RoPro offers dozens of profile themes that will spice up your profile. One of the best features it provides is the Avatar Sandbox, where you can try things on before you buy them.
It also provides playtime tracking, quick search, server filters, a random server button, and many other features.
It's a freemium plugin with three plans: free, RoPro Plus, and RoPro Flex. In RoPro Plus, which costs $3.99/month, you'll get more theme customization options and a host of other features in an extended way.
On the other hand, RoPro Flex costs around $7.99/month and is for players who want live play, counter visits, and trading features.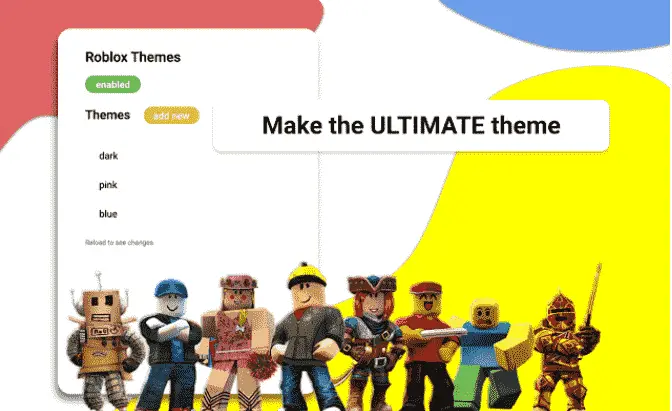 Roblox doesn't provide any option to modify theme colors. Raybipse has noticed it and come out of a great chrome extension that allows users to pick custom colors for the website.
This plugin also offers a dark mode, which you can use by default or change when you want. If you're tired of seeing your Roblox profile in one color, this extension is the way to go.
It is free and doesn't surprise you with paid features. It has different color selections that make your profile more eye-catching and lively. Currently, it is a beta option, so we'll likely see more options in the coming days.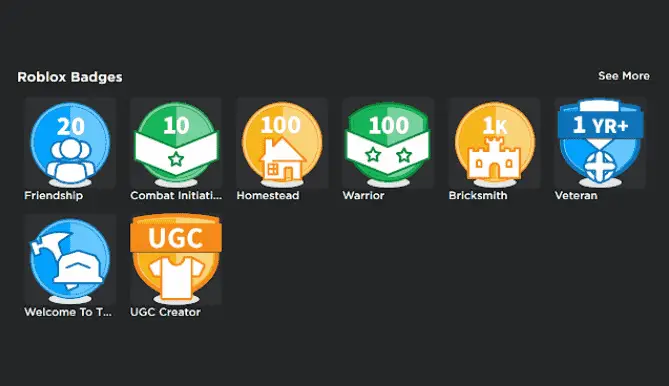 As the name suggests, it will change your badges to a different look. If you have collected various badges and want to impress your friends but with a new look, this plugin is the best hack.
Simply put, what it does is improve your Roblox badges. It offers a different style for years and visits badges colored in blue, yellow, and green colors. It has the additional badges of UGC creator, accelerator, and star creator.
A few thousand users have already installed this plugin and are still counting.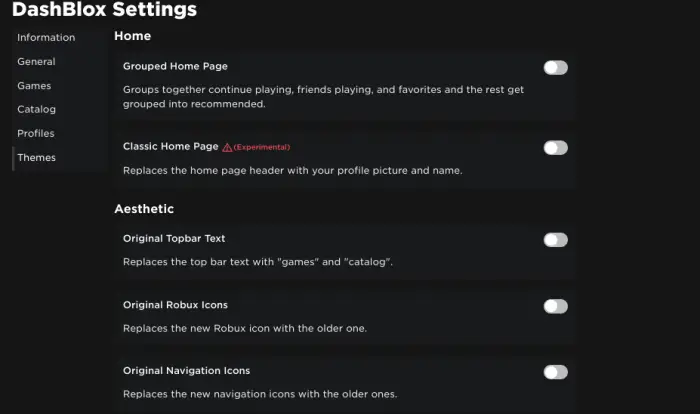 Another cool plugin for a more enhanced Roblox experience. It has been downloaded over 20,000 times via the Chrome store and has proven to be a useful extension.
With DashBlox, you can make your Roblox experience even better.
It offers a slew of features such as item statistics, last online, theme customization, item statistics, block notifications, revert to old features, etc.
Upon installation, you get to choose between default settings and customized settings. It's a decent plugin to improve aesthetics and add a bunch of additional features.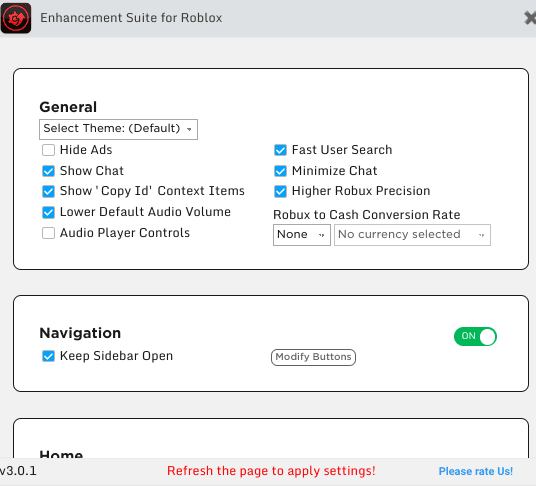 It's a hidden gem lurking in the Google Chrome store with only 35+ ratings and 5,000+ downloads. It could be quite deceiving to judge it by its stats, as it's more useful than it seems.
Compared to other plugins, it improves chat and navigation and comes with key features like currency conversions, block ads, themes, inventory pageviews, etc. Best of all, it's free.
To get started, tap on the ESR icon in the settings, and select the number of features you want to show. Once done, hit the refresh button to apply the changes.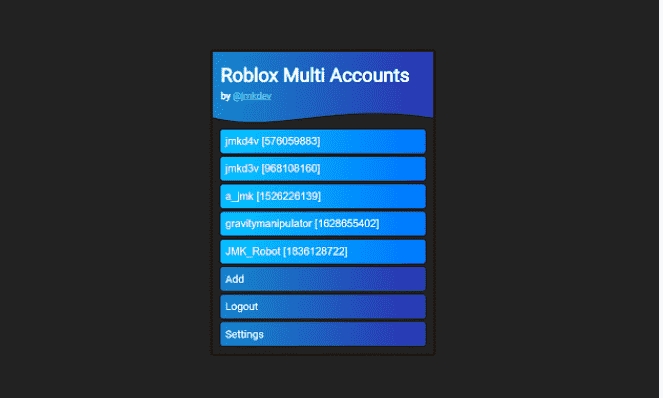 If you have more than one Roblox account that you often use, this extension makes things easier for you. With it, you can swap between multiple accounts at the click of a button.
Unlike logging out every time you want to use another account, this plugin will store your Roblox session in Chrome storage, allowing you to manage all your accounts in one place.
Except for multiple accounts, the extension doesn't provide any other features. You need to add your Roblox accounts one by one to swap between them. Guess what? It's free.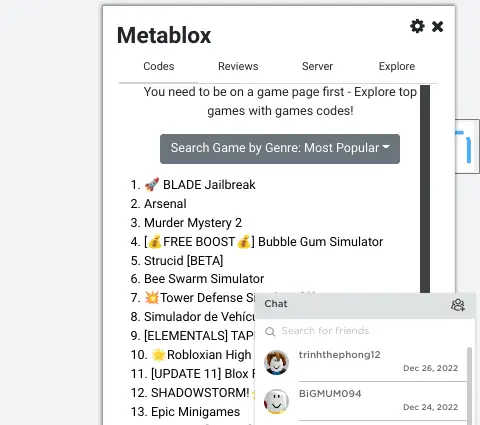 Looking for game codes? Metablox has got you covered. It has promo codes for over 7,000 games, including Tower Defense, Arsenal, Shadow Storm, and many more.
Besides, you can find game reviews and recommendations for underrated games. Back then, it used to provide small servers to play with friends, but it was discontinued for some reason.
We can say, Metablox is the most convenient game code finder, as you just need to go to the game page to copy a code from the extension settings.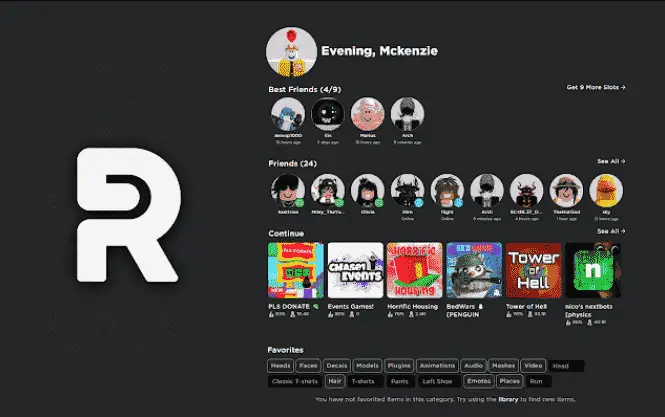 ReGold includes more than 40 free features to elevate your Roblox experience. Whether you're a developer or a player, it is built for both.
Not only is it loaded with features, but it's also a trendy Chrome extension with over 300,000 users and an average rating of 4.7.
Some features it offers are Pinned Games, Small Servers, Game states, Best Friends, a Robux currency converter, Live Game Stats, Group Stats, etc.
If you want to see how much your Robux is worth in dollars, ReGold can help. You can also create a custom theme using its theme creator feature. More features are added for Avatar, catalog, profiles, games, friends, and more.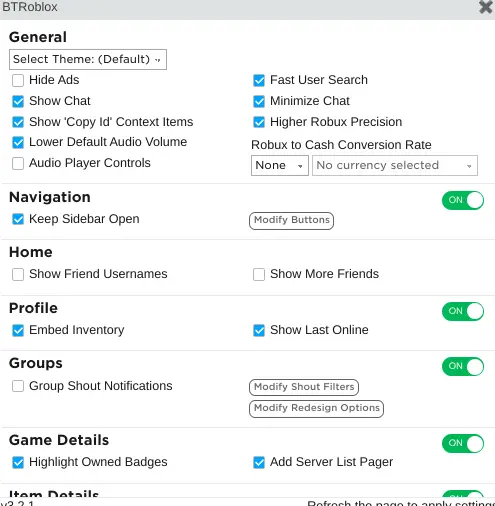 BTRoblox is an incredible extension that has a plethora of features to modify the look and overall experience.
It has been downloaded over 3 million times, more than all the Roblox extensions have ever been downloaded.
A few features that BTRoblox offers are show chat, highlight-owned badges, inventory tools, theme modes, last online, Robux currency converter, and a few more.
Frequently Asked Questions (FAQs)
Are Roblox extensions safe?
It depends because you allow these extensions to access your Roblox account as much as possible. However, there is no record of any owner collecting users' data or misusing any features.
How to join anyone on the Roblox extension?
If an extension has a private or small server, you can invite your friends to join it.
Is there any Roblox hair extension?
Unfortunately, we couldn't find such a plugin on the Google Chrome Extension. We'll update the article once we find any Roblox hair extensions.
Is the Roblox+ extension safe?
Yes, it's completely safe. But make sure you download it from the right source or the Google Chrome store.
Wrapping it up
Here are all the best extensions that improve your Roblox website experience. All the listed plugins are packed with unique features that you'll certainly find interesting.
These Chrome plugins are a one-stop solution whether you want to upgrade your theme, see your Robux in your local currency, or redesign your badges.
Related Articles –