We are all avid gamers in some way or another. Undoubtedly, mobile gaming has become quite popular in the last decade or so, with around 3 billion people playing mobile games every year. There seems to be no dead end for mobile gaming, at least in the next one or two decades.
Roblox has come a long way since its launch in 2006, making the gaming industry more revolutionary and flexible. Despite the slow growth, it has gained more users over the last few years, especially after the pandemic of 2020.
The startup now has over 200 million active users around the globe, making it one of the best gaming platforms in the world.
In this article, we're going to learn about Roblox redeem codes. You'll know how to redeem Roblox codes and gift cards in the simplest way possible. Let's dive right into the article.
What is Roblox?
It is a virtual gaming platform that lets you create your own game and play thousands of games created by other users. The company was launched in 2006 by Roblox Corporation for Microsoft Windows. But the company has released on various mediums, like Xbox, iOS, Mac, and Android.
Roblox games are available in both solo and multiplayer modes across all platforms. What makes the platform intriguing is that it has a community of users who can chat while playing games.
The platform has enabled millions of people to create anything they can imagine and immerse themselves in the world of entertainment.
What Is The Roblox Promo Code?
A promo code or bonus code is a few letters consisting of numbers and alphabets that are used in stores, applications, or games to fetch free rewards such as coins, items, and other virtual goods.
The platform accepts promo codes to offer free gifts and items to its gamers. Many games have a promotion box where you can apply the code and get a reward.
Each promotion code is unique and can only be used once per user. So if you try to use a single code more than once, it will fail.
Promo codes are also a great hack to get premium items for free. For example, if you use the code "ADMINGIVEAWAY" in Blox Fruit, you'll get 20 minutes of the "2x" experience. Each code is packed with virtual goods to enhance your gaming experience. Anyway, promotion codes will only be active for a limited period of time, so you've got to use them before they expire.
How To Redeem Roblox Promo Codes?
Redeeming a promo code is a no-brainer, as you only have to find the proper code and paste it into the promotional box. In the case of Roblox, it's pretty much the same.
Simply copy the code of any Roblox game from any events or giveaways, and paste it right into the promotional box to make it work.
You don't have to download the app to use a code. You can also use the web to use your Roblox coupon codes.
We'll pile up all the possible ways for redeeming your promotion codes in Roblox.
Via Website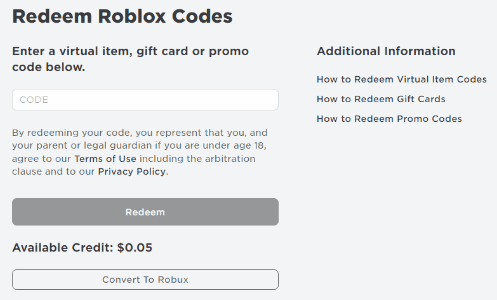 You'll see the box; simply paste your code right into it.
Next, tap "Redeem" to apply the code.
If a code is valid, it should be successfully applied. You can also convert your code to Robux and purchase avatar accessories.
Via App
Launch the app (on Android or iOS).
Tap the "More icon" button, located on the bottom left of the home screen.
In More Settings, tap the Help icon.
Search "Redeem Code."
You'll see the option, "How do I redeem a promo code?" Simply click on it.
On the next page, you'll see the workarounds for how to redeem a code.
Follow all the details, and you're done.
Unfortunately, there is no straight path to applying a code in mobile apps. On the contrary, you can head over to the web page directly or use your promotional code in a game setting.
How Do I Redeem My Virtual Item Code?
You can discover millions of Roblox toys in your country at popular in-store and online retailers like GameStop, Amazon, Target, Kroger, or Walmart. There are also millions of virtual toys available in the Roblox store.
You've to shell out your Robux on these toys or redeem a virtual item code. And if you have received a token from a toy package, you can scratch it off and get a code.
If you've any virtual toy code that you want to redeem in Roblox, simply follow the instructions below.
Go to the Code Redemption Page.
Simply paste the code into the box, and hit "Redeem."
Your code will be successfully applied if it's valid.
Now you can check your Roblox inventory for the new item you've added. Make sure, you don't use a code for a virtual item you already own; instead, share your code with your friend and spread some love.
How To Redeem Roblox Promo Codes In Games?
All games are built differently, so there are different Code Redemption options in each game. That said, you cannot find the same Redemption box everywhere or the same game design and styles in the same game.
You have to drill down in the game settings to find the promotional box and paste a code there. Most games have a promotional code box right in the settings, while a few games may or may not have any redemption boxes.
To use a code in a game.
Go to the game settings.
Search for the Redemption Box option—it could be at the bottom of the settings.
Paste a valid promo code into the box, and click "Redeem. That's it.
How To Find And Redeem Gift Cards?
You can shop for gift cards on Roblox and add credit to your account. You can use a gift card to buy a premium subscription or to spend on toys or virtual items.
There are online and in-store retailers too that sell Roblox gift cards. Simply purchase any card you like and use a code to get the exclusive rewards that come with that card.
As of the time of this writing, Robux Origami Wings is not for sale via the Roblox store, but it's coming with a Gift card. So, you can purchase the Robux Origami Wings directly from the Roblox Gift Card Store for just $10, and enjoy this accessory.
Here's how to redeem Gift Cards –
Go to www.roblox.com/redeem.
Enter your Gift Card PIN code and select Redeem.
Once the code is successfully submitted, you'll receive your credit and a free virtual item on your Roblox account.
(You can also choose to convert your credit into Robux to spend on virtual goods and other perks.)
Note: You can only use a browser to redeem gift cards, – Roblox mobile apps are not supported.
How To use Credit To Pay For A Purchase?
If you want to go for a Roblox Premium subscription, you can use your credits. These credits can be used to buy Robux and a subscription. Make sure you've any available credit in your Roblox account by going into Settings/Billing. You'll see your current balance if available.
Here's how to use credit to pay for a purchase –
Launch Roblox on a browser or mobile app.
Click the "More" icon and select Membership.
Tap Get Premium and hit the Subscribe Now button.
Next, review your monthly plan, and tap "Purchase."
Now you have to select "Redeem Roblox Card" as your payment method.
Enter your gift card PIN and press the "Redeem" button.
Review your credit balance and hit Submit. That's it.
Note: If you're seeing the App Store payment option when clicking the purchase button, disable the option from your phone settings in order to use your Roblox credits.
In this way, you can use your credits to buy a premium subscription or Robux.
Frequently Asked Questions (FAQs).
Can I use my promotional codes on the Mobile apps?
You can use your promo codes on apps for gaming rewards only. To redeem gift cards and virtual items, you have to use a browser. However, you can redeem your Roblox credits in the mobile app.
Why can't I redeem my gift cards?
There is a possibility that a gift card you use will not work upon redemption. In such a case, you can contact Roblox and upload an image of your gift card PIN, serial #, receipt, city of purchase, date, and an error message you received upon redemption. They'll look into the issue and get back to you with a proper solution.
How do I redeem my toy codes?
Whether it's toy codes or virtual goods, you can use them at www.roblox.com/redeem. Simply enter your code, and submit.
What is the Roblox Star Code?
It's an invite-only program for developers. Using a star code is a way of supporting your favorite Video Star developers. You can get this special code from a member of the Roblox Video Stars Program.
When you use any star code, you'll help your video start earning 5% of your Robux purchases. This won't reduce your Robux; instead, it will add your contribution toward them.