Idle breakout is one of the most popular brick breaker games that is played by teens and adults all across the world. Like any idle clicker game, it is slow in the beginning and starts to pick up slowly after the following levels.
It has thousands of levels to play, but to reach higher levels requires a lot of patience and engagement.
The game is quite addictive, as it gets more appealing when balls move faster and bosses face off. However, you've to upgrade a ball after every level to increase speed. The faster a ball rolls, the sooner you can complete a level.
But upgrading balls and tapping constantly are quite denting and time-consuming tasks that you may not like.
So, we've compiled a list of a few Idle Breakout codes to automate click, unlock levels, and upgrade balls. Let's barge forward.
How to play the Idle breakout game?
Playing this game is quite easy. You need to break all bricks with taps and balls until all the bricks are smashed. In major, you employ the balls to break off thousands of bricks. 
You get paid a few dollars after smashing each brick that you can spend on upgrading balls.
So the whole premise of this game is to crack levels by your good strategy of using balls and upgrades. As you move forward, the game gets more complex, requiring quicker and more powerful balls to finish levels. 
It is even more difficult if you do not upgrade your balls or use powerUps because you have to tap non-stop to break off bricks. So, you need all the money to boost your balls and intensify the game.
Don't worry. It also lets you earn money while you're away from the screen and doubles the amount when you watch an ad. That's all how you can make money with Idle breakout.
So, it will be much more challenging if you choose to play Idle Breakout with skills rather than cheat.
How do balls work, and how many balls can you have?
In the Idle brick breaker game, balls play a huge role. They smash bricks faster than clicks or any touching human ability. If you play without them, you're just beating a dead horse.
You can unlock up to 1000 balls and use them all at once in your game. Every ball has a different name and color, with different power and speed.
You start with a basic yellow ball, and you can unlock more balls of different abilities as you complete levels. The cannonball is the most powerful ball that breaks through bricks.
The problems with the balls
The biggest problem with the balls is that they do not break bricks easily. As the game picks up, you need more powerful balls to break bricks easily. If we're correct, that's where this game revolves around. You keep upgrading the balls and jump to late rounds without pushing too much. The problem comes when the bricks are more powerful, and the balls need plenty of hits to smash them.
Use of PowerUps
Powerups in the Idle breakout game are almighty. They do not require constant upgrades like balls, but you can only use them after breaking certain bricks. No money is needed to use a PowerUp, but you can only use one powerup at a time, and you cannot use it before reaching certain bricks,
Cashed Up is one of the powerUps that earns double the money for 30 seconds duration. SnowBall bounces off faster as it hits. Similarly, other PowerUps have a unique power that boosts the game to some extent.
Can you use codes in the classic Idle breakout game?
Yes, you can use the Idle breakout game cheat codes to get unlimited Gold, money, unlock & upgrade balls, levels, and more. If you play from scratch without cheat codes, it might take days to reach the 10000 levels. So, users who want to get the ultimate levels quickly can use codes to multiply the game progress by 1000x.
You can unlock up to 1000 balls of full strength, speed, and power using cheat codes. The best part of using codes is that you no longer need to purchase anything; you get everything unlocked with a single code.
Unless you're a game frenzy who loves to play each level and can wait for days and even months to reach higher levels, cheat codes won't excite you a lot.
How to use Cheat codes in the Idle Breakout?
Using cheat codes in this game is easy, you may think. The game allows you to copy codes in its settings. To hack the game, simply paste your code into the box and bingo – You'll unlock balls, levels, golds and much more.
Here's how to import codes in the Idle Breakout game –
On Web –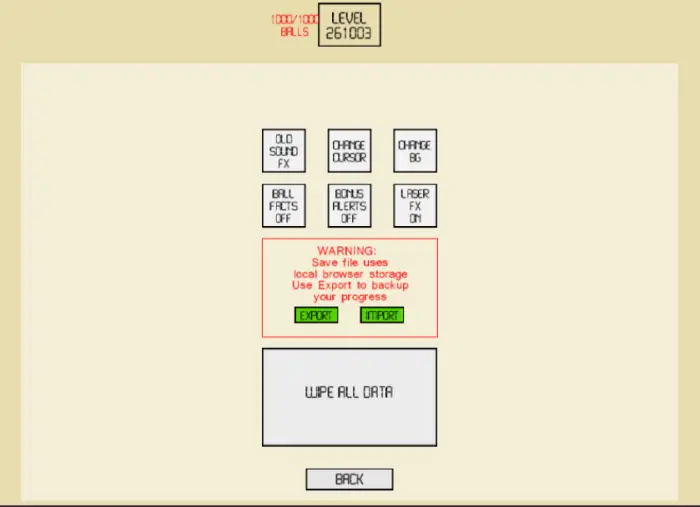 Now, click on the Import (Green color button) in the settings.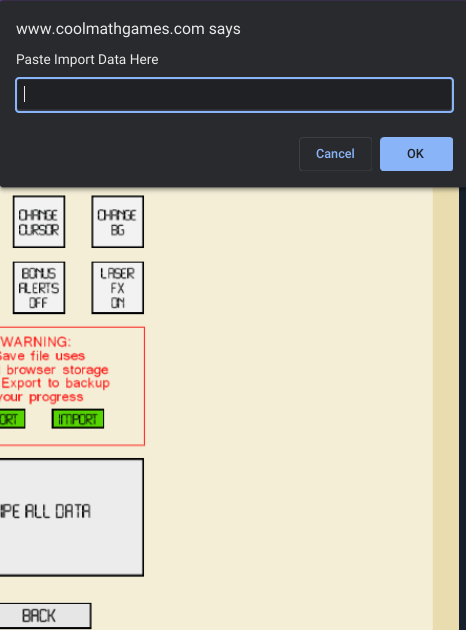 In the next step, copy and paste your code inside the black box, and tap ok.
On Android
Download the app from the Playstore and launch it.
Go to the settings.
Click on the Import button.
And Paste your Cheat code in the box.
This is how you can apply code in your Classic Idle breakout game. The process of applying codes is the same in web and android apps. However, if you use the website, the performance might be impacted due to server outages or technical issues. Android app is simply the best medium to play this game on the go.
Idle Breakout import code for infinite everything.
When you're playing this game with the level OP, imagine the speed of the balls would be. All the balls, when put together at the highest speed rate, and maxed-out power, can smash thousands of bricks in a few seconds without having you touch the screen. That's what this code is going to provide you.
Besides, it unlocks infinite money and gold you can use to upgrade balls and skills points further. However, after applying the code, there will not be any need to upgrade anything. Simply sit, relax and watch your levels grow.
Here is the code
MjYwNDY0LDFlKzMwMixJbmZpbml0eSw0MDE4NywwLDE1MjY0NTkzLDE1MjY0NTkzLDc2OTMxMzUsMCw1NjksOCwwLDAsMCw0MzU5NS43OCw5OTk5OTksMCwwLDAsMCw0Mjg5ODYwNzUzNzU5MDUuMDAsNDI4OTg2MDc1Mzc1OTA1LjAwLDM0OTkzNjI5OTY4ODk4NjQzMi4wMCwzNDk5MzYyOTk2ODg5ODY0MzIuMDAsMTQwNjYzNDU2NTQwNDgwLjAwLDE0MDY2MzQ1NjU0MDQ4MC4wMCw5OTg1NTEzNTI4ODUwLjAwLDk5ODU1MTM1Mjg4NTAuMDAsMCwwLDAsMTAwMCwwLDAsMCwwLDAsMCwwLDAsMCw2LDEyLDgsOTk5LDYsMjcsNSwyMywwLDk5LDUzOSwxMCw5LDk5OSw0LDk1LDAsMCwxLDEsMSwxLDAsMCwwLDEsMSwxLDAsMCwwLDAsMCwwLDAsMCwwLDAsMCwwLDAsMCwwLDEsMSwxLDEsMCwxLDEsMSwxLDAsMSwxLDEsMSwwLDAsMCwwLDAsMCw2NTU0MywwLDAsMCw0OCw0LDAsMCwxLA
Idle Breakout Cheat code for level 10000
Breaking bricks with 1000 balls sounds easy, right? In the last cheat, we did that. If you don't want to play from 200,000 levels, you can import this code to start over 10,000 levels with 200 balls, trillions of dollars, and Gold. You can slowly purchase more balls and upgrade them to boost your game.
Here's the code 
MTAzMzAsMTQzNTYyOTU5Nzc4MC45NCw0ODIsMTUxNSwyNiw5ODIwOTcsNzA5NDczNCwzMzE2MDUwLDQsMzQ1Niw4LDEsMSwwLDQzNjA3Ljk2LDQ0LDUxMiwxMzk4NjcyNTM5LDU1NzYyNjkzNTIzNy4wMCw4NDAwNzU3NTAxNzAuMDAsNDA1Nzc2NTUxODk0LjAwLDcyMzQzODUyMTE2OC4wMCw2NjQ4Mzc1ODc0OTcuMDAsMTAzMTk5MDk0NzcxNi4wMCw3MzgyNjEzMzI2MTguMDAsMTE2NTk1MDg2ODQ2Mi4wMCwwLDcwNjUwMzY1NDUuMDAsMCw1MCw1MCw0NSw1MiwwLDAsMCwwLDAsMCw2LDQ5LDYsNTcsOCw1Niw2LDY2LDAsMCwwLDg4LDg5LDEwLDgsOSw0LDE1LDEsMSwxLDEsMSwxLDEsMSwxLDEsMSwxLDEsMCwwLDAsMCwwLDAsMCwwLDAsMCwwLDAsMCwwLDEsMSwxLDEsMCwxLDAsMCwwLDAsMSwxLDAsMCwwLDAsMCwwLDAsMCw0NjQzNzQsMCwwLDksMjAsMSwwLDEsMSw
Idle Breakout import code for Infinite Money
Many users don't enjoy the game when everything is maxed out, and no spark is left. However, if there is enough cash, one can enjoy buying balls and upgrading them.
Money in this game acts as a catalyst in finishing levels. It allows you to unlock and upgrade balls which, as a result, boost your progress.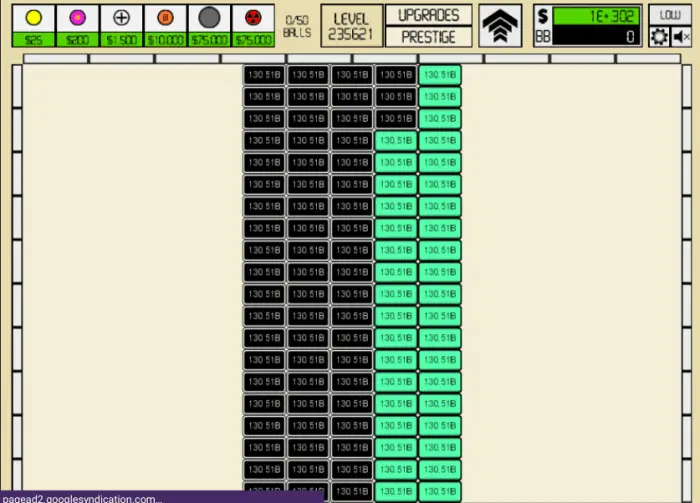 With this infinite money script, you can purchase maximum balls, skill points, unlock speed, ball power, vaus laser, and much more.
Copy the code below.
MjM1NjIxLDFlKzMwMixJbmZpbml0eSwzMzk1MiwwLDEyOTAwMTUyLDEyOTAwMTUyLDY0OTk1O
Get infinite gold in the Idle Breaker.
Earning gold in the Idle breakout is quite a strenuous task. You can earn gold by breaking off the Goldbrick and defeating the boss. If we play fair, it is nearly impossible to collect gold.
This cheat is certainly a good hack if you want to earn thousands of gold without smashing bricks or confronting bosses.
Apart from the infinite gold, this script unlocks maximum numbers of balls, above 700,000 levels, skills points, and pretty much everything.
Copy the Cheat code and paste it into the box (Explained above)
NzM1NjIxLDFlKzMwMixJbmZpbml0eSwzMzk1MiwwLDEyOTAwMTUyLDEyOTAwMTUyLDY0OTk1OTIsMCw1MDQsOCwwLDAsMCw0MzU5NS43OCw5OTk5OTksMTE5NDk5NTAxMzk1OTg0LjAwLDExOTQ5OTUwMTM5NTk4NC4wMCw5NTI3NzUzODgyOTgzMjEuMDAsOTUyNzc1Mzg4Mjk4MzIxLjAwLDM2MjUzNzA1MjQwMjA0NDg2NC4wMCwzNjI1MzcwNTI0MDIwNDQ4NjQuMDAsNzEzOTkzNTQwNzc1ODkuMDAsNzEzOTkzNTQwNzc1ODkuMDAsMzk2OTc4NTIxNjUyODEyODY0LjAwLDM5Njk3ODUyMTY1MjgxMjg2NC4wMCwxMzA4Njk2OTA3NjczMS4wMCwxMzA4Njk2OTA3NjczMS4wMCwwLDAsMTAwLDAsOTAwLDAsMCwwLDAsOSwyOSw2LDM3LDYsMTk5OSw4LDI3LDYsMzk4LDUsNSwwLDk5LDAsMTAsOSw3NzUsNCw5NSwxLDEsMSwxLDEsMSwxLDAsMSwxLDEsMSwxLDEsMSwxLDEsMSwxLDEsMSwwLDEsMSwxLDEsMCwxLDEsMSwxLDAsMSwxLDEsMSwwLDEsMSwxLDEsMCwxLDEsMSwxLDAsSW5maW5pdHksMCwzLDg3LDEzOCxJbmZpbml0eSwwLDAsMCw=700k lvl
How to unlock the maximum number of the ball in the Idle Breakout?
You get up to 0/50 balls to start the game. The limit is 50, and you play with zero balls. As you earn cash, you can buy balls and upgrade them, and repeat this until ample cash piles up in your dashboard to purchase boosts.
If you go with this strategy, it'll take months to max out balls. In contrast, if you import infinite money code, copy and paste, you can easily unlock all the balls and spice up your game.
We've already listed the code above for infinite cash and maxed-out achievements, which you can use to purchase balls or unlock balls slots up to 1000.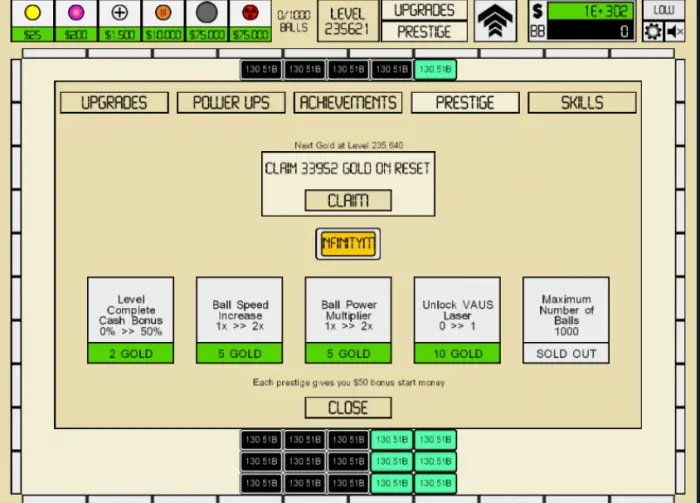 Unlocking the maximum number of balls
After importing the infinite money code, click PRESTIGE.
In the PRESTIGE section, keep tapping the last box until all the 1000 balls are sold out.
What's the best Idle Breakout strategy?
Even though cheat codes amplify the game's progress, you still need a good strategy for late rounds. Using the balls with the right technique is essential, as it can reduce the execution by 100x.
So our best strategy for you is to use Cannonballs more than any ball because they cause massive damage faster, outclassing the Plasma ball.
Another ball to pick is the Poison ball which is really effective in later rounds. Next, we will bet on Plasma balls, which are similar to the Basic balls but has AOE (Area of effect).
You can divide the balls into Cannon (45%), Plasma (25%), and Poison (35%). Make sure to purchase ball power, speed, and every upgrade.
How to wipe out cheat codes from the Idle breakout?
An imported code uses local browser storage, so it can not be removed by refreshing a page. You need to wipe out all your saved data manually. To do this, head over to the game's settings and click on the wipeout data option.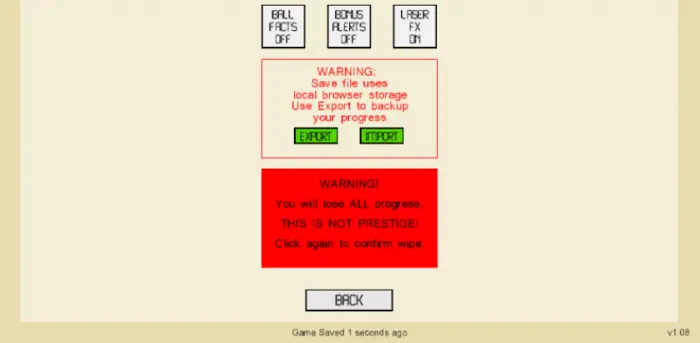 Once you double tap on the action button, you'll lose your progress, which means you'll have to start from scratch.
Wrapping Up
That's there to it. We've rounded up all the demanded Idle Breakout Cheat codes. Using these Cheat Codes is straightforward, as they don't require any complex software or brainwork. Simply import via settings and reach infinity.