Are you looking for a better Life360 alternative? You have landed in the right place. We know how much our family matters to us, but tracking down children outside the home for their safety is difficult until you hire a spy to get the job done for you.
Life360 is around for years, providing us with tools that help us connect with our beloved ones and locate their whereabouts.
However, with unnecessary monthly fees and cutting down on features, the app is no more the best among other family tracking apps.
So, we've piled up other apps like Life36 help you navigate and connect with your family members.
A highlight on the free features of Life360.
Creates private circle of family and friends.
Adds most visited places.
Supports SOS and chat.
Safety Assist for comprehensive real-time specialist support.
Identity Theft Protection.
24/7 emergency dispatch.
Backs up 2 days of location sharing history.
Even more features with Premium.
Do you know there are a few Life360 alternatives that share almost same features and even more when you upgrade for premium? let's jump right in.
Apps Similar to Life360
Isharing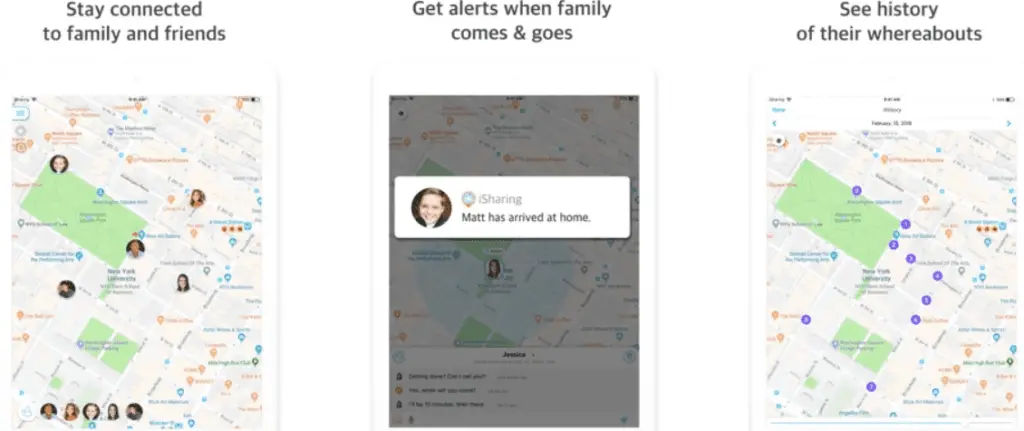 Isharing is one of the best apps to track family members' locations privately. It's intuitive, easy to use, and free.
Using this app, Not only do you track your beloved ones but share a location without others knowing about it. Good enough?.
 It shares a real-time location with family members, sending them automatic real-time alerts when a member arrives or leaves the destination.
Also, you receive a notification when a member is nearby. Similar to Life360, it tracks stolen or lost phones using GPS.
In an emergency, just shake your phone to send panic alerts or use your phone as walkie talkie to send free voice messages.
The app enables you to see the location history of your family's whereabouts at a tap of a button.
Isharing is lurking in the android play store with a whopping 5 million downloads and a 4.5 net rating. 
Freemium | $2.99-$79.99
GeoZilla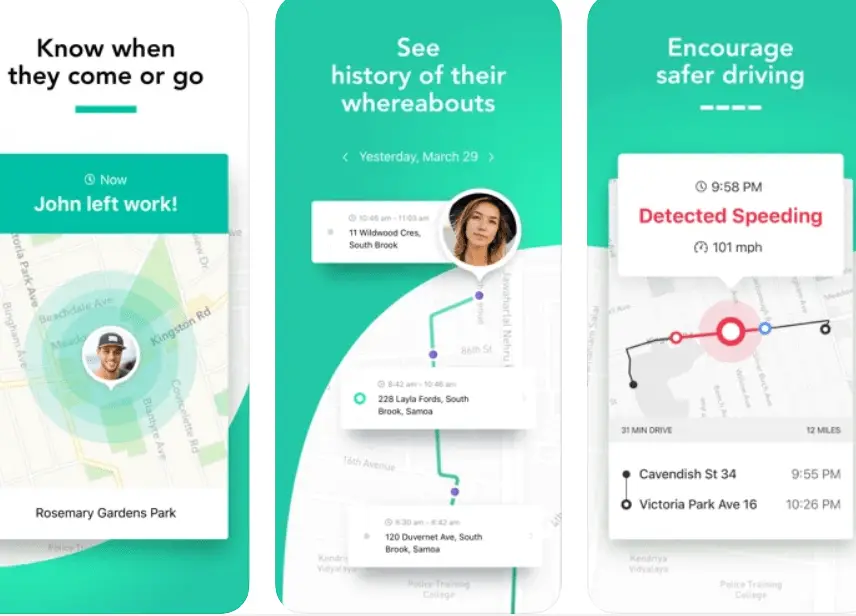 Here is another app that is quite similar to Life360. Geozilla supports a host of features like GPS tracking, private circle chat, location history tracker, driving location tracker, and a few more.
You can use it's family locator to get notified whenever a family member leaves home or arrives at any destination.
Besides, It has a feature called SLS (significant location change) that allows users to switch GPS to sleep mode until moving on the map, to keep battery life from draining.
To ensure your family member's safety while driving, it has a Driving safety feature reporting if a member is speeding up or, using a phone.
Crash detection detects motions then, fires an alarm in the event of a road-side accident, sending a notification to added emergency contacts.
There is also a family locator private chat to send you texts and images of your daily life.
The app comes with the 7 days free trial then you need to shell out per month to use its service. 
GeoLocator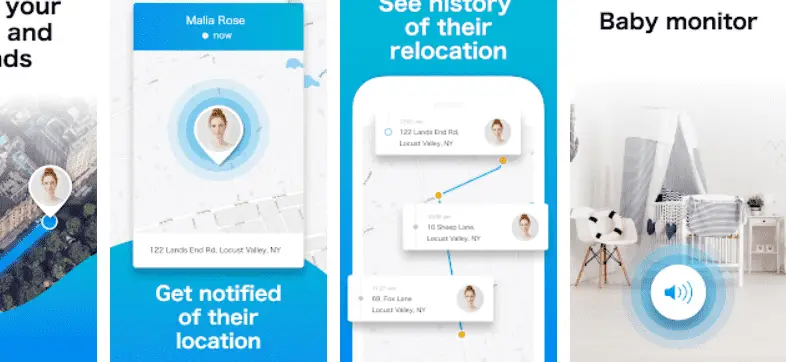 GeoLocator app ticks all the boxes when it comes to family tracking apps. It has an intuitive yet easy to use user interface.
Using this app, you can easily track your beloved ones on the map, get notified of their locations, and even monitor your baby, isn't cool?.
The accuracy it offers is quite near to perfect. It shows safety zones in a minimum radius while using low battery consumption.
Apart from that, it doesn't display chaotic movements of markers on the map, so you get precise information about your family's whereabouts. 
It has an integrated chat that lets you chat in private circles. And when a member is outside of the safe zone, you always get automatic alerts. Also, the app offers a feature to call your kids back home with one click. 
It has parental control features that let you install the child mode on your child's smartphone.
Besides, its navigational map is quite helpful when creating a route to the location of your family.
The fun part, with the internet, it's quite functional as a walkie-talkie. On the whole, GeoLocator is one of the best apps with advanced features, much like Life360. 
Get on Android | Also on Appstore | Web version
My Family locator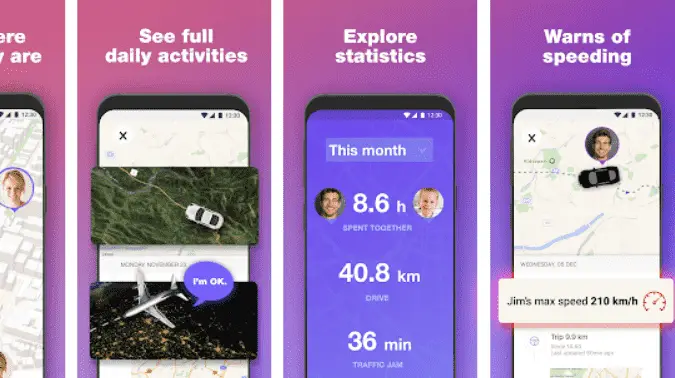 This app allows gauging real-time location in a private map shared with your loved ones. Akin to apps like Life360, it is freemium and straightforward to use.
With this app, navigate your family's whereabouts, monitor driving activities, and keep tabs on location history.
The driving alert feature is, therefore, allows you to know at which speed your family members are driving a car so that you can warn them about their driving style.
Moreover, its inbuilt map tracks traffic jams, walks, trips, and any statistics of movements with real-time GPS accuracy.
What's more, it also detects stolen or lost phones using a GPS location finder.
On the flip side, it disables users to track locations when the battery reaches below 15%. This app has so much to offer for free.
Famisafe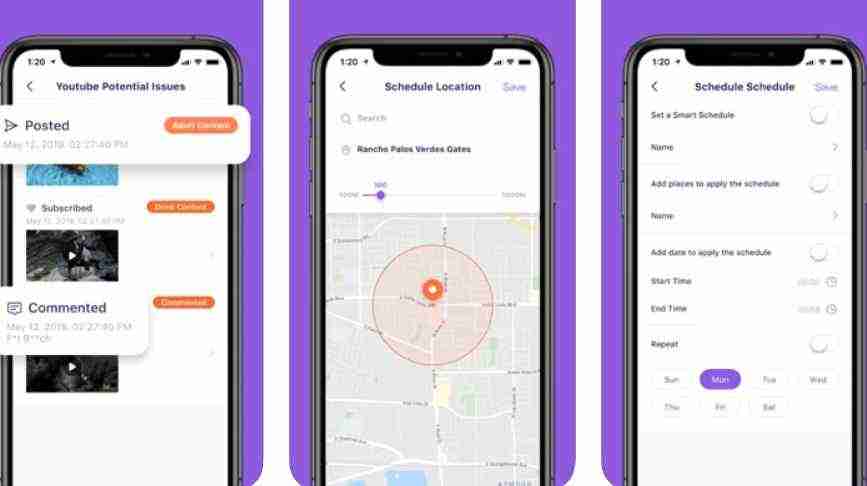 As the name suggests, it protects your family by tracking down their location. Founded in 2014 by one of the well-known software company Wondershare has been managed to garner over 10 million downloads alone at the play store, with an average of 4.5 ratings.  
Famisafe is also the most reliable parental control app that allows parents to control screen time, track real-time location, and detect inapt content on kids' devices.
It sends daily activities your kids having on devices, including screen time, new apps installed or deleted. 
Moving to family tracking, you receive alerts if your kids access or exit the Geofences, a specific location like home or school.
You can set a time range and create a geofence to get notified whenever your kids leave or enter that specific domain.
Apart from tracking real-time location, it tracks kids' recent location activities with time.
Famisafe posses so many features that a whole new article will be needed to coverup. So, if you're looking for a better alternative to Life360, you can count on Famisafe. 
Key Features
Sends reports of the overall kids' devices activity.
Notifies when kids access or leave the unsafe zone.
Allows you to control screen time and other activities on your kids' devices.
Know and alerts the potential risk of cyberbullying, suicidal thoughts, violence, and more in your child's device.
Pricing – $9.99/monthly, 19.99/quarterly, and 59.99/annual.
Premium.
Glympse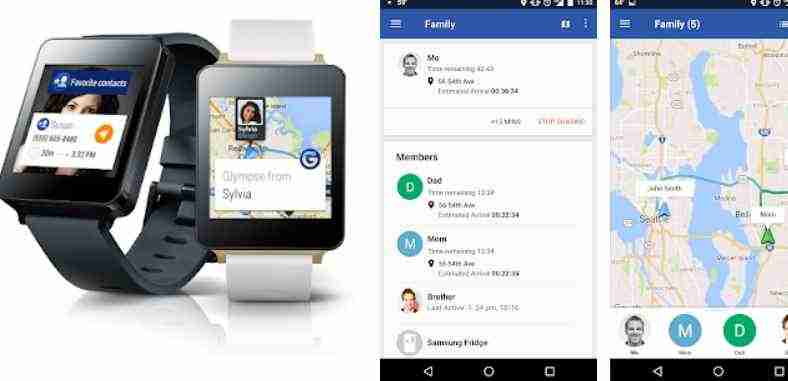 Another app to locate your family and friends' whereabouts using a GPS. Glympse makes it easier to track one's location with no sign-up needed.
That means you can let your family and friends know your current spot by just sending a link via email, SMS, or social media.
And then, a recipient will be able to view your current location on a dynamic map.
There is no need to install the app or sign up required for a recipient to know your location – An internet, GPS, and the web-enabled device is all they need. 
You can set a "glymse" as a specific location to get notifications when someone leaves or access the location or Glymse. The app runs in the background, so you don't need to open up the app frequently to put the wheels in motion. 
Glimpse expires a glimpse or location when someone from your family or group returns home safely.  
The app can help you in many ways in your daily life – from tracking your wife on her way back home from the office to bumping up with your friends at any party or social meetup.
You can also let your family members know you are safe while cycling or running, all from your smartwatch. 
Glymse has over 10 million downloads at the play store and a 4.5 net rating. It has been featured in various well-known publishers praising its contribution to the global audience.
So, not only it's the best alternative, but it also much affordable compared to other family location tracker apps like Life360.
Pricing -$5 monthly | $50 yearly | with full support.
Key Features
Tracks locations of your friends and family members.
 Let you share your location information with people you know without any app or sign up required from their side.
Sets temporary locations. 
Supports smartwatches. 

Sprint Family Locator

It's another application for keeping tabs on your family's whereabouts. With the help of this app, you can track your family's real-time location on an interactive map.
Apart from that, it allows you to track lost phones without having you install the app on the phones you track.
Once the phone is found, you receive a message with the location where the phone was found. 
You can also track locations and phones on its website sfl.sprint.com. To track your family members around a specific location, you can create a shortcut to get notified whenever someone arrives or leave that location.
Here's the caveat, the app comes with the 15 days free trial then charges about $5.9/ month for tracking up to 4 devices.
It is one of the best alternatives to Life360 in terms of tracking family's locations and lost phones, with a reasonable fee.  
Key Features
creates shortcuts
Tracks lost phones(smartphone or normal phones) and family's whereabouts.
Shows a full day location history.
Automatically check locations.
15 days free trial then $5.99 monthly.
Wrapping up
Life360 is not only the best app but also the oldest app compared to other similar apps.
Finding its alternatives took us tedious hours because we tried each app before suggesting them to you. There are hundreds of tracker apps like Life360, but only a few of them caught our eye.
Though the listed apps are free to use, still, you may have to buy premium services. However, we don't recommend you going premium, as free plans should work out for you.
Spread love by sharing this article