It is quite frustrating when your gift card doesn't work due to some error or fault, even though it is activated and has a balance. Users face similar situations with a Vanilla Visa gift card throwing some system error when making a payment, checking a balance, or activating the card.
However, there is no need to go off the deep end and ruin everything. We've piled up some of the best solutions to get your card up and running again so you can make the purchases you need to make.
So please stick with us till the end of this article to hammer out your problem.
How To Fix A System Error On My Vanilla Gift Card?
If you bump into a system error while paying with your Vanilla gift card, the merchant is likely facing an issue. There may be a few other factors involved in causing this issue.
Check the Balance
Undoubtedly, a lack of balance may cause an error, which needs to be checked before making a payment.
So, if you suspect that you're running into an error with your Vanilla Gift Card, the very first step is to check the balance.
By entering your card details, you can do this through the official Vanilla website. In any case, if your balance is different from what you expected, there may be a problem with your card.
In such a case, contact customer support and have them look into the issue.
However, if the balance is correct, the error is likely due to another factor. So let's move on to the next step.
Check the Expiration Date
You might encounter a system error if your card expired a minute ago. So, you must check your card's expiration date before initiating a payment.
As per federal law, a gift card will take five years to expire from the date of its activation.
While gift cards don't typically expire soon, some stores may have policies requiring them to be used within a certain period. If the card has expired, you won't be able to use it.
To check the expiration date on your card, look for the "valid through" or "expires on" section on the back of the card. 
The expiration date should be engraved there. When shopping at an online retailer whose website doesn't display the expiration date, you can call customer service or log in to your account to check.
Check the Activation Status
Activating a card can slip our minds after buying a gift card. Since Vanilla gift cards come activated, you don't need to manually activate them. But it's worth checking the balance to know that the card has been activated.
If you find out that your gift card is inactive, you can activate it by calling the toll-free number on the back of your card or visiting the Vanilla website.
To register your Vanilla Visa Gift Card or e-Gift Card online,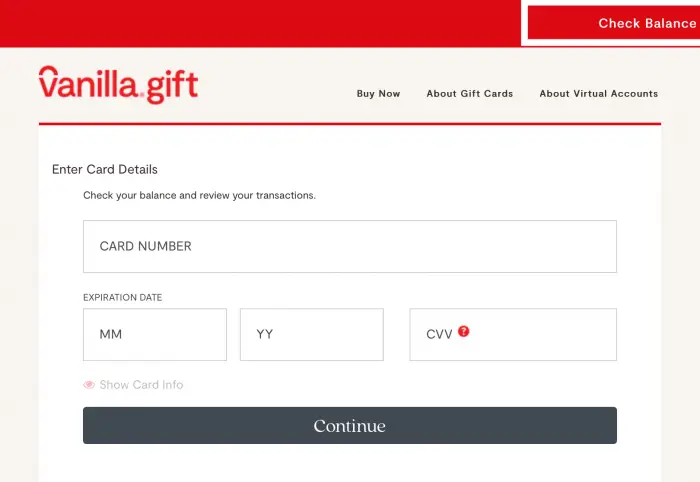 Visit the Vanilla Balance website and access your account.
On the homepage, enter your card details, as shown in the picture, and click Continue.
Once signed in, you'll be able to see your balance, including your transaction history.
If the card has been successfully activated, the website will display a confirmation message along with the available balance.
If you have an issue activating the card, you can try switching browsers or using your smartphone. Also, you can reach out to customer service to troubleshoot the problem. Be sure to have your card number handy when calling.
Check the Transaction History
You might experience a system error due to a lack of balance or unauthorized payments that you didn't make. If you run into such a problem, contact Vanilla customer service.
You can make a phone call at 1-833-322-6760 and ask them to cancel the unauthorized transactions and ensure your account is secure.
If everything looks good in your transaction history, you can move on to the next step.
Check your Internet
Suppose you have hit upon an error while activating or checking the balance of your Vanilla gift card. In that case, it is crucial to check your internet before attempting any of the other solutions.
Ensure your internet connection is stable and running at an optimal speed. If your connection is slow, try restarting your router or switching to a different network, such as a mobile hotspot.
If your internet connection is not working, you may need to call your service provider for technical support. Alternatively, you can use another device with a stronger internet connection and attempt to reaccess your Vanilla Gift Card.
Additionally, ensure that any antivirus programs or firewalls are not blocking the website from accessing the internet.
Try a Different Browser
If your Vanilla Gift Card does not appear to be working after checking the balance or activation, try using a different web browser.
The one you're currently using may have cached information preventing your card from acting correctly.
If you're using Google Chrome, you can use a web browser like Firefox, Safari, or Edge. Ensure you have the latest version of your preferred browser installed on your device.
This will ensure that any necessary updates have been made and can help prevent issues with website compatibility.
If you're still having trouble after switching browsers, it may be time to contact customer service for further assistance. They can provide more detailed advice about troubleshooting your Vanilla Visa Gift Card.
Contact Customer Service
If none of the above remedies can resolve your Vanilla Gift Card issue, then you should contact the Vanilla Gift Card customer service team.
Your problem may be more complicated and can only be solved by the support team. The only caveat is that Vanilla gift cards do not provide live chat support, which may cause response times to be delayed.
When calling the customer service team, be sure to have your card number and other details about your transaction handy so that you can provide them with the information they need.
Once you've contacted the customer service team, they will work with you to try to resolve your issue and get your card working again.
They may ask for additional information, such as proof of purchase or identification, but they should be able to help you solve the problem on time.
The merchant doesn't accept Visa.
If you got a message saying, "a system error has occurred. please try again later.", it could mean that the merchant doesn't accept Visa or gift cards. To verify this, you can use your card at a different merchant that does accept Visa.
If it works, then the merchant or store you were initially trying to purchase from may not accept Visa gift cards. In this case, you'll have to use a different payment method.
However, if you can use your card at a different merchant and it still doesn't work, other issues may be at play. Check the balance, expiration date, activation status, and transaction history of your card to ensure all of these components are in order.
No matter what, if your Vanilla Gift Card isn't working, you should be able to find the cause and remedy it with the steps provided above.
"The merchant may not be using the card system, or there is a problem processing a payment." It's possible that the website is down or facing an outrage issue. To confirm, call or email the merchant.
Frequently Asked Questions (FAQs)
Why can't I check the balance of my vanilla gift card?
Make sure your card is activated before checking your balance. You can use your smartphone instead of a PC if you bump into any such issue.
Why can't I use my Vanilla gift card?
The problem could be in your browser or device. If your card is showing an error, switch to your smartphone to check your balance or activate your card. Also, ensure that you're not entering the incorrect card details or that your gift card has not expired.
You might like: Why is my Visa gift card being declined?