A PDF Annotation app comes into play when you highlight or mark up anything interesting on the web, PDF, or other sources. Annotating can be like editing, marking up or adding notes to webpages, PDFs, or any other documents.
With such apps you can highlight and save crucial information on the Go. While coop up all files at one place or drop them to cloud storage without the fear of losing them.
Simply put, the goal of using such apps is not merely to annotate files but also to save unnecessary costs spent on inks, papers, and other materials.
More interestingly, a PDF annotator app enables you to mark up text in colors, adjust tip's size, save notes, add texts, convert files, and much more.
To be blunt, Unless you are a teacher, you don't need a markup pen as much as do you require the best markup app to manage and annotate stuff.  
Best PDF annotation apps for iOS to annotate texts (Optimized for Apple pencil). 

It's the best annotation iPad app to read and annotate PDFs with real-time collaboration with friends. It sizes around 76 MB and supports more than 11 languages, including German, Italian, Korean, and Japanese.
Best of all, It has a simple User interface so that you don't lose yourself in menus, buttons, or settings, or you'll be able to read files effortlessly. 
Optimized for larger files, the app lets you upload documents formats like .doc, .xls, .ppt, and others. To get started, all you need to do is upload a PDF that you want to read and annotate, and you're all set to go.
There are tutorials wrapped up in the sample PDF files that you can learn to know more about the app's settings and tools. Apart from that, it makes it easier to mark up colorful texts, add notes, and interact with friends.
Key Features –
Supports large documents and multiple files format.
Perfect for skimming, document sharing, and reading files.
Optimized for apple pencil.
Multiple linguistic support.
It is a full-fledge iPad app for customizing PDFs with the support of adobe cloud storage. It lets you edit and annotate texts and merge multiple files into a single PDF without having you rely on third-party applications.
With its intuitive user interface, you will be able to view and annotate PDF documents effortlessly. The app also allows you to search, scroll, quick view PDFs, and choose a single or continuous scroll page mode.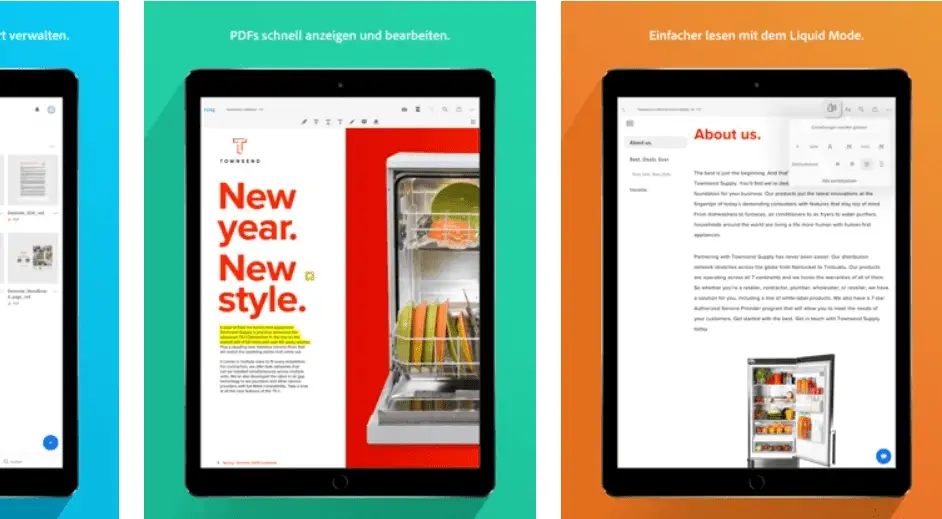 It takes you one step further with its annotation tools allow users to highlight and append texts using apple pencil (use for better precision).
Besides, commenting on PDFs becomes far more engaging using sticky notes and drawing tools. Best of all, the app is free and is backed by adobe scan, and other adobe products too.
key features
Allows users to write notes on PDF using drawing tools and sticky notes.
Supports apple pencil for iPad pro.
Users can import Adobe scan documents and convert them into a single PDF.
Has an intuitive user interface with straightforward navigation.
Flexcil 

It is a great iPad app designed for annotating and editing notes on PDF and templates with ease. Whether you are a student or a teacher, Flexcil has every tool you need to study and is backed by an apple pencil for precision note-taking ability.
When it comes to taking notes, it allows you to drag texts and images from files into a fancy template with a real-pen gesture technology helping you save time transcribing summary.
Just take notes directly on PDF, markup, or underline texts using a finger or a stylus with Flexible. Not only has it the best tools to forge your abilities, but also users can organize notes by subjects and manage PDFs the way they want.
Despite offering such impressive utilities like pens, cloud storage, and folder support, it doesn't charge you except when going further with editing PDFs and notes and unlocking add-on to access everything with no strings attached.
Key Features –
Make a job easier by drag and drop feature.
Has a wide range of real-pens gestures optimized for any stylus to give precision on taking notes.
Support dropbox, Goole drive, One drive e.t.c for backup and sync.
Allow users to markup texts, add notes, and edit files flawlessly.
Has a manageable user interface tailored to help students organize notes by subjects.
Foxit can be your go-to app for creating, editing, and annotating PDFs for iPhones and iPads. It's as simple as it seems; you import PDFs, either by scanning or uploading, and you can convert PDFs to files and merge file documents to create PDFs.
As well as creating password-protected PDF documents, the app also adds a handwritten signature to PDF with an existing digital certificate.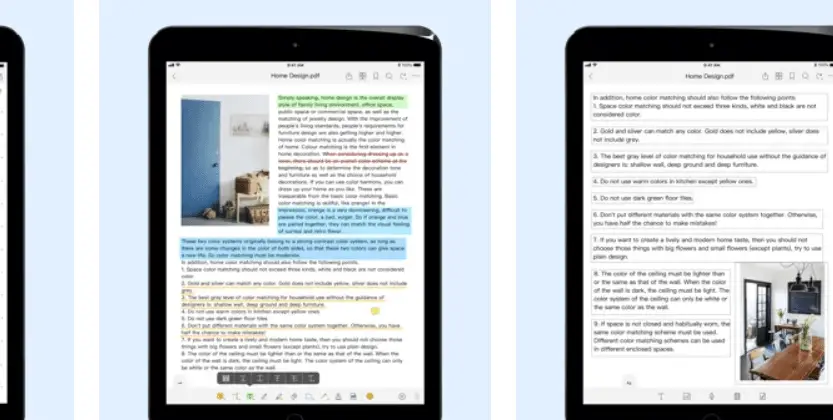 With being the most lightweight PDF annotation app, it has support for more than 12 languages. It complaints with the current PDF ecosystem, meaning, any PDF file can view and edit.
Its intuitive and powerful user interface makes sure you can search texts within files, read books aloud, copy, and delete.
Using Foxit, You can create and export PDFs to images, office docs, readers, and HTML files. If you have an iPad 3 or higher, you can also be able to scan and convert PDF documents to PDFs.
Key Features
Users can add handwritten signatures to PDFs.
Sign digital signature and protect documents with passwords.
Scan and convert Documents to PDF.
Easily export PDF documents to Microsoft office, texts, and HTML.
Back cloud storage like Google Drive, OneDrive e.t.c.
Fill forms and create PDF files from scratch.
Easy to use navigation with full conventional tools.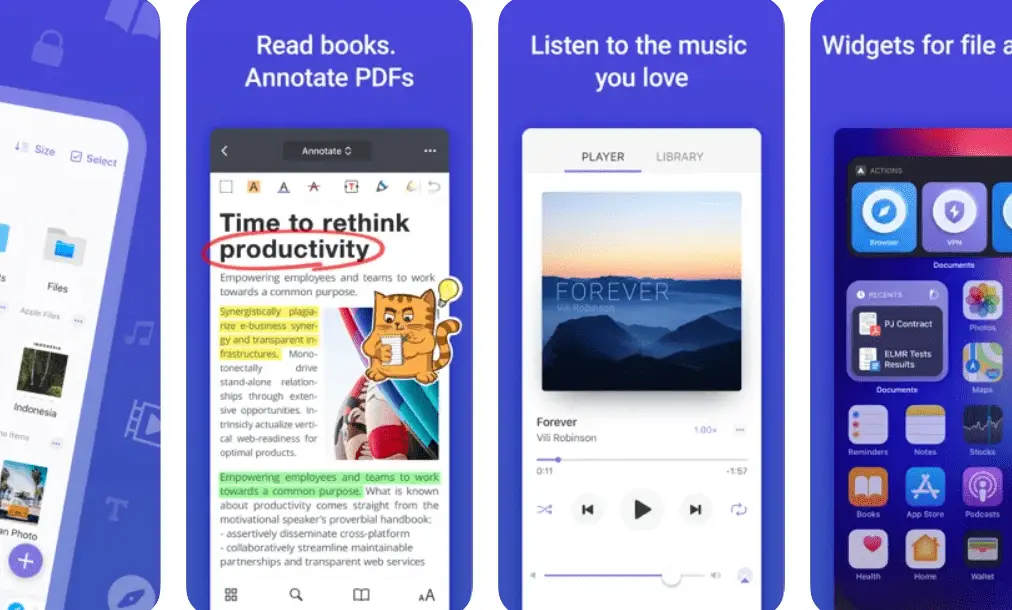 Documents is the central hub for all your files, developed by Readdle, a renowned name in digital technology. You can use the Documents to read books, annotate, listen to any files On the go.
Surprisingly, it's much more than a conventional PDF markup app, as it has loads of features to offer like – Stream video player, a fast and secure browser, VPN, and to name a few. You can download anything from the web using the app – be it a video, image, audio, or web page itself.
You would be surprised by the fact that the app even lets you mark up images, enabling users to use all the iPad's image editing tools – use apple pencil for precision.
The file management system is so intuitive you can unzip files, create tags, colors, folders, rename files, and even open two Readdle apps in split mode to move files between them.
At its core, it converts anything into a PDF, sign, and protect with a password so that others can't access your files without your permission.
Besides, the VPN can secure your connection from evil eye snoops. While you have access to restricted Apps or Websites. Above all, you can watch movies without the internet by just importing files from your computer or online resources.
Key Features 
Integrated with file manager and media player.
Saves, converts, and protects files.
Download files, and save web pages to read them later.
Has an intuitive file management system with cloud storage, media, and files all in one place.
Users can unzip/zip, create and organize folder by name, color, and tags.
Back up and sync files to iCloud, Google Drive, Dropbox, and other services without download.
Let's edit texts, images, links, pages.
Mark up files (optimized for iPad 3 >).
Wrapping up 
These are the best PDF annotation apps for iOS (iPad and iPhone) built to supercharge Documents. These apps are the best fit for annotating files.
Also, offer privacy for files and deliver unmatched file management systems. Besides, you can import files and organize them by different categories, colors, and tags. As a user, you can view, read, create, and convert PDFs or any document at a tap of a button.
We've rounded up these apps based on performance, features, and especially how useful they are for users.
We'll update the list when we find other PDF markup or annotation apps for the iPad. Thanks for the read. Share this article to help others get more productive.