Checking a credit score has never been easier. A credit score is a grade of your credit card that indicates your eligibility to pay off mortgages so that lenders can know about your qualification for borrowing. The higher the score, the better services are offered by lenders. A credit score ranges from 300 to 850, which depicts your credibility.
However, each credit reporting agency (CRA) uses a different scoring model that may be slightly different from FICO or VantageScore. In this article, we have stacked up some of the best free credit score apps that you can use to check your overall credit scores & reports. Also, few apps offer tools and services such as insurance, tax filing, card offers, auto-saving, payment history, fraud protection, and more others.
In order to have your credit score checked, you require a payment report of at least one account reported to the bureaus within the past six months. Note: Not all lenders use the same agency so it might affect how other lenders see you. 
Why check your credit score using an app? 
The app is the easier option for monitoring credit scores and reports without a credit card and filling in unwanted details. With any best credit checking app, you can get all your payment history, pending & paid debt, including all the other factors that make up your approval score. Similar to national credit card agencies, apps allow you to visualize and track your progress over time and notify you whenever a score is changed. Also, you can keep tabs on your loan amount and other due payments so you can pay mortgages on time and boost your Approval score. 
Best free apps to check credit score
Price – Free
Agencies used – Transunion & Equifax
No card required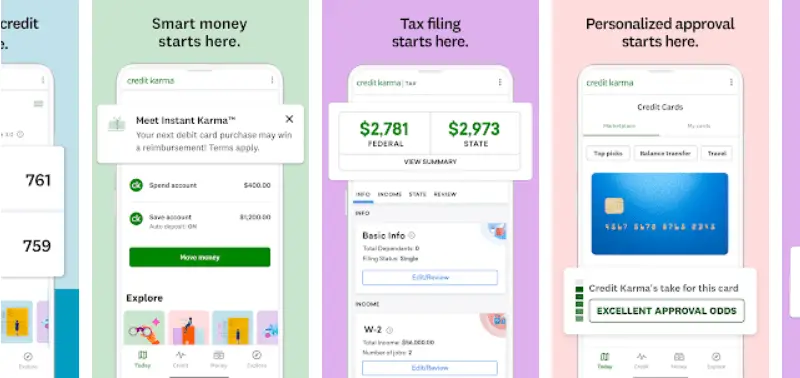 Credit Karma is a free credit card score & report monitoring service launched in 2008. It houses the financial tools that will show how your credit score compares across the country, how certain actions affect your credit, how much loan you can afford or your ability to pay off mortgages, and much more.
To join the platform, all you need to do is provide your name, email id, password, and SSN (service security number) to get insights into your credit reports and scores. It doesn't require a card, and also it verifies your account instantly once the signup process is complete. 
It uses a vantage score 3.0, which is based on 5 digit scoring model. This scoring model helps consumers who have a little payment history.
Credit Karma pulls credit reports through Transunion and Equifax and determines scores for consumers by calculating their various payment inputs and outputs. Besides, the platform recommends credit cards, personalized loans, and more based on your current profile status. You can refresh or view your Transunion credit information daily, While Equifax updates your information as often as once a week. 
Pros:
ID theft protection.
High yield saving accounts.
Recommends personalize offers such as loans, cards, auto, and more. 
Let's users search for unclaimed money.
Updates score and report daily.
Let's users clear a tax amount with $0 state/federal return, 100% free.
Cons:
Won't provide FICO scores that most lenders check.
Price – Free
Scoring model – FICO score 2.
No card necessary.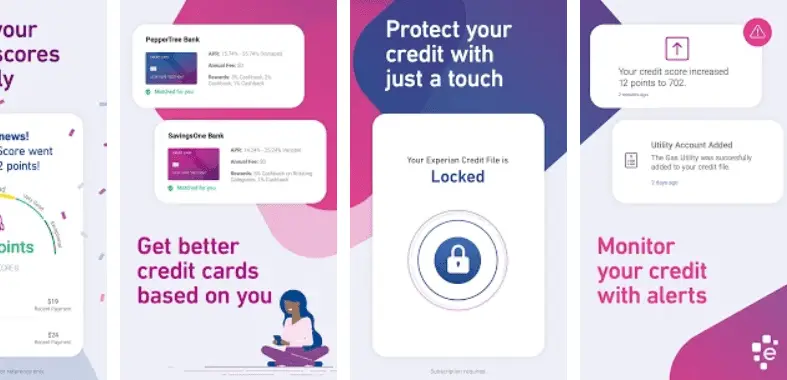 Experian is a platform where you can check your credit report and FICO 2 score for free. It is a credit reporting agency launched in 1996, headquartered in Dublin, Ireland. Unlike Transunion and Equifax, you can get a FICO score every month with Experian.
Not only can you get your information, but also you can boost your FICO score by knowing the factors affecting the score. Also, it typically updates account information every month and updates credit score & reports as frequently as two times or more in a day. Experian scale metric score ranges from 350 to 850, where above 650 is considered good. However, the more score you have, the better offers and mortgage rates you get from lenders.
Since FICO® Score 2 is the most popular score metric that most lenders check when offering auto loans or bank card services, Experian pulls users credit report and give a copy of FICO score. Unlike national agencies, it performs a soft credit check which doesn't impact the score.
In addition, It monitors your account 24/7 and sends email alerts whenever any suspicious or key activity takes place. Experian suggests some personalized card offers with the lowest interest rates and 0% APR, based on your credit score.
Pros
Monitors reports and sends alerts for every key activity. 
Updates information daily.
Boosts score by factoring phone, streaming, and other utility bills into a credit account. 
Get a free report and FICO Score 2.
Recommends card offers based on profile. 
Cons
FICO 2 model is not used by Mortgage lenders. 
Updates account information every month, depending on lenders' own schedule. 
Price: Free | Plan starts from $9.99 – $19.95 per month. 
Bureau – TransUnion, Experian, and Equifax., 
No card required.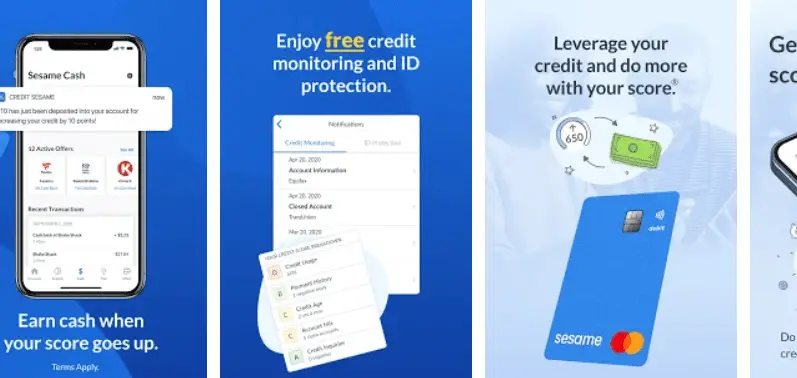 It's one of the best apps to check credit scores & reports for free. It monitors your credit accounts 24/7 and allows you to view credit scores & reports anytime. Apart from that, you can open a Sesame bank account and get paid two days earlier than most standard banks.
It offers a MasterCard debit card that you can use ATMs, and in-app purchases as soon as you make a transaction to Sesame online bank. Also, it finances up to $100 in cash amount whenever your credit score goes up. Not only can you manage all your account in one place, but also earn cashback when shopping at certain stores with Sesame cash. 
The platform uses three credit reporting agencies – Transunion, Experian, and Equifax. These credit bureaus use the vantage 3.0 scoring model, weighing the different factors compared to FICO. However, basic members don't have access to all three agencies until they upgrade to premium.
Transunion is one of the major credit bureaus this app provides for basic members to check credit scores and get insights on reports once a month, while premium members can refresh scores as frequently as every day. Since all the three national Credit bureaus house credit histories on most U.S people that lenders usually check, it's recommended to have scores & reports checked from each agency when applying for approval applications. 
Pros
Monitors accounts.
Personalize credit card offers.
Zero monthly, interest, or any hidden fee.
Free credit monitoring & id protection.
Shows steps to improve your score.
Offers debit card that works with GPay, Apple Pay, and Samsung pay.
Users earn cash for improving their credit score. 
Runs a soft check that doesn't affect anything. 
Saves and pays funds early with Sesame bank account. 
Cons
Updates credit information once a month (for basic members).
Regular consumers get TransUnion alone, while premium can get 3 bureau reports.
Price: free
Bureau : Transunion (VantageScore 3.0).
No card required.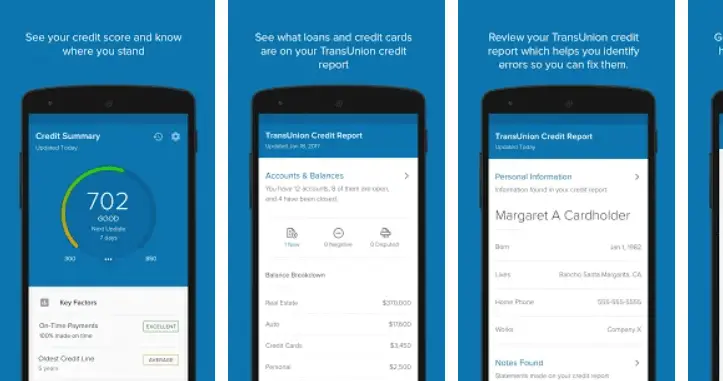 Next up is CreditWise, a credit monitoring app by CapitalOne. This app uses Transunion to check your credit reports and calculates the score based on VantageScore 3.0 scoring model. Based on your account Information, it suggests some helpful ways to improve your credit score.
Besides, it monitors your accounts and sends alerts when something changes into your Transunion and Experian report, without hurting a score. You can view Transunion score weekly, and check other fraud-related inquires, personal account information, public records, hard queries, and accounts status. Also, it has a simulator tool that advocates how positive and negative events could affect your credit score.
The platform uses a 256-bit Transport Layer Security (TLS) to encrypt your data, which means, your authenticity and integrity of data are protected and in the right hands.
Not only the app shows your approval score, but, also evaluates your credit health and the factors affecting it. Note, VantageScore 3.0 model is not as widely adopted by the U.S audience as the FICO model, yet, many lenders can issue credit cards and auto loans by considering at least 24 months of payment history.
Pros
Monitors accounts.
Get weekly reports from Transunion and Experian.
Data encrypted with 256-bit (TLS).
Has Simulator for a real-time score with regards to financial decisions.
Shows keys factors that affect your VantageScore 3.0. 
Get notifications and email alerts whenever your Transunion report changes. 
Cons
Doesn't personalize or suggests offers.
No FICO score.
Frequently Asked Questions (FAQs)
Which credit app uses a FICO score model?
FICO created different score models for each credit bureau – Transunion, Equifax, & Experian. FICO score 2 is the commonly used scale metric for mortgage lending, used by Experian. 
Difference between FICO and VantageScore. 
Both are credit scoring models use different algorithms to calculate your approval score by assessing your payment history. VantageScore is still new, while FICO scoring metric is just quite popular in America, which is being used by over 90% of lenders for checking users' ability to pay off mortgages. 
What is a good FICO score in the U.S?
According to Experian, a scale of 680-789 is considered a Good FICO score. The base FICO Score ranges from 300-850. VantageScore 3.0 also has the same scoring model.
Which app monitors credit reports?
Almost every mentioned app here monitors your credit reports and sends notifications whenever reports get changed. 
Wrapping it up
We've piled up the best apps that let you check credit scores and reports from popular agencies like Transunion, Equifax, & Experian. Best of all, all the listed apps are free and don't require a credit card. You can know your FICO 2 score with Experian, and other apps can show your VantageScore 3.0 score, which most of the lenders check while lending auto loans and card offers.
Not only do such apps pull credit information or calculate scores, but, also personalize credit offers based on where your credit stands. Also, the mentioned applications let you check your credit every weak, month, or even many times in a day. Each app has something unique to offer.