Brainly is an online education platform that amasses millions of people across the globe. It has such a massive user base because it offers free access to many features and allows students, parents, and teachers to dive into several topics. 
It comes with two premium subscription plans (monthly and annually) that unlock many tools and verified answers, with no strings attached. Brainly offers a 7-day free trial for those who upgrade for the first time. 
Users can glue themselves to it either way unless they have no such demands other than answering and questioning. If you have an active subscription and want to cancel it, read further.
Before canceling your Brainly Plus or tutor subscription.
Upgrading to Brainly is a no-brainer, as all you have to do is sign up, choose a plan type, and make a payment. However, if you do not cancel it within 24 hours of payment completion, you will be unable to receive a refund. Anyway, to avoid upcoming recurring payments, you have to cancel your Brainly before the renewal date.
Before we jump into the coveted elements, we suggest you remove your payment information for more security.
Update your payment information – 
Access your Brainly account. 
Head over to your account settings. 
Tap Subscription.
Update or change the payment information (if there is no remove option). 
Since the platform is quite trustable when it comes to security, you can ignore the above step if you want and move to the main step.
Cancel your Brainly subscription
If you no longer need a subscription plan, check out the steps below. 
(You can cancel your subscription using the web and the app.) 
Access to your account.
Tap on the "Gear" icon located on the home screen, as shown in the figure.
 Select Subscription and Cancel your membership plan.
This should resolve your problem, but you'll no longer be able to see verified questions until you upgrade again. Your previous questions and answers will be intact; you can still access your previous data.
How to upgrade to a Brainly subscription?
In case, you want to upgrade again – there is no hard rule to follow to join the Plus subscription. If you cancel it ahead of the 7-day free trial, it will revert your account and charge a fee only when the trial ends. 
Step 1. Create Account.
Access to brainly.com or the app. 
Tap on the login button located at the corner of the home screen and then tap "Join Now." 
Select Google, Apple, or Facebook, whichever way you prefer to sign up with.
Complete registration by filling in a few details about yourself. 
Step 2. Upgrade.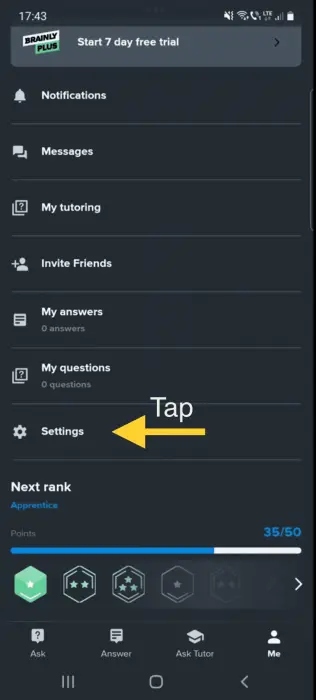 Go to the app or website.
Hit the profile icon.
Scroll down to the bottom and tap "Settings."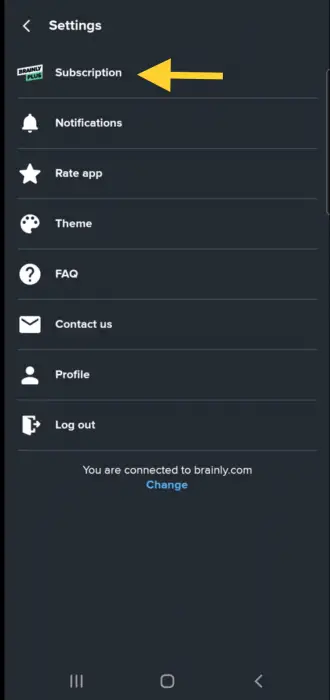 Press Subscription and select your plan (Annual or Monthly).
Enter your card information and complete the process.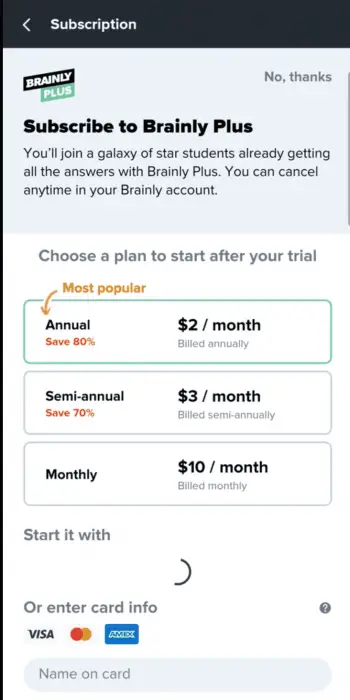 Now you won't see any ads floating around, and you can get access to uninterrupted, high-quality answers and much more. 
Delete your Brainly account
We've listed this step last because it's the least required and may harm your Brainly data forever. However, follow the steps below to delete your account permanently. 
Go to the website or app.
In the top right corner, tap on your profile avatar. 
Scroll down to the bottom and click "edit profile." 
On the page, edit "preferences" and tap on "I want to delete my account." 
Now, you'll need to put in your "password" to confirm that you're the real owner of the account. 
Note that, after deleting your account, all your questions and answers will be lost forever, and you'll have to sign up from scratch to see your ranking grow.