We all love gifts, because who doesn't like free stuff? Well, that's not the case. Gifts are a great way to share love, appreciation, and affection. But sometimes, our gifts don't appeal to the recipients as they can have different likings.
We often don't require extensive, expensive gifts, especially when we are broke or dealing with money crises. But asking for cash for a gift is quite embarrassing and looks unethical for both the giver and the taker.
That's when a Visa gift card fills a gap, and the Vanilla gift card is one of the best Visa gift cards we will discuss.
Whether you want to shop online, in retail, or give a gift, Vanilla gift cards might be the best option. So without doing much, let's jump right into the article.
What Is A Vanilla Gift Card?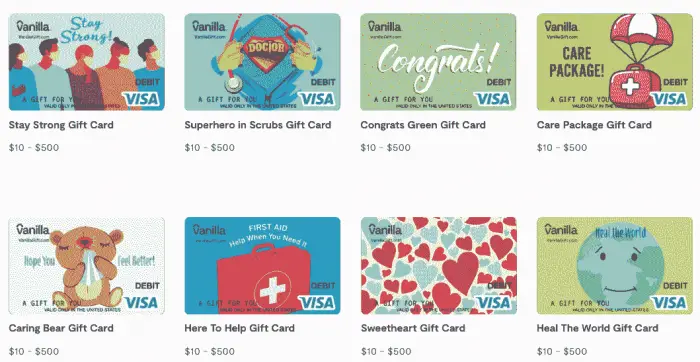 The vanilla gift is one of the best platforms to buy many Vanilla Visa gift cards and e-gift cards for many occasions.
These gift cards are issued by TBBK Card Services, Inc., Pathward, N.A., or Sutton Bank and Members FDIC.
You can check the back of your card to see your issuing bank. Vanilla Visa cards can be used anywhere in the U.S. and the District of Columbia, where Visa, Mastercard, and Discover debit cards are accepted.
These cards come in various designs to suit your needs, from "You did it" to "Graduation Tassels." Best of all, you can create a custom design by uploading a photo or choosing from a list of colors and templates.
A Vanilla gift card's value is capped at $10 – $500, excluding a purchase fee, which may range from $2.95 to $5.95.
Discover – Best Grain credit builder alternatives
How To Buy A Vanilla Gift Card?
Purchasing a Vanilla debit card is straightforward, as no paperwork is involved. All you need to do is select a card, choose the amount you want to put on a card, and add it to the cart.
More options are available, like the "Gift box" and "Gift message," that you can use when sending a gift to someone.
You'll receive your e-gift card by email almost instantly and a plastic Visa gift card by mail within two days.
Once you've received the card, you can start shopping with it without having to activate it.
To buy a Vanilla Visa Gift card, follow the instructions below.
Go to the Vanilla website.
Select your favorite card design.
Choose a plastic gift or plastic card.
Most importantly, enter an amount or card value (a purchase fee may apply).
You can change the card quantity by clicking on the "Plus" icon.
Now you've to write a card message you want to print on your gift card.
You also get an optional gift box or gift message option at checkout.
Once you've customized your card, click on the "Add to Cart" button.
Next, proceed to the cart, enter your mailing address, and choose the shipping methods (a shipping fee may apply if the order value is less than or equal to $200).
Enter a promo code if you've one, and proceed to pay via one of its payment methods.
To buy an e-gift card –
On the same website, select your preferred Vanilla gift card.
Enter an amount from $10-$500 (purchase fee may apply).
Enter the email address where you want to receive the gift card.
You can add a video animation or keep it standard.
Write a gift message (optional), proceed to the cart, and make a payment. You don't need to pay a delivery fee here.
How To Activate A Vanilla Gift Card?
When you purchase a vanilla gift card, you can use it immediately without going through an activation process. However, if you're unsure if your card is activated and ready to use, you can check at balance.vanillagift.com/ or call 1-833-322-6760.
You can check the front side of your card for the card number, expiration date, and CVV. You must submit your card information to check your balance and contact customer support.
We suggest you jot down your card details in case your card is lost or broken.
Are There Any Fees?
A Vanilla gift card is an exception. Generally, Some Visa Gift cards can waive a fee per use. However, Vanilla will charge purchase and shipping fees if your card value exceeds $200.
And if you want to add a gift box, you will have to pay a $2.50 handling fee, which is an optional and reasonable fee.
Besides, there is no activation fee or other associated fee. Unlike other gift cards, Vanilla offers the flexibility to create custom designs for free.
You can also get a refund if your purchase meets its terms and conditions.
Also Read: Why is my Visa gift card not working (Ways to fix)
How Do I Check My Vanilla Gift Card Balance?
You can check your balance and transactions on your gift card at balance.vanillagift.com/. To access your Vanilla virtual account, you must submit your gift card number, expiration date, and security code, or CVV.
In your virtual account, you can see your available funds 24/7 without putting in your card information. On top of that, you can shop nationwide with no fees.
Apart from knowing your balance, the Vanilla virtual account allows you to split your payment to your credit card when your gift card has insufficient funds to cover a purchase. It also lets you save your card details, which is another edge over other platforms.
How Do You Use It?
Vanilla gift cards are only available in the U.S. and the District of Columbia. You can shop at online and offline stores that accept Visa, Discover, or Mastercard debit cards.
Just like your credit or debit card, it can be added to your digital wallet, like Apple Pay to shop online for contactless payment. Besides, it can be used to pay bills, get gas, dine out, and more, all with no fees.
Unfortunately, you can't use Vanilla Visa cards at ATMs, but you can add your gift card to PayPal and transfer its balance to another card to withdraw cash from ATMs.
To use online at stores
Enter your Vanilla Visa card information and select "Credit" or "Debit" as your payment option.
Submit your name and billing address and make a payment.
Is It For You?
Simply put, there is no need to purchase a gift card for personal use or to make a payment. A Vanilla Visa gift card allows users to shop at merchants that accept Visa, Discover, and Mastercard debit cards.
However, if you're thinking of using your gift card as an alternative to your debit or credit card, think twice; you can't use it at ATMs and after your dollars are exhausted, which is a huge downside.
A Vanilla Visa gift card could be the best gift for your loved ones, but there are better Visa debit cards for personal use.
Vanilla Visa Gift Card Pros and Cons
| Pros | Cons |
| --- | --- |
| Various design options. | Shipping fee (For below $200 item) |
| Create custom designs. | No ATM use. |
| Virtual account to manage cards. | Non-reloadable. |
| No monthly, annual, or activation fee. | May waive up to $5.95 purchase fee. |
| Shop at stores that accept Visa, Discover, and Mastercard. |  Lacks live chat support |
Frequently Asked Questions (FAQs)
Can I reload my Visa gift card?
No, you can only use your card until its balance is exhausted.
Is the Vanilla Gift card legit?
Yes, it's a legit and secure card backed by Sutton Bank and Member FDIC.
Can I shop at merchants anywhere in the world?
No, you can only use your gift card in the U.S. or the District of Columbia at merchants that take Visa, Discover, and Mastercard debit cards.
Is there an activation fee?
No, there are no fees waived other than a one-time purchase fee.
You might like – Taz credit card – Automatic $1500 credit line.