Purchased a new Vanilla Gift card? Well, you must be excited to use it for the first time at your favorite location. Vanilla Gift cards are one of the most popular gift cards backed by millions of stores across the U.S. and the District of Columbia.
But You need to activate gift cards before using them online or anywhere in stores, right?
However, some gift cards like Vanilla don't require activation, as they are pre-activated upon purchase.
But, users often need to activate them via the website or phone number manually – You must have your gift card details handy when activating it.
In this article, we'll walk you through how to activate your Vanilla Visa Gift card and how to make it ready for purchase. Let's jump right into the article.
Do we need to activate Vanilla Visa Gift cards?
Aka to any other gift card, a Vanilla Gift card must be activated before being used anywhere Visa and Mastercard are accepted. If it is not activated, it will be declined, and your funds will be useless.
In order to use the funds that you've pre-loaded your card with, you must activate your card right after the purchase.
However, According to the official website, Vanilla Gift cards don't need any activation after purchase, but this is not true. Even though some people have received gift cards and paid directly without activation, sometimes you may have to.
In order to protect your data and funds from authorized access, activation is crucial – it helps both the cardholder and the issuer.
However, once your card has been activated, you can set up your payment PIN.
How to activate my Vanilla Gift card online?
Simply follow the steps below –
Navigate to the Balance.vanillagift.com.
Enter the details that you can find on the back of your Vanilla Gift card.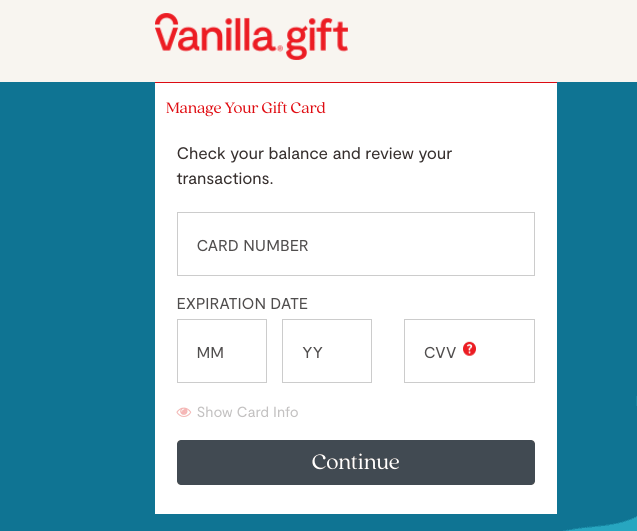 Double-check the information and tap Continue.
 If you're able to access your account, your card is ready to use.
Why can't I activate my Vanilla Gift card?
Some common reasons could be you're entering incorrect information or you're using an expired card. These are all the possible reasons that may cause an issue.
Incorrect Information: Are you entering the right details, such as your card number, security code, and expiry date? Make sure you do not make typos in order to pass activation.
 Expired Card: Ensure that your card is still working or active to check your balance or go through the activation process. If it expires, you can issue a replacement via the website and then use the available funds on the card.
 Already Activated: Sometimes, we confuse about whether the card is activated. In such a case, try to use it at any retailer to see if it works. If it is activated, the issue is something else.
 System Errors: Sometimes, there may be technical issues with the company's activation system. In this case, you should contact Vanilla Gift customer service for assistance. We've also composed an article on the Vanilla Gift card system error. Get help in case you need it.
If none of these reasons is helpful, you can contact the Vanilla Gift customer support team. Maybe they can help you troubleshoot the issue further.
How to assign Zip Code to Vanilla Gift Card?
The Zip code associated with a Vanilla Gift card refers to the billing address and zip code provided during card activation or registration. It helps retailers verify the cardholder's identity and prevent fraudulent use of the card.
When making an online purchase with your card, you may be prompted to enter the zip code linked with the card's billing address to verify the checkout or cardholder.
In case your Zip code doesn't match the card, your payment won't go through. To check or update your Zip Code –
Go to Balance.vanillagift.com.
 Next, enter your gift card number, expiration date, and CVV, and click Continue.
 Once you're logged in, you'll see the "Assign Zip Code" tab" click on it.
 Next, assign your Zip code to your account and save.
 Once your Zip code is added, you can shop at millions of online and offline stores.
How to use my Vanilla Gift card for the first time?
Knowing how to use your Vanilla Gift card for the first time is important. As we know that you need to activate it before making a payment. So if you haven't activated it yet, follow the steps above, and if you did that, continue reading below.
Since a Vanilla Visa Gift card works no differently than any debit or credit card, you can simply use it contactless or online at retailers that accept Visa and Mastercard. And akin to a debit card, no redeeming or fees are involved.
Here are the best ways to use your card. 
Swipe or insert the card: When you're ready to purchase, swipe your Vanilla Gift card at the point of sale terminal. If the terminal has a chip reader, insert the card and leave it in the reader until the transaction is complete. Or hand your card to any shopkeeper or manager, and they'll dabble with a machine for you.
Shop online: Have you ever used a debit or credit card to buy stuff online? Your Vanilla Gift card will work the same way.
You simply need to choose a debit or credit card as a payment method (not a gift card) and enter your card credentials to pay.
Your money will be fetched from your card once your payment has been confirmed. Note: You don't need to use any PIN to complete the transaction.
Likewise, you can add your Visa Gift card to Paypal, Amazon, or any other online company that accepts Visa or Mastercard. 
Unfortunately, you cannot use your card at ATMs, which is a huge caveat for some.
Note: Jot down the fact that some retailers may have policies restricting prepaid gift card use, so it's worthwhile to check with the merchant before proceeding to ensure that your Vanilla Gift card will be accepted.
Where can I use my Vanilla Gift card?
Almost everywhere in the U.S. and the District of Columbia, at retailers that take Visa and Mastercard. You can use your Vanilla Gift card at millions of online retailers or in-stores just like you would a debit or credit card.
However, your Vanilla Gift card can't be used at ATMs, which is a huge downside for many users. As for international transactions, you can't use the card directly to purchase stuff from abroad or from foreign retailers.
But if you transfer your Vanilla Gift card funds into any other bank account that works abroad, you can spend cash anywhere worldwide.
How do I check the balance on my Vanilla Gift card?
Checking your gift card balance is a straightforward process. You can check your balance through the same portal you use to activate or assign a Zip code to your card. All you need is your Vanilla Gift card number, expiry date, and CVV code (Don't reveal it to anyone).
Head over to the Balance.vanillagift.com. 
 Enter your card credentials, and tap "Continue."

Once logged in, you can view your Vanilla Gift card balance on the homepage of the screen.
How to add Vanilla Gift card to your Amazon account?
Land on Amazon.com and sign into your account.
 Add your favorite item to the card and proceed to the payment page.
 On the payment page, choose your payment method as a debit card.
 Click Add a debit card and enter your Vanilla Gift card's details such as card number, name on the card, and expiration date.
 Once you've linked your card, you can place your order easily.
Frequently Asked Questions (FAQs)
How do I know if my Vanilla Gift card is activated?
Simply check online or call the toll-free number on the back of the card to know if your card is activated. Most of the time, you get it activated upon purchase, so you can use it anytime without having to worry about activation.
Do I need a PIN for my Vanilla Visa Gift card?
Using a PIN for your Vanilla Gift card is not mandatory unless a merchant requires it to verify your transaction. Your four-digit PIN is generated when you make your first purchase, which you can change or update later via Balance.vanillagift.com.
Basically, there is not much difference between a Vanilla gift card and a debit card regarding how transactions are processed.
If you're not so protective about your card balance, you don't require a PIN code. However, some merchants may have policies regarding payment processing that can prompt you to enter your PIN code at the time of purchase.