Online shopping is quite normal in this day and age, but not so many people get cash back, right? That's where Fetch Rewards comes into play.
According to Statista, the U.S will exceed 1.3 trillion dollars by 2025 in online shopping. It's interesting to know that an average American spends nearly $400 every month on impulsive online spending, which is quite perplexing.
So if splurging on random stuff is cool, why saving money or getting cash backs is boring? It shouldn't be so.
If you're a shopaholic, this company is nothing sort of a boon for you. It lets you earn free cash back and gift cards online and everywhere in participating stores and brands.
So our Fetch Rewards review will Unveil everything you need to know about the app and our opinion on it. Let's dig in.
What is Fetch Rewards: Overview
Fetch Rewards is one of a few apps that offers rewards on receipts when shopping at eligible stores or restaurants. Those points can be redeemed for gift cards, charitable donations, and other rewards.
Launched in 2014, the app has garnered over 5 million daily active users and 17 million active users as of 2022.
Unlike other apps, it allows you to save as many points as you want as long as you're an active user.
It supports more than 500 popular brands, including Lays, Dove, Amazon, Walmart, Starbucks, and Dunkin, to name a few.
Not only does it turn your receipts into gift cards, but it also conducts giveaways where you can earn exciting prizes.
Besides, it lets you connect and compete with friends who are Fetch active users.
The platform has been in many trusted publications and secured its place as America's favorite reward app in 2022.
The platform is available on both Android and iOS, with an average of 4.5 ratings. 
Free Sign Up Bonus $2 – $4
New savers can earn up to 4000 Points or $4 when they enter a referral code. If you've no referral code, you can skip this step and move forward, but you won't be able to leverage sign-up bonus rewards points.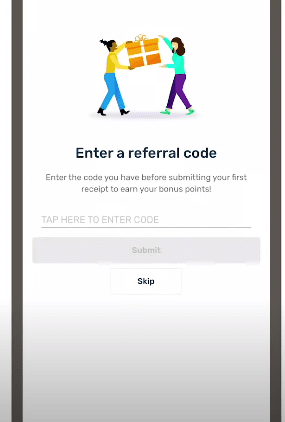 With the Referal code, Fetch offers up to 1300 points for the first three uploads, plus 3000 sign-up points, which you can redeem with a gift card.
We're not affiliated with this platform, so you may ask for a referral code from your friends or anywhere online and get a bonus.
If you don't care who your referral should be, you can use the Referral code MV7RR that we've picked up from the "Pennies Not Perfection" Youtube channel.
How does Fetch Rewards work?
This is the most important question that every Fetch user would want to know. Using the app is quite straightforward, as you just need to snap a receipt and submit it to earn points.
Shop from any favorite retailer and simply scan a receipt you get after paying bills.
You earn at least 25 points for each receipt you submit, and if there is a bonus item, you can earn even more points. Plus, you can earn points through affiliate commissions by inviting your friends to Fetch.
If we convert our reward points to real money, then 1000 points equal $1. So if you want to cash out your cash, you should have at least 3000 points or $3.
You can submit up to 35 receipts over a rolling 7-day period and redeem your points anytime as long as you're active within the app or your points expire.
How to Scan receipts on Fetch Reward?
It instantly offers points after processing your receipt, which is also quick and fast. Here's how to scan your receipt –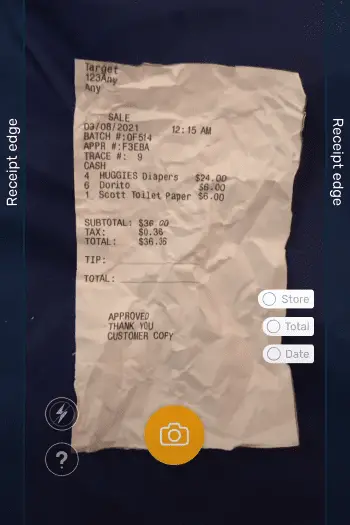 Launch your app.
Tap on the Camera icon floating in the button right corner of the homescreen.
Now scan over to your receipt properly, and bingo.
Note: Line up your receipt properly so it can be scanned, and also make sure it has a store, date, and total amount printed.
Fetch Rewards: Key Features
The major selling factor of Fetch is not just how it works or scans and rewards points but also its simplicity with everything it has on its app.
To earn points, we don't need to go through layers of process. It just makes the process so simple that earning rewards becomes so fun – Even a seven-year-old can snap a receipt and add some points to the board. It's a no-brainer app.
Let's take a look at what it offers – 
Brands – It gives flexibility for users to scan receipts from their favorite retailers. It works with more than 500 brands that cover most of the U.S market. So when you're shopping online or in-person from any of those places, don't forget to scan/upload your bill receipt and earn points.
Discover – This is what makes the users cling to the Fetch. When shopping for the items that fall under the special offers, you may earn exciting gift cards and rewards. You can browse through any category or brand and see special offers.
Instant Scan Processing – This is another selling factor that makes receipt scanning fun and easy. Simply line up your receipt, and snap, and it will add points instantly.
Bonus – It gives a referral bonus worth $4 for a new saver who joins via an invitation link.
Activity – The activity tab allows you to see your total receipts, points earned and total Spend all in one place.
Cash Card – With the help of this option, you can redeem your Visa gift card. Just select your reward amount and follow the prompts to redeem your points in real cash. It involves a few steps, so follow the link to learn how to redeem your Visa gift card.
How do you earn more points?
Fetch Rewards is not a side gig or can replace your part-time job; it's just a money saver tool. When it comes to how many points you can rack up as a Fetch user, then we would say not more than 10000 points on average.
But there's a catch if you buy anything from Special offers, you can maximize your rewards. Well, this is the straight way to rack up points, there is another way too, and we call it referrals.
If you invite enough people to join Fetch, you can point your points even further. Best of all, you can invite as many people as you want as an affiliate and earn a referral bonus on each referral.
So, your referral codes will make you more points than snapping and submitting a receipt. 
Fetch Rewards Pros & Cons.
| Pros | Cons |
| --- | --- |
| It's easy to redeem codes. | May increase impulsive spending. |
| Affiliate program ($2-$4 or 4000 points per referral). | Limited Reward points. |
| Lots of Special offers from popular brands. | Lacks cash back redemption option. |
| Scans receipts instantly. | |
| Completely Free. | |
Getting Paid
If you have at least 3000 pts, you can redeem them for any gift card you see on the Reward page. Just scroll through the list of retailers and choose anyone to use or redeem your points; it's that simple.
You'll see the orange color encircled the amount you can redeem. Once you select the reward amount and get your code ready – simply go over to the store and paste the code to redeem into your store. 
This is how you can use your Fetch gift codes in your favorite retailers and enjoy free meals or buy Robox.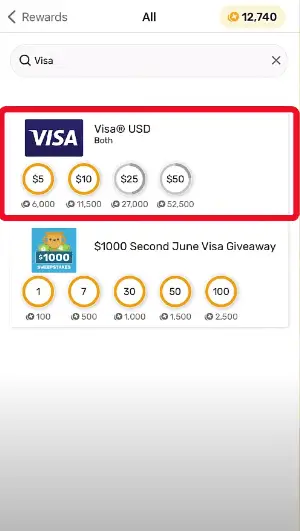 Want to turn your rewards into cash? That's also possible with a "Cash Card option." You just need to search "Visa" in the "Reward" tab, and you can select any amount from $5 – $50, depending on how many points you have.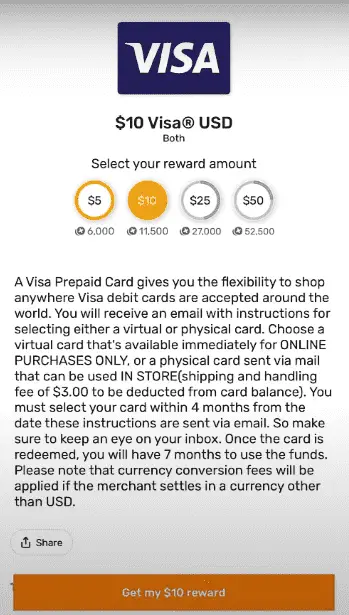 Once you tap on the 'Get my $ reward' button, it will send an email confirming that your Visa Gift card is ready.
Now, when you open a link from the email, you'll have the option to choose your gift card as a physical Visa Card or Virtual Card.
The problem with the plastic Visa card is that it may take up to 7 days to arrive and charges a $3 fee. So Virtual Visa card is the best option you can go for.
Not it's a little trick here. Head over to your Paypal account, and link your Virtual Visa card. You'll find your Visa Gift card information in the email that you've just received from Fetch Rewards.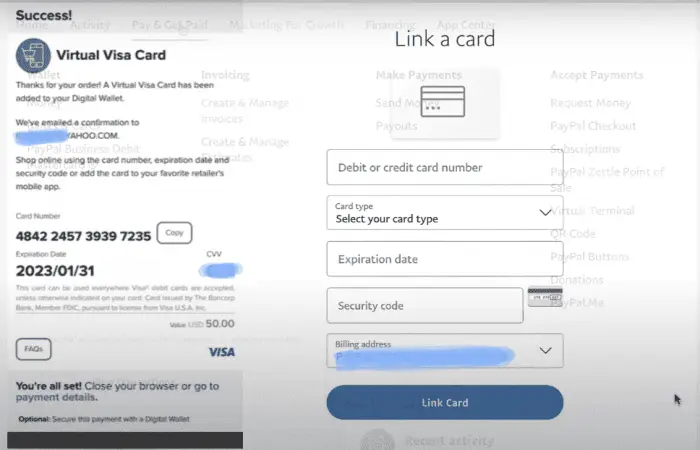 Now, you can send that amount to any PayPal friend or yourself if you have a second Paypal account. This way, you can turn your Fetch Gift card into real cash.
Should you join Fetch Rewards?
Yes, Fetch Rewards is a 100% legit and safe app that allows you to earn rewards from more than 500 popular brands. But should you join it? It depends on the person you're.
If you are very rich and a shopaholic, the cashback and rewards won't affect your pocket much, but if you become a user, it won't waste your time either.
It's one of the best reward apps that process points within 8 seconds after you submit receipts. It doesn't ask for your payment information, so we can consider it safe.
So Apart from racking up rewards for yourself, you can make some charitable donations and bring smiles to someone's face.
If you're a frugal person, it can save you hundreds of dollars every year. It's a free app, so you should at least give it a go.
Frequently Asked Questions (FAQs)
How do you redeem your gift card on Fetch?
Launch the app, go to the Rewards tab, and choose the store to use your points for a gift card. Once your gift is ready, you can copy and paste the code into your store.
Can you Make unlimited points on Fetch?
No, you can add up to 35 receipts every week or 140 receipts every month. But you can invite as many people as you want and earn bonus rewards points.
Can I upload any receipts and earn points?
No, You can only upload receipts of stores that work with Fetch Rewards.
How much cash can we save with Fetch?
It depends. If you shop every day, especially for special offers, you can save around $500 or more in a year. An average Fetch user can save up to $200 just by scanning receipts.
However, you can save even more, say over $1500, when you people use your referral code invitation link.
Does Fetch Rewards steal credit card info?
No, It doesn't steal your credit card information because it doesn't require it. You don't need to enter your credit info while signing up or redeeming a gift card.
Wrapping it Up
This is our review of the Fetch Rewards app. We hope we've answered your questions that were popping up in your head before reading this article. You must have known how to redeem your points to gift cards or how to turn your gift cards into real cash.
You must have also read about how to rack up points and use the app correctly. If you're still concerned about whether the platform is safe or not, we can only urge you to sign up and see yourself. After all, it's a free app, and you won't share any card information with it. Thanks for spending time with us. Have a good day.
Related: Is your Upside app not working? We have a fix.