Twig is the latest app to hit the scene, and it promises to revolutionize how people think about selling used clothes and accessories.
Instead of taking days or weeks to sell used clothing through sites like Offerup or eBay, Twig allows you to get paid instantly without having to ship your items anywhere. Let's cut to the chase.
What is Twig card? Is it legit?
Yes, It is legit. Used by brands like J Brand, Off-White, and Armani Exchange to distribute clothes before they are sold in stores, Twig is a next-generation fintech platform based out of London that offers shoppers instant cash for their unwanted clothing and accessories. 
It connects directly with buyers and sellers through the app, providing an alternative route of monetizing fashion items instead of letting them sit in your closet.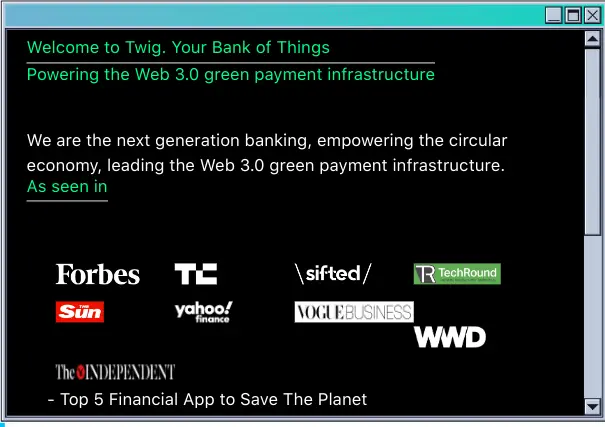 Sellers can enter each item's condition, price range, location, and photos on their phones. Brands purchase these clothes at wholesale prices based on quality – not brand name or designer status – then sell them at retail prices. 
You'll be reimbursed instantly with Twig Cash, which you can send or use to buy anything from food to new clothes from other brands using a free Twig Visa debit card. 
The process takes about five minutes and has no shipping fees, meaning it's easier than donating your clothes because there's less hassle involved.
Although this may seem risky since you're giving away your clothes, we have never had any problems using Twig. It provides peace of mind knowing that everything is entirely digital and secure. 
Plus, if you don't get enough money for what you're selling within six months, The company will give back whatever profit was made!
Why Should I Receive Instant Payment?
Payment is the ultimate reward for recycling your clothes. You get paid cash on the spot from Twig, which means you don't have to wait and do nothing in the meantime. 
Plus, when you're on the flow, and there's no time to stop by a consignment store, selling your clothes instantly with Twig ensures that they'll be taken care of immediately. 
It's also easier than ever to make money off your clothes if you don't live near a thrift store. With the free app, you can sell an item in seconds. And if that wasn't enough, it doesn't matter what condition your clothing is in – all you need are clean and presentable items.
The best part about Twig is that the process takes only a few minutes. In less than five minutes, you can earn $5 by selling two pairs of shoes and three shirts. 
The whole process will be simple and convenient – plus you didn't have to leave my house or go anywhere. 
How Does Twig Work?
First, you must download the app, open the Twig account and apply for a Twig Visa debit card. 
That's it. To get paid, you have to snap a picture of what you want to sell, and Twig will tell you how much they're willing to pay. 
If it fits your price or is close enough, all you have to do is pack up your items and send them back. The app provides you with a prepaid envelope to ship your clothes in, so there are no hidden fees. 
Shipping time can take anywhere from 2-5 days, but if you're not satisfied with the offer, there's no obligation to accept it. 
Twig even covers return shipping costs if an item doesn't sell. All the user has to do is print out a pre-paid label, put their clothes into the box (size limitations apply), seal it up and drop it off at any USPS location. 
Once the cash is in your Twig account, you can send and receive some money through the app. 
Quick explanation – 
Open the Twig account and register for its Visa Debit card (KYC required).
Once your account is verified, Upload the photo of your unwanted clothes. 
You will get an instant valuation and instant cash.
Cash Out or donate, which you think is fair for you. 
You can also send, receive or hold the money in your account. 
Twig app Cons and Pros
Pros (Advantages)
Zero fees for Twig card users. 
Send and receive money to friends and family. 
Pays immediately. 
Users can donate money for planting trees and other carbon offsetting projects. 
Cons (Disadvantages)
-It's only available in the U.K. 
-Items valuation may or may not fit your need. 
– 3% fee for non-twig or U.K. bank accounts.
– Users can send up to $500 via bank account.
– Requires the premium subscription (£4.99 first year) to unlock more Cash Outs.
-Accepts limited men's and women's clothes. 
Can Twig be trusted?
Like many other mobile-based P2P apps, Twig promises fast payments, convenience, and the ability to avoid bulky closets. Yet before you sign up with Twig or any other app, be sure to do your research. 
A quick Google search will give you a good idea of what people say about this service. For example, one user had a problem when their order was lost in transit, and the seller refused to refund them until they could provide proof that the package was never delivered. 
A few potential users have said Twig does not work because once an item is sold on Twig, buyers no longer receive notifications from the seller if they are interested in purchasing an item that has been listed previously. 
There are many mixed opinions about Twigs, just like other similar platforms. However, if we factor in its green payment infrastructure and how it transforms banking, it's worth giving it a try – it won't break a bank. 
Frequently Asked Questions (FAQs)
How much does Twig pay for clothes?
Twig pays a decent amount of cash for the exchange of clothes. The company doesn't say what they would pay you on their website, but if you need a quick way to make some cash, they might be an excellent place to start. 

However, it's probably not worth it if you're looking for more than just a couple of bucks for your clothes.
What can you sell on Twig?
There are a lot of items you can sell on Twig. These include clothing, housewares, shoes, bags, and accessories.

Some of the popular brands that Twig supports are Nike, Chanel Gucci, Hermes, and a few more. 
Does Twig pay you before shipping?
Yes! You receive the cash in your Twig or other bank account or through PayPal within 24 hours of uploading your items.

Once you've received payment, you can order free shipping via USPS, and the clothes will be shipped to Twig's warehouse in San Francisco.
Wrapping up
Don't let your clothes go to waste. Download the Twig app and use it as a bank of things, where you can hold onto your clothes until you're able to make an exchange. 
Twig app pays instantly after sending in a few pieces that are in like-new condition. What's not to love? Twig is perfect for those who need money but don't feel like waiting around for somebody to buy their clothes.
It's also a great way to declutter by giving some space back to other items on your closet shelf.