Gone are the days when we used to transfer money via e-check, or cash deposits through banks. Well, we don't want to wait in line or wait for days to get cash deposited in the bank. To be a bit blunt, traditional ways of banking are obsolete; we no longer need them. That's why we have rounded up the best payment apps to send money with a credit card, bank account, and debit.
With such apps, you don't only transfer payments speedily, but can also manage your payments all in one place. Best of all, there is no monthly or setup fee to tick you off. So let's dive into the article. 
Best Money Transfer Apps with credit card as a payment option.
Paying and getting paid has never been easier, thanks to Venmo for its unique approach. Venmo is a Paypal company centered around smartphones, making peer-to-peer transfers instant and hassle-free.
It differs from Paypal due to its ability to transfer cash instantly with family and friends having a Venmo account. Paypal accepts larger transactions worldwide, while Venmo allows users to send limited cash within the boundaries of the U.S. 
To top things up, Venmo offers a great mobile experience for both users and businesses, and Paypal has a web and app presence to be used by adults globally for larger operations.
However, in terms of fees, both platforms charge 3% for payments from a credit card, and both don't charge a fee for linked bank accounts. Venmo on the other side has a bit edge over Paypal due to its fee-free debit card payments. 
Venmo accepts debit/prepaid, credit card, and bank accounts – just link your payment method via settings and you're ready to go. To sum up, it's a very secure and user-friendly application that keeps tabs on your payments in one place. There is no monthly or annual fee, and you won't face any fund holds. 
Pros
Free debit card and bank account payments.
Instant transfers.
Sync contacts.
Split necessities and write a memo with each payment.
Trade cryptocurrency. 
Get up to two days early paycheck on linking your direct deposit account. 
100% Secure.
Doesn't hold funds.
Cons
Limit on sending money.
3% fee on payments from a credit card.
U.S only.
Also read: Best Payment apps like Venmo
Next up is none other than Paypal itself, the only platform that needs no introduction. It launched its mobile platform way back in 2004 with combined features now got more flexible.
Akin to apps like Quadpay and Moneylion, it gives access to early paychecks before payday as well as offers a Pay-in-4 Buy now pay later service to elevate the shopping experience. Overall, it gives more ways to manage money – all in one app. 
Apart from these addon features, it allows you to use your crypto cash at checkout, which makes it set apart from other relevant apps.
As to payments, users get more freedom with Paypal than any other relevant app, as it makes two-way messaging more fun and less awkward by providing speedy cash access, personalized themes, emojis, and 24/7 monitoring. 
Besides, it has fee-free payment options in the U.S. when you pay from your PayPal balance, bank account, or PayPal cash card. Sending money through a PayPal credit, debit, or credit card is subject to a 2.9% fee along with a $0.30 flat rate. 
Undoubtedly, it is one of the best apps to send money with a credit card in the United States. However, for overseas transactions, Xoom, Paypal's subsidiary company, will let you send money overseas even if you don't have a Paypal or Xoom account. 
Pros
Fee-free bank payments in the U.S.
Get an early paycheck, no minimum, no minimum.
Buy, sell, and hold cryptocurrencies.
Up to 0.40% APY on Savings.
Buy now, pay later with Paypal credit.
Secure and speedy transfer. 
High transaction limits
Deals, cashback, and credit rewards.
Cons
2.9% plus a $0.30 debit and credit card fee.
Additional bank fees.
May freeze the account.
Extra fee for instant transfers.
You might like the Best buy now pay later apps like Sezzle.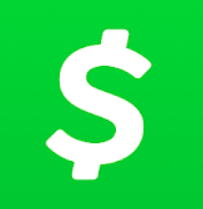 If you want to shop with a customizable debit card, the Cash app is the ultimate option. With this app, you can send money to friends and family, instantly. On top of that, it allows you to spend cash, speed up your direct deposits, and invest with as little as $1. To get started, simply link your bank account or debit card to Cash App to send or receive money after adding funds. 
The money you have in the Cash app account can also be used for investment, paying for stuff, and sending it to friends. There is no monthly or set-up fee to create the account. 
Payments transfers are capped at $1000 per month or $250 in 7 days for non-verified users, whereas, verified users can send up to $7,500 per week, so it's a win-win situation. Akin to Venmo, it doesn't charge a debit card and bank account fee unless it's an instant debit transfer.
When it comes to sending money with credit, the Cash app levies a flat charge of 3%. Apart from loading your cash card from other Cash app users, you can load it physically using retail stores for a $4 reload fee. 
Payoneer is an online fintech company that makes eCommerce and merchant transfers hassle-free. Far more than that, it's an ideal payment source for freelancers and online marketplaces who need to send and receive funds in foreign currencies.
In general, it is a great deal for small businesses and freelancers to receive cash, but you can also use it to transfer money with a credit card under the Pay tab. However, unlike Paypal or Venmo, you can't send cash directly to a user's bank account or debit card, which is a huge drawback. 
If you've consented to its business model, you may want to receive its free Mastercard debit card and use the Payoneer fund to transfer and make payments worldwide and access ATMs. 
Even though it's not one of the best apps to send money with a credit card compared to other listed apps, it still has excellent customer support, affordable currency exchange rates, and speedy payments. 
Pros
Easy to use, secure, and decent support.
Fast payments anywhere in the world.
Best for freelancers and merchants.
Provides a prepaid debit card with ATMs access globally.
Doesn't hold funds.
Cons
Transfers only to Payoneer accounts.
Annual card fee.
Only Mastercard.
$3 Card top-up fees to U.S.
Hate reloading money onto the wallet? Zelle has your back. It's a United state-based digital fintech company that allows users to send, request, and receive cash, almost instantly. Just enroll your email or U.S. mobile number through the app – pick the receipt you want to, send money to, – write a memo and confirm to pay.
Unlike other P2P transfer services, it has no option to link a credit card to transfer funds, but you'll not be charged for sending cash with a debit card and your bank account. 
Since it connects to your bank account, you don't need to load cash every time to pay somebody, as it sends the cash straight to a recipient bank account without any transaction fee. Here is the caveat, recipients must have the app installed prior to receiving the cash directly into their bank account. 
Zelle works with thousands of banks and credit unions, allowing users to send money to anyone they know. If we weigh up, the app has no option to transfer money with a credit card, but still, you get a high transfer limit of up to $1000 per day and save fees on every transfer, making Zelle the most efficient app on the list. 
Pros
Easy to use.
0% bank and debit transfer fee.
Higher limits.
Faster payments.
No deposit is required.
Works with thousands of banks.
Cons
Can't link my credit cards.
Only U.S.
Doesn't provide the physical card.
Final note
These are the best apps to transfer or send money with your bank account, credit or, debit card – smoothly. We have done the heavy lifting so you can opt for the best application that fits your criteria. The listed platforms are free to use and almost share the same fee structure. 
However, we find the Cash app and Zelle to be quite useful as they have a straightforward user interface that makes the process a bit smoother.
For convenient credit card payments, you can settle on Venmo, Paypal, and the Cash app. Note that, all the applications charge a small fee when you send cash from a credit card.
Frequently Asked Questions (FAQ)
Does Cash App charge a credit card fee?
Yes, it charges a 3% fee for sending cash from a credit card. 
Which company or application has a low credit transfer fee?
Paypal has the lowest credit fee ( 2.9% + $0.30).
Does Zelle support credit cards?
Unfortunately, no, it has no option to link to a credit card. You can only send and receive funds via debit and bank accounts. 
Best platform for fast payment transfers?
Zelle, Cash App, Paypal mobile, and Venmo offer instant transfers.
Which app doesn't charge a debit fee?
Venmo, Cash App, and Zelle don't impose any debit fee, except for instant transfers.