Do you want to know how to get cash the fastest? Would you like to know which app is best suited for you? But first, if you don't already know, Klover is the first app that enables you to access your wages ahead of time. Therefore, you will remain financially secure and safeguarded against unexpected costly loans, payday loans, and overdraft fees.
The sign-up process is smooth and does not require credit checks. To learn more, check out Klover. However, in this article, we compiled the best apps like Klover so you can select which one best suits your needs. So, without further ado, let's get started. 
Best Apps like Klover (Top alternatives)
FloatMe: Instant Payday Cash Advance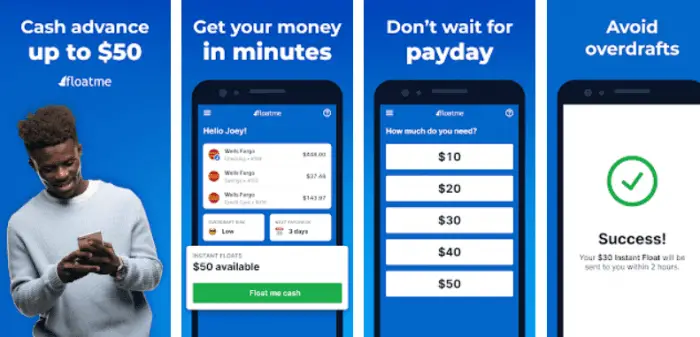 FloatMe was established in 2018 to assist consumers in making better financial choices. It alerts you about any overdraft fees and gives you access to emergency cash to enable you to save smarter.  
FloatMe values transparency between its users, making sure they maintain clear communication simplicity. Apart from that, it also values the growth of its users, because life without growth is boring.
Therefore, the platform always strives to have great communication with you and offer you as much help as they can to enable you to be able to a better financial position. This is one of the best apps like Klover for anyone just starting out and it functions just like Klover. 
FloatMe provides its users with lots of amazing benefits. However, here are the top 3 best benefits of using FloatMe: 
Ease of Access! – It allows you to access your cash when you need it the most. Do you have an emergency next week? Fear no more, because FloatMe has got your back. With 0% interest on cash advance. 
Overdraft Alerts! – It constantly alerts you if you are at risk of an overdraft, therefore you will always be on top of your financial status. It also predicts when you will be in an overdraft to keep your check! 
Save Smarter! – You have probably heard of the most important financial skill which is saving money effectively. With FloatMe you don't have to worry since it automatically saves money every time you receive your paycheck. It essentially builds your emergency stash. 
Start using Float Me (Android | iOS) for free in less than 2 minutes!  
You might like the best apps like Dave to borrow some money.
Empower: Instant Cash Advance & Early Payday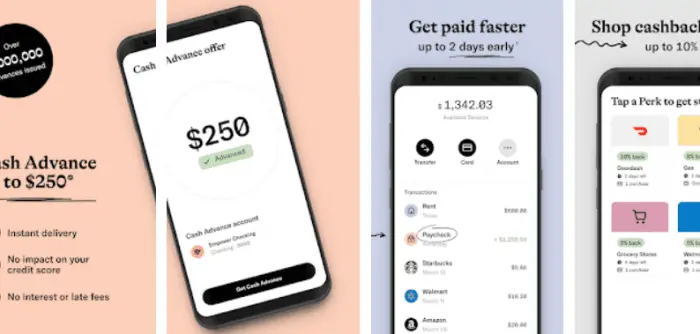 Empower gives you the only card you'll ever need. Read more about Empower here – 
Here are the best benefits of using Empower: 
Get Cash Advance Up To $250! 
You try all you can to catch up, but for some weeks it just isn't enough. When you need it most, Empower floats up to $250 in a cash advance – no interest, no late charges, no checks on credit. Just pay us back once your next paycheck is received.
Get Paid Up To 10% Cashback 
When you use Empower, you get to save money in many places you already shop in, such as restaurants, groceries, movies, apparel stores, and many more. They don't send filler offers, only offers, and coupons that you will use.
Get Paid Up To 2 Days Faster! 
When you use Empower, you get to create an Empower Check Deposit and they make your money available to your right away! Faster than any bank out there by 2 whole days. Total lifesaver! 
The Best Customer Support! 
On top of all these great benefits, you also get the luxury of having a team of professionals ready to help you and consult you whenever you need help or have a problem with the Empower app. 
Start using Empower (Android | iOS) to get the early payday you deserve
Brigit: Get $250. When Needed.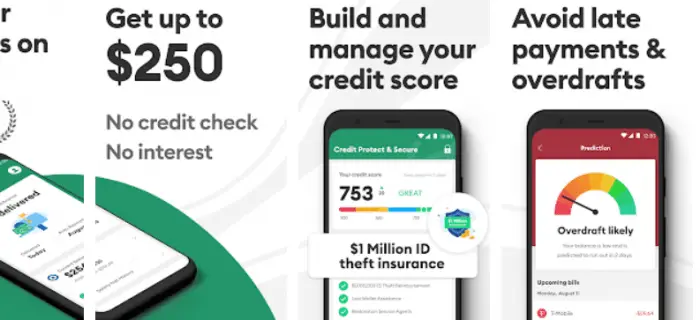 Brigit spots you up to $250 whenever you need it the most with no credit checks and no interest. You can receive it in under 60 seconds! On top of all these benefits, you also get to save hundreds of dollars in overdraft fees when you use Brigit.
Because let's be honest, no one has time for dumb overdraft fees; they are unreasonably expensive, annoying, and should just not exist.
With Brigit, you don't have to spend your hard-earned salary on overdraft fees; instead, you get to start saving it. If you are looking to get the money from credit apps like Klover give Brigit a try. 
Here are a few benefits that will make you love Brigit even more! 
Brigit will give you a heads up whenever you are heading to the bloody overdraft zone. Therefore, Brigit helps you budget and alerts you if your balance is taking a detour. 
Brigit also alerts you of any important balance changes you have, such as an upcoming bill or your hard-earned salary. This will help you stay on top of your financial transactions. 
Have you ever been scared that your balance is too low? If you use Brigit, you won't have to worry about getting too low because Brigit auto-advances money to your account whenever it is in danger of dipping below zero. No more overdrafts! 
On top of these amazing benefits, Brigit is also backed by Will Smith and Kevin Durant! So you won't have to worry about their reputation and integrity. 
Don't miss: Best smart banking apps like Albert
Possible Finance (Get up to $500)
Possible Finance is focused on helping its users become more financially stable. They also put a heavy focus on educating and spreading awareness on how the financial system often undervalues you. For example, 91 million Americans can't access their money when they need it the most.
The flaws in the current financial system are what Possible Finance is trying to fix to. Their sole purpose is to make it financially possible for all people to have financial opportunities.
In other words, Possible Finance is fighting for financial fairness. It values the same thing just like Klover in terms of providing support for its users and if you value the same then Possible Finance might be the best app for you. With that out of the way, here are some of the Possible Finance's best benefits. 
Access to fast and affordable money! 
Possible Finance allows you to borrow up to $500 even with bad credit! They give second chances to people who have made critical financial mistakes and want to change. They don't check your FICO score because they believe that this is just a number. When you apply for credit, you can expect to be approved and receive the funds in mere minutes. 
Access to life-changing financial opportunities! 
As mentioned before, Possible Finance's sole purpose is to fight for fiscal fairness. Therefore, they are giving their users life-changing financial opportunities that help you build your credit history so you can have a better financial future.  
Possible Finance helps you fight costly fees, prevent unnecessary overdrafts, and best of all automatically regain your hard-earned money. They are there to fight alongside you. 
Wrapping it up
Here are the best apps like Klover that help you succeed with financial growth. Each app mentioned here has its pay structure and unique tools to manage your credit. However, there is no easy access here; you have to set up a direct deposit account and tick all the boxes to get approved for advances that you can pay later.
However, Despite no overdraft or late fee, many such apps can impact your credit score if late payment is recorded, and also affect your ability to borrow funds in the future. Therefore, in order to receive advances after advances with no impact on your credit, you need to pay off the lending money between paychecks.