You must have heard about Airbnb, which can be your best travel guide, but do you know that several more apps can be the best Airbnb alternatives? Well, these apps are worth giving a shot if you are packing your backpack for some wandering.
Nowadays, it is harder than ever to find hotels that are within your budget and that don't cost you an arm and a leg.
For that, you need a guide that has all the information you need, from hotels to travel destinations, and the below-given apps have it all.
So, fasten your seat belts because we are getting into the good stuff.
Top Apps like Airbnb for Android & iOS (Top Alternatives)
This website has to be your go-to place for travel and tours because of how comprehensive it is for travelers. It is a whole package, and if you are traveling for the first time to a new country, this website can be your savior.
From flights to stays and rental cars, this website has it all, and you can even scroll through your favorite hotels and book a room with just one click.
It is considered one of the best apps like Airbnb because of its numerous beneficial features for travelers.
It works in almost all countries and shows you the rates of different hotels, lodges, cabins, and apartments in the city you are planning to stay in.
You can also book flights from this website, and if you don't know about any famous travel destinations in the city you are traveling to, it can get you covered.
Pros
Users can book taxis, flights, cards, and stays.
exclusive deals and discounts at selective properties.
Free room upgrade and breakfasts (For Genius members).
Millions of accommodations.
Service is available in over 40 languages.
Fraud or scam reimbursement.
Cons
Lots of scam deals.
No live chat support.

When you are in haste and want to book a trip on the go, this app is all you need. It is a potential competitor to Airbnb, and it is all you need for a well-planned trip because no one wants to go to a foreign city just to find that all the hotel rooms are already booked.
Yes, this does happen on peak vacation days, so just to be on the safe side, you can plan your trip with tripadvisor.com and forget about all these hassles. 
This website lets you find hotels, rental rooms, restaurants, and travel destinations across the globe, which is a cherry on top and makes it one of the best Airbnb alternatives.
Pros
Hire an expert for travel guidance.
One-stop shop for every type of trip.
No cancellation charge.
Exciting benefits and deals (Plus).
Save, organize and share travel ideas.
Millions of guidance reviews.
Wondering how to find the cheapest hotels in the city because you are a little out of budget? Well, Trivago is your spot because it gives you the option to compare the prices of different hotels to find the best one for you.
The Trivago website also shows you the best weekend spots, flight schedules, and car rentals, so it is also a complete package that can easily compete with Airbnb.
Trivago itself is not a booking site, but you can compare the prices of all the other booking sites and hotels on this website, so you've got to get it.
Pros
Discover rentals and hotels nearby.
Compare prices from hundreds of top booking sites.
Save money on each stay.
App for frequent travelers.
Cons
Only a comparison platform.
You can book your tours within no time with hotels.com, as it is one of the best Airbnb competitors. This site offers you reasonable rates and premium travel services, which makes us die-hard fans of it.
You also get a reward night, which means, if you book a hotel for ten nights through this site, you get an extra reward night in the hotel free of charge, which seems like a jackpot to travel enthusiasts.
The website can get you a hotel in almost all countries around the globe, even luxury hotels, without any hassle, so go for it.
Pros
Accommodations are spot on.
24/7 virtual agents.
Up to 10% savings on your trip.
Easy to use user interface.
Advance filtering.


Cons
No elite benefits and earning points.
Doesn't accept split payments.
It is an all-in-one app for you if you are traveling because it not only guides you about cars and flights but also about cruises, so if you are into it, this app has to be your favorite one. You can book your flights and rental cars with Expedia with just one click.
Also, hotels and lodges are all listed in the app, so you can just pick the one that suits your budget and book it. But wait, there are dozens of deals and packages in the Expedia app that can make your travel and your life much easier.
Also, Expedia rewards can give you 10% discounts on different bookings as well.
Pros
Users can book hotels with free cancellation.
24/7 virtual agents.
Mobile exclusive deals.
Car rental insurance.
Last-minute deals to save more cash.
Book hotels, and flights. Cruises, cars, or more.

Cons
Lacks membership perks.
Allows cancellation within 24-hour window.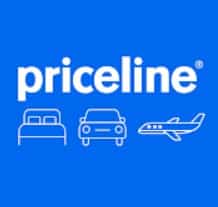 You have no idea how much money you can save with priceline.com because it introduces you to some of the cheapest yet best restaurants around the globe.
If you are looking for a travel company that can offer you everything in one place, Priceline.com is just the way to go.
You can also find a flight in business or economy class through this app. And wonder about rental cars? Priceline has got you covered in this area as well.
And everything is not overly priced like other travel companies, so you can count on it for reliable and affordable travel services. If you are a traveler, Priceline is much like the apps like Airbnb that you can count on.
Pros
Save on your trip up to 50% off.
App only deals for hotels, flights and more.
Discover hotels nearby.
Save more with Priceline VIP. (Paid).


Cons
Capped at two people per room.
Difficult to sift through the best price.
No elite points.
Most bookings are non-refundable.
This site is straightforward to use and has all the options right on the home page, making it even easier to navigate. If you are having trouble finding a hotel for longer stays and monthly travel packages, Agoda has introduced a new service in which you can even book a tour for a whole month with travel and staying benefits.
You can book a tour anywhere in the world, and Agoda will be there to serve you. It not only offers hotels, cabins, bungalows, and resort bookings, but also, if you don't have enough budget, you can book a room in a dorm or hostel as well.
The company also offers bundle deals where you get bookings for flights and hotel rooms at a much more reasonable rate. You can have access to over 2,000,000 properties around the globe, which is a pretty big deal.
Pros
Over 2 million hotels and accommodations globally.
Houses over 2.5 million properties.
Great discount rates.
Instant booking without surprise charges.
Amazing discounts and deals with its Loyalty program.
Lets you list a property and earn money.
Cons
Best deals won't stay long.
Tax and service charges.
Have a flight phobia? No issue, because trip.com has got you covered. You don't necessarily have to travel by flight anymore because Trip.com also offers you services to book trains around the globe.
It is one of the best apps like Airbnb because it gives you a comprehensive guide of the restaurants and hotels in every city according to your budget and preferences. You can even book airline tickets through this app, just like you do on Airbnb.
You can design your own vacations and go to whatever places you want with trip.com, too, at a very reasonable and pocket-friendly rate.
From some of the most luxurious 5-star hotels to the cheapest ones, you can find everything on trip.com with just one click.
Pros
Free cancellation.
Nearly 1.5 million hotel deals everyday.
Train tickets worldwide.
Local car rentals at lowest price.
App-only deals and discounts.
Discounts with Trip coins.
Top-grade customer support.
Cons
Refunds could be delayed.
Slow communication due to massive operations.
While Airbnb focuses on adventures and risky tours, this app is just the perfect key for you to unlock a peaceful and family-oriented tour with private rental places, making it one of the best Airbnb alternatives.
The customer support of this company is also really quick and impressive, which can help both hosts and guests in case of any problem or inconvenience.
You can email them or just directly call the customer support team at hometogo.com, and you will receive a helpful response from them.
It is also one of the biggest companies like Airbnb, with a wide range of rental houses and hotels for your dream vacation.
You can get their services in any of the cities, and you will find some of the best and most affordable deals for your next vacation.
Pros
Free cancellations on most hotels.
Add your favourite places to wishlist.
Wide range of vacation rentals.
Smart filters for accomodation types.
Now, you can start planning your trips months before the actual date and look for compatible and feasible prices with Hopper.com. It lets you find the cheapest and best hotels in 230 countries worldwide and is considered one of the best apps similar to Airbnb.
You can find around 3 million hotels on the hopper, and it is completely free to use. Also, you can use the app on Android as well as iOS. Don't want to pay 100% upfront? Well, you can now pay later at Airbnb and most rental booking platforms.
Also, the prices of hotels predicted are completely accurate 95% of the time, which gives you an idea of how much your trip will cost, which is really helpful for a hassle-free vacation.
If you want to compare prices and search for different hotels in your destination, then Holidu.com can be your savior because it allows you to find the best hotels and is really easy to use and reliable.
You can book a hotel room in any country with this app, and all you have to do is just put in some information and sign up. Also, if you just want to scroll through the app and look for prices, you don't even have to sign up for that.
Also, the prices on Holidu.com are not only reasonable but also pretty accurate, which can help you a lot when booking your vacations. As far as pricing is concerned, Holidu is one of the best apps similar to Airbnb which lets users find and book hotels at an affordable cost.
If any company can legitimately stack up against Airbnb, it's Vrbo, also known as Vacation Rentals by Owner, now acquired by Expedia. Founded in 1995, this US-based startup has managed to garner millions of active users globally.
It allows homeowners to rent their properties, so backpackers can travel like nomads. With VRBO, you can find rentals that fit your budget and mood.
It has something for everyone, from pet-welcoming rooms to condos, cabins to beach houses, just name it. With over 2 million vacation rentals in 190 countries, the platform makes it easier for users to find the perfect vacation rental at top destinations.
Listing a property on VRBO is super easy. Just follow the prompts, and it will show your earning potential based on your home and the place it's located.
It gives you flexibility and control over pricing, dates, rules, and more. What's more, You can sign up as a property manager if you have more than 10 locations to give on rent.
To sum up, it's one of the best apps like Airbnb for finding stand-alone rentals, but it doesn't offer shared spaces.
Pros
Millions of properties.
Intuitive search functionality.
Shows precise listings.
Offers flexibility and transparent pricing. 
Secure and easy to use. 
Cons
No instant booking option.
Fewer accommodation types compared to Airbnb.
Flipkey is one of the best sites for home-swapping and booking perfect vacations all over the globe. With over 300,000 active vacation rentals in 179 countries, it is one of the best options for backpackers and families. Although it has a comparatively reduced inventory, it offers flexibility to manage bookings for your trip. It allows you to cancel the booking and give a full refund if you adhere to its cancellation policy. 
You can also contact the owner or their representatives by simply entering your booking reference and email address after you have paid the amount due for the booking. Flipkey is a subsidiary of TripAdvisor, so security is not much of a concern. 
property manager? You can list your properties for free with a 3% fee per booking that excludes other options you specify for your property. You also unlock more payment options when paying an annual fee per listing. Undeniably, it is one of the best apps like Airbnb for world vacation rentals. 

Pros
Users can cancel the booking within 24 hours after approval (other circumstances may apply). 
Has villas, apartments, beaches, cabins, and more. 
Top-notch review system. 
Hassle-free registration and listing.
Free listing.
All sorts of rental categories.
Cons
Fewer accommodations to choose from. 
Additional fees. 
No smartphone app. 
Conclusion
Finding just the right hotel for your vacation can be a real hassle, and that is the very reason why we have piled up some of the best rental apps like Airbnb that can make your life and traveling a little easier.
You can just download these apps on your phone or use the websites of these companies to inquire about different hotels and flight tickets. Some companies even offer complete tour packages with travel and meals, so good luck finding your ideal company.