Don't like opening a dictionary app to discover a word of the day?, Instead, want to look up a new phrase on a widget or through notification, then you're in the right place.
Learning a new word everyday is one of the good habits that help us build up vocabulary over time that we tend to remember longer.
There are hundreds of free vocabulary builder apps lurking in digital stores, but digging out the best app takes a tedious amount of time.
And it gets even more difficult to discover such apps with a widget. So considering this fact, after hours of testing and digging, we've rounded up some of the best apps to learn a new word a day.
Which are the best word of the day apps for Android and iOS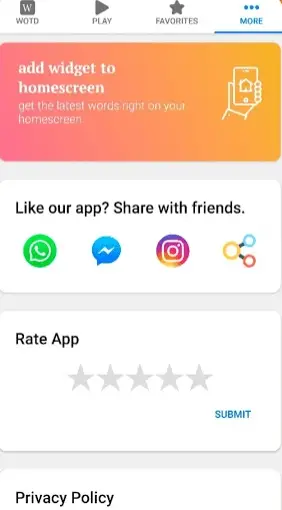 It's an amazing app to learn a new word a day and practice it with daily quizzes. You can save words or read them later at a tap of a button.
It has a classy user interface decluttered with tools so that users don't be overwhelmed. 
The app shows a full definition of a phrase with a verb, adjective, noun, synonyms, antonyms, picture, and more.
Besides, you can see the previous phrase that you've missed to catch up on.
Best of all, the widget is just easy to pull out to be a part of your phone's lock screen, allowing you to see a new word daily at a glance.
However, to know the meaning of a word, you still have to click and see a definition. 
Most of the phrases that it displays range from intermediate to advance levels. It collects phrases from Oxford, Merriam-Webster, thesaurus, and many other trusted sources.
It is a free app but demands a single payment for removing ads.
Free | Homescreen Widget | For advanced English learners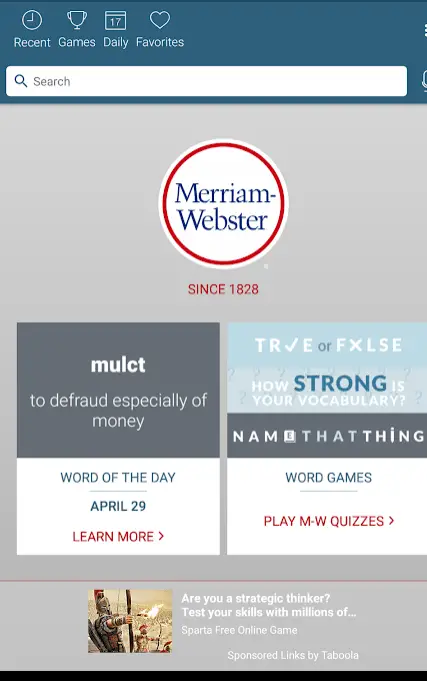 It's one of the best American dictionaries you can have to build up your vocabulary. Since 1828, Merriam Webster has been publishing paperback dictionaries, and finally, in 2019, it launched its homespun app.
This app is available for free, and anybody can download it regardless of the country they live in. 
So, it has the a-z dictionary, a daily English phrase, and quiz games all draped into a single app.
Every word has its detailed definition carrying adjectives, adverbs, verbs, nouns, synonym, antonyms, related words, examples, phrasal verbs, and did you know facts.
In addition, for as low as $6 a year, you can Gain more in-depth knowledge of words, with access to Meriams medical, kids, and legal dictionaries. Try out its free trial and cancel (if you want to) it anytime. 
To style up things a bit, add a shortcut to ask Siri a "word of the day". It notifies you whenever a new phrase comes out.
To sum up, Merriam Webster is legit and so far the most trusted dictionary app for building up a bombastic vocabulary.
Free | Supports Apple watch, iOS, Web| android | Siri support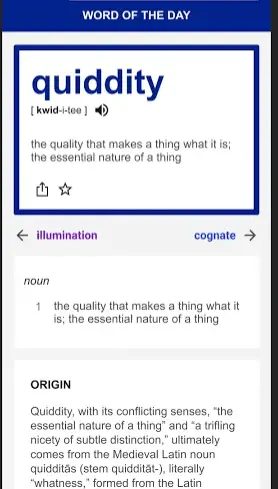 It's one of the largest leading digital dictionaries stacking up a shipload of content. Not only it has millions of English words, but it also emphasizes making English grammar better.
Whether you're a teacher, writer, adult, or anyone, this app is going to be helping you polish up your thesaurus.
Along with mugging up a new word every 24/7, you will learn a new synonym, play quizzes and puzzles all the way through.
While Dictionary.com and Thesaurus are part of each other, you'll get even more details on words by just switching from one tab to another. You can listen a pronunciation, bookmark words, and share socially. 
Even though it has an abundance of free stuff sitting already, you may want to remove ads, and unlock the offline dictionary and get definitions & synonyms even without WIFI. It all starts with just a one-time $5 fee. 
Free | Apple watch, iOS | Android | Web | Supports Widget | Offline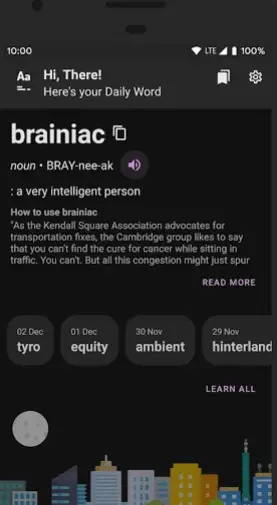 It's a minimalistic app with the run of mill features. If you merely want to learn a new English word everyday, then this is the best option to go for.
Its user interface is quite easy to get the hang of. You find every tool and option right before your eyes in a dark and light theme mode.
Moreover, you can go edge to edge, animate from switching one window to another. 
This daily English word app also allows you to receive daily words notifications. As it's solely an android application, So you can set a widget as usual.
There is no sign up needed or has any in-app purchases. It is fully free and all ad-less. 
It fetches its words from no other than a gigantic Merriam-Webster dictionary through API.
So it only shows a bite-sized definition of words compared to the original source that contains in-depth descriptions.
However, you'd find the link to Merriam Webster at the bottom of every page if looking for in detailed explanation of words. 
Free | For Android | supports notification and widgets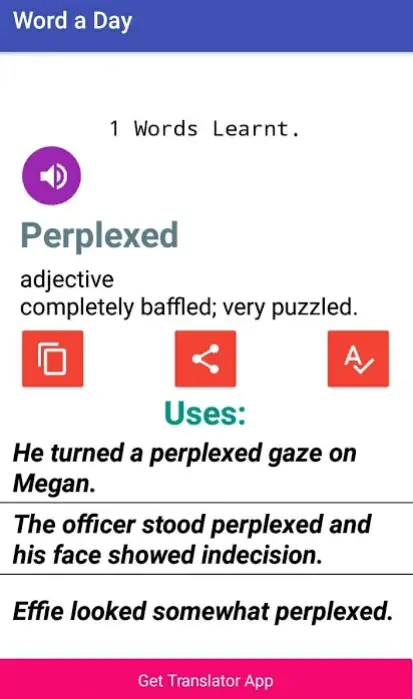 A lite word of the day app to enhance your vocabulary. It's so lite that it has no other options around other than a new phrase.
If you aim to learn only a single word a day with bite-sized information, don't look any further.
The only downside to using this app is that it has no option to save words. So, you've to jot down on a paper to memorize words.
You can use its translate app and get everything written translated into several languages. Besides, the app has pronunciation audio that will help you utter a phrase the right way. 
Unlike similar apps, it is solely dedicated to delivering a new English term every day being exported from the major sources. It is free but includes ads. 
Free | for Android | Supports a widget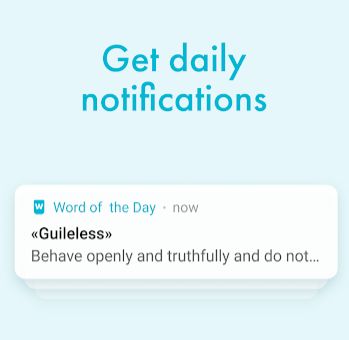 Another word of the day app for advanced English learners. It is straightforward to use and includes a widget. It lets you pick random words that you want to learn.
Also, you can set a notification at any specific time and receive a new word daily. It has a large list of words liked by other users you can discover in the Popular Words tab. 
When it comes to details, you won't find it quite comprehensive when learning a new word for a well- defined explanation.
It just shows basic details with a defination. Anyway, when scrolling down to the bottom, you find a link to look up on google for far more broader details. This is all it offers for free.
The app peels off ads and has more to offer when you shell out nearly $10 a year or you can test ride all The premium features for 3 days. 
Free | for Android | widget | Supports notification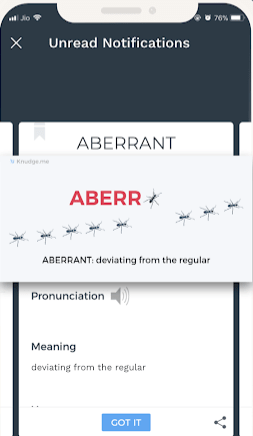 Kludge.me is undeniably the best app for English learners who want to supercharge their vocabulary. Whether it is a user interface, features, or content quality, it ticks all the boxes.
It may help you develop phrasal verbs, idioms, grammar, Writing, and reading speed. It has some amazing way of teaching grammar that hooks users for so long.
For reading, it has games like – words checker, Jelly Fizz, Reader's digest, Sea Voyage, polarity. It includes games for improving your writing as well.
What's more, you can challenge a friend by sharing the code, or join an existing challenge at a tap of a button. It allows you to personalize the difficulty level of vocabulary and other courses.
It is certainly doesn't support a widget, but you get notified with six words daily. However, you can set frequency to 1 if not willing to learn more than a single word.
To solidly what you have learned, it takes a personalized quiz and you earn more knowledge credits for every right answer. 
On the whole, Knudge.me is an intuitive app that helps users bolster their vocabulary and grammar. To have access to a whole lot of premium features, go for $5 monthly or $25 yearly plans.
The premium features allow you to play more games, add notes, access offline, and much more to digest. 
Freemium | Available for Android and iPhone, Amazon, Web | Notification feature | Offline support
As the name suggests, it's Another effective vocabulary builder app that allows you to learn a new English word every day. It has a clean user interface that makes it easier to navigate around tools.
Using this app, you can ramp up your vocab quite easily without worrying about taking notes.
It lets you save new words to the starred tab so that you can have a look at what you've learned.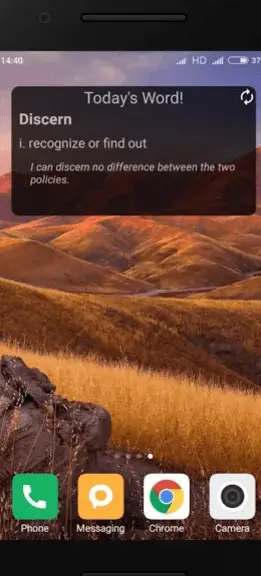 Along with getting a daily word, you can scroll down the previous words. In addition, you can randomize words in the random tab.
This app has a widget that you can stick around on a homepage and check daily phrase with a verb, adjective, and bite-sized meaning. 
Best of all, it has all kinds of quizzes to test your word knowledge. Surprisingly, the app has been garnered up over a million downloads so far with a 4.5+ rating. 
Free | For Android | Supports widget and notification.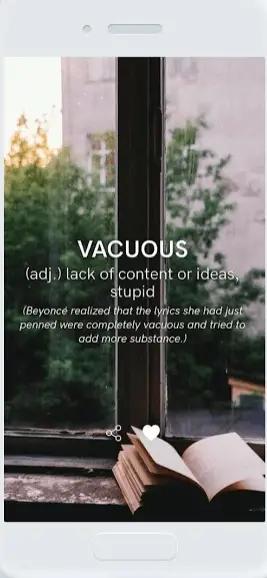 Building a vocabulary has never been easier. This app provided you with the best tools that would catapult you into becoming an articulate English speaker.
It has got a responsive user interface and a bunch of amazing features.
To learn a new word a day with this app, set a widget around a phone's screen, and have a quick glance at it anytime.
The other way around is to check them manually by clicking on the app. Best of all, you can Set up how often the widget will update or set up a reminder.
The app allows you to save new words into the collections, add your own phrase, share, and look into the past vocabulary. Moreover, you can use it as a dictionary to search new terms..
It has a host of premium features that include expanded library of categories, themes, no ads, no watermark. After the upgrade, it unlocks adjectives, nouns, verbs, and even Spanish's phrases.  
Free |For Android, iphone | widget | Supports Reminder. 
Wrapping up
Thanks for stopping by and reading this article. We've put together some of the best word of the day apps that support a widget and notification reminder.
These apps are specifically designed for English learners, Still, a few apps may have support for other languages like Spanish or French.
Spread love by sharing this article