Apple watch? Try out these best water reminder apps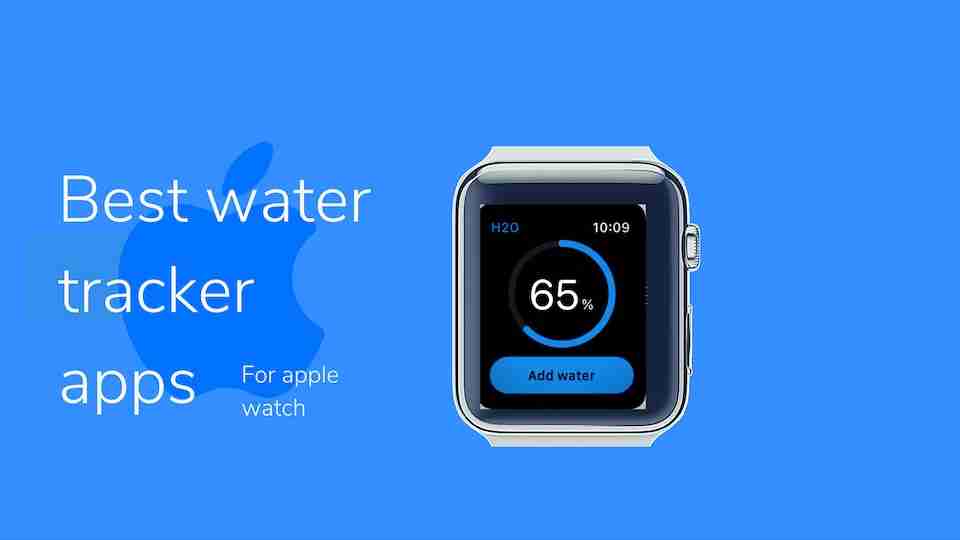 In this hectic lifestyle, we often skip consuming enough water to help our body maintain tempature and fight against fatal bacteria and viruses. That said, if you want to get water reminders straight to your apple watch, and don't want to miss on daily requirements of water intakes, keep reading this article.
To keep our body hydrared, all we require is to drink alteast 3 liters of water through out a day. If we consume enough, our body flushes out toxins through urine or sweat. As a result, immue system becomes healthier, so does our overall quality of life.
Keeping body dehydrated or not having enough water is not only bad for you, but it is also not witty. As our overall body is made of over 70% of the fluid, regulating proper functions of organs. ,
However, one may not have note water durations manually, when they can easily track on smartphones, smartwatch, or other devices. After the research, we found the few water reminder apps at the app store that back apple watch support. The AppStore has few hydration apps for iOS wear that send reminders and track activities but do not back up and synch data. We've rounded up the best water reminder apps for apple watch to o organize fluid reminders and monitor progress
Best apps to track water intakes for apple watch.
Drink water reminder app
It's a one-stop solution for tracking fluid intakes on the flow. With a host of intuitive features and eye-catching design, it is the best fit for your Apple Watch. It recommends hydration based on age, sex, weight, and country temperature. It lets you set reminders throughout a day and skip a bed rest using theautomatic bed timer feature. Besides, It has exceptionally cool graphics that are well-illustrated, helping measure H2o amount in oz and ml with the example of a bottle, so that users can understand how much water they're ingesting in quantity. 
At a tap of a button, it tracks down a history of fluid logs, adjust previous fluid consumptions, view H2O schedules left in a day, and check statistics. So you have more information about your hydration level and overall activities. Just integrate this app with any of your Apple devices, and you're ready to rev up your metabolism. 
Key Features
Recommends the amount of fluid to be taken.
Have intuitive layouts and graphics.
Integrates with iPhone, iPads, and apple wear.
Backs up and synch data across devices.
Sets reminders only when you're active.
Free
Water reminder daily tracker
It's another decent water reminder app for an apple watch with intuitive design and comprehensive features. Just choose your goals to stay hydrated, lose weight, and get fit before taking a plunge. The app asks for the parameters like unit, age, gender, weight, and height to get a personalized fluid plan you should take in a day in oz or ML. No matter what, you can change the quantity to any value that fits your need.
It's not limited to H2O, as it measures all sorts of beverages to keeping tabs on your calories, protein, fat, and carbs. You can glance at all the daily value and maximum daily intake of any day in the Nutrition tab. On top of that, the History tab displays weekly and monthly fluid intakes in the graph. 
If you have parameters set and know how much hydration is there to consume, you can tap on the 'Add Drink' to add aqua, tea, milk, or whatever supplement you take. Not only it tracks daily H2O intake, but it also does the best job of counting nutrients and alarming sugar, caffeine, and alcohol level.
As to reminders, it notifies every 2 hours, or you can set it for 20 minutes to up to 5 hours after each drinking. However, hydration reminder feature for apple wear is only available for premium users.
Key features
Users can manually set daily H2O intake quantity.
Count calories, caffeine, sugar, and alcohol.
Having multiple types of drinks to get precise results.
customizes notification sounds with a random message (premium)
Can record your drink and track progress straight from your apple wear (premium)
Freemium
You might also like the best journaling apps for android & iPhone
H2O tracker and reminder – By Air Apps
When it comes to the best apple watch water tracker and reminder app, H2O ticks all the boxes. It is quite easy to use, intuitive, and free water reminder app for your apple smart wear. It's compatible with your iPhone, iPad, and apple watch, bringing in some of the best possible experience as to hydration tracking. Using this app is as straightforward as walking on a calk, as it just takes a tap on "Add water" to add your hydration intake. It has various drinking sources to choose from, such as a cup, bottle, glass, and all are ranging from 0.1 L. to 0.5 L, which you can change later in settings. 
At the top right corner in the settings, you can change your daily fluid intake size, set reminders that fit into your criteria, and create Siri shortcuts so you can make it more reachable. Other options like widget, apple watch reminders, and manage water may or may not be available for free, depending on a location. However, as you find a way to set water reminders for your apple wear, you can directly see through all history and performance from the app.
H2O by Air costs you around $20 a year, followed by $9.99/monthly and $4.55/weekly plans. We want to inform you that it's an entirely free application only charging when you unlock a widget and apple wear support.
Key Features –
Users can see stats, add H2O, and set reminders all the way from their apple wear (Premium).
Has different types of fluid sources for better precision.
Lets you change the quantity of fluid through the setting.
Users can have a widget displayed on a smartphone's home screen.
Users can use it in messenger to send stickers and more.
Freemium
My Water – hydration tracker
It's another great offering to organize water intakes using an apple watch. If looking for a H2O tracker app with appealing user interface and intuitive tools, don't look any further than this. It focuses on thing most; you consume enough water and keep your body hydrated on the flow. At its core, the tools do a fine job of reminding you to drink fluid on time, prompting you to take one glass of H2O at a time so you can build a healthy habit of drinking water.
The only downside is, it's the premium app that comes with a three days free trial. In the trial period, you can have full access to its features. Once you set your mood for premium, you'll be able to leverage its every feature – be it organizing fluilds from an apple watch, setting up notifications, or monitoring progress.
The app has multiple fee structure starting from around $2 weekly to $12 yearly. To sum up, you may try its three days trial before sprinting on to a premium plan right after installing it.
Key features
For precise understanding, users get various shapes and sizes of containers to measure quantity.
Sends H2O notifications to your apple wear.
Has a widget for adjusting and monitoring hydration intake.
Secure, quirky, and easy to use.
Premium
Wrapping up
We have outlined all the best water reminder apps for an apple watch based on our research. Most of them are freemium apps, meaning, you will have to subscribe to a plan to use every feature. One the whole, they are easy to use with cool user interfaces. Undounredly, these all-rounder water reminder apps can be your go-to Apple watch apps.