VandalMail is the email system the University of Idaho uses for its students, faculty, and staff.
Users can access their email using VandalMail from any device that has an Internet connection.
The email service is provided by Google's G Suite for Education, which offers a wide range of features and tools for email, communication, and collaboration.
How to access VandalMail or VandalWeb?
The University of Idaho's faculty, staff, and students use VandalMail as their email service. You can check your class schedule, update your address, set up direct deposit, and more using this portal. To sign in to your VandalMail account, you can follow these steps: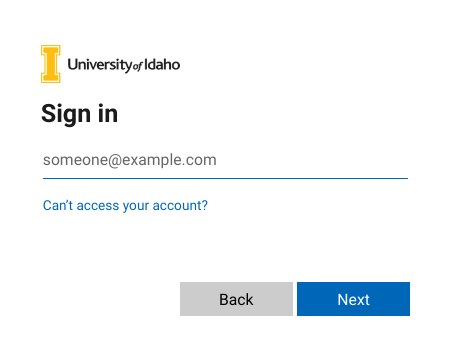 Enter your Idaho email address and tap Next.
Now enter your Password and tap Sign in.
If you're getting started, you need to set up your VandalMail account with the help of your student ID number. If you've already placed your seat deposit, you'll receive your Student ID in the Email Setup kit delivered to your registered email address.
Activate, Reset or Set up your Vandamail Account.
Got a Student ID but don't know how to sign in to your Vandalmail/Vandalweb account? We've your back. You need to create a password and verify your account before logging into your VandalWeb account. Also, you may need to create your security profile and set up duo MFA after changing your password.
Follow the steps below to set up your account.
In Step 1, Access https://help.uidaho.edu/security/reset/ and confirm you're human by verifying the text.
 Now enter your Email ID, student ID, or Account name and tap LookUp.
 Next, Enter the code sent to your ID or address and tap Continue. You'll be directed to the account management site.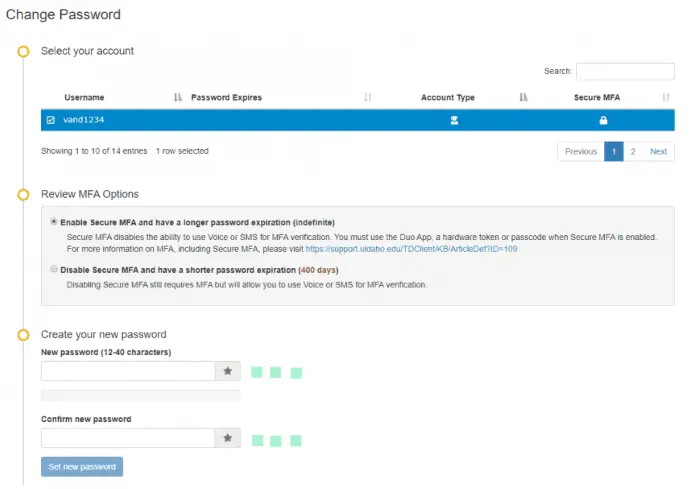 In step 2, change or create a strong password mix of letters and numbers.
 In step 3, answer a few security questions to secure your profile.
 In step 4, you've to set up Duo Multi-Factor Authentication (MFA) to further protect your account. You will be prompted to set up MFA whenever you change your password.
 Now you can sign in to your email address using the password you've created in step 2.
This is how you can activate your account or reset your password. You don't need to call the Student technology center to reset your password if your security profile is set. In case you want to use voice and Sms for verification, simply disable MFA.
In case you've forgotten your student ID, you can find it in your email or ask the customer assistant.
VandalMail Key Features –
The University of Idaho's email system, VandalMail, provides a wealth of features and capabilities for staff, teachers, and students.
Here are some of the key features of VandalMail:
Spacious storage: It offers much email and storage space, enabling customers to maintain a well-organized and accessible email archive.
Integration with Google services: VandalMail is part of G Suite for Education, which includes access to other Google services like Google Drive, Google Calendar, and Google Meet. This integration allows for easy collaboration on documents, scheduling meetings, and video conferencing.
Spam and virus protection: VandalMail uses Google's advanced spam and virus protection technology to keep unwanted emails and potentially harmful content out of users' inboxes.
Customizable filters and labels: Users may create unique filters and labels to arrange their emails in a way that best suits their requirements and tastes, making it simple to discover certain emails or group emails with similar content.
Mobile access: Users may effortlessly check and reply to emails while on the road using the Gmail app to log in VandalMail on mobile devices.
Collaboration tools: VandalMail includes collaboration tools like Google Docs, Sheets, and Slides, which allow users to work together on documents in real-time, improving productivity and facilitating group work.
User-friendly interface: VandalMail has a user-friendly interface that is easy to navigate, with intuitive features and a clear organization of emails and other tools.
To sum up, VandalMail has robust features that make it an effective tool for University of Idaho students, teachers, and staff to communicate, collaborate, and be more productive.
How to add University of Idaho account to iPhone?
Whether you're a staff or student, you can add your University of Idaho account to your iOS device. All you need is your Vandmail email address and password. Adding your account to your iPhone or iPad will help you check your email on the flow without manually logging in to your account.
Make sure you have the most latest version of iOS software installed on your device. Let's barge forward.
Tap Settings from the home screen of your device.
 Scroll down, click "Passwords and accounts," and tap "Add Account." On iPad, Search for "Accounts."
 Select Microsoft Exchange from the list of accounts.
 Enter your full email address, add a description, and click Next.
 A prompt box will pop up. Select "Sign in." (Do not opt for manual configuration).
 You'll be redirected to the University of Idaho login page. Sign in with your account to verify.
 On the next screen, you'll be asked to select the services you wish to sync with your device. Once you've toggled the services to sync, click Save to add your account on your iPhone.
Your University of Idaho email account will now be added to your iPhone's Mail, calendar, and contacts section. You can view your VandalMail inbox and other features from your device. You can also adjust the settings for your VandalMail account by heading back to the "Accounts" section in the "Mail" settings.
Synching may take from a few minutes to several hours, depending on how many messages you've on your device.
Will I lose access to Vandalmail after graduation?
Yes, typically, after graduation, you may lose access to VandalMail. However, the specific policies regarding user's entry may vary depending on the university's policies and your status as alumni.
It's good to check with the University of Idaho's IT department or help desk for facts on how long your email account will remain active after graduation and whether there are any options for alumni to retain access to their email accounts.
In case you've any important emails or files stacked up in your VandalMail account, download them or move them to another email account or cloud storage platform before you opt out of the university or affiliate.
Why can't I access Vandalmail?
There could be several reasons you cannot log in to VandalMail, the email system.
Here are a few common reasons and solutions:
Incorrect login credentials: If you are unable to sign in to your VandalMail, The first thing to look at is if you're using the right login information.
Your University of Idaho email address is typically your Student ID followed by "@vandals.uidaho.edu ", and your password is the one you use to log in to the University of Idaho services. Double-check that you are using your login credentials correctly.
Account status: You may be restricted or disabled if there is an issue with your account status. You might not be able to access the platform due to policy violations.
You can contact the University of Idaho's IT department or help desk to inquire about your account status.
Technical issues: Technical issues on the server side can also cause problems accessing VandalMail. It could be a temporary issue that doesn't require any action from your side.
Try reaccessing VandalMail later, or contact the University of Idaho's IT department or help desk for assistance.
Browser issues: If you are experiencing problems using your web browser to log in VandalMail, consider emptying your browser's cache and cookies or switching to a new browser.
You can also try accessing VandalMail from a different device to see if the issue is specific to one device or browser.
If you have tried these solutions and are still unable to access VandalMail, contact the University of Idaho's IT department or help desk for further assistance.
How do I contact Support?
If you bump into any error or face a problem logging in, you can contact the customer team for assistance. Here is the student technology center: tel:+12088854357. If you're a student, press 2.
Wrapping it up
This is how you can log in your Vandalmail or Vandalweb account. We've piled up all the methods to sign in to your University of Idaho account. If you've any further questions regarding login, let us know.