Entering debit card details is quite dull and risky, so the generation is gradually shifting to third-party apps like Paypal or Cash App to make payments. 
There is no denying that the Cash App is one of the most popular and secure apps that people want to use to pay for things. However, using it with only some online platforms is possible. 
If you've stumbled upon this site to know if Klarna accepts Cash App, you'll get all the vital information you need to use both platforms together. 
What Is Cash App?
This app needs no introduction, as it is one of the most popular P2P apps for sending and receiving cash instantly to our loved ones. Developed by Square, Inc., the Cash App has become a massive hit in the U.S., with over 40 million users. 
On top of the money transfer service, it provides banking and investing without any fees.
With the Cash App, you can invest in stocks and bitcoins for as little as $1. And with the help of the banking partners, it lets users set up a direct deposit and get paid up to two days earlier than most standard banks. 
On the other hand, it offers short-term payday loans for eligible users. Best of all, you don't need a bank account to use Cash App—you can deposit paychecks or paper money via selected retailers to send and receive money. 
And if your age is above 13, you can order a customizable Cash App card, a Visa debit card linked to your Cash App balance. The card can be added to any digital wallet like Apple Pay or Google Pay. 
What Is Klarna?
Klarna is a buy now pay later company based in Stockholm, Sweden. It allows customers to pay for items in four installments rather than all at once. 
Thousands of popular retailers like Instacart, Amazon, Nike, and others already use it. It's available across the US, UK, Austria, Germany, Norway, Sweden, and others. It helps both retailers and shoppers in many different ways. 
For retailers, it increases sales by attracting customers who don't want to pay 100% upfront, and for shoppers, it is, no doubt, very helpful. 
What's more intriguing is that Klarna doesn't charge any fee, be it a late fee, interest, or subscription fee. It's completely free and doesn't have any hidden charges. 
Klarna supports all payment options, such as credit and debit cards licensed by Visa, Maestro, Mastercard, and Discover. 
However, we'll discuss some payment restrictions later in this article. 
Can You Use Klarna With Cash App?
To be honest, you can't. At least not directly. This is why you've landed on our site and want to figure out how you can use both platforms together. 
Since you can't link your Cash App account directly to Klarna, it doesn't mean that you can't use Klarna with Cash App. 
We have dug out a trick you can follow to pay for things at Klarna using the Cash App. 
All you need is a Cash Card, which you can order via the Cash Card tab in your Cash App app. 
A Cash card can be used anywhere where Visa is accepted. You must enter your card details while making a payment at Klarna and pay a one-time installment fee to purchase your item. 
Ordering a Cash Card is straightforward; you must be at least 13 years old and a citizen of the U.S. 
As we know, you can pay Klarna with the Cash app. But you need a Cash card, a free debit card that connects to your Cash App balance, not your bank account. 
Once you've received the card, you've to activate it either by the QR code or CVV and the expiration date of your Cash card. Both options are available in the standalone mobile application. If you've already ordered a Cash app debit card, you can jump to step 3. 
# Step 1 Order a Cash Card 
Launch the CashApp on your smartphone. 
On the home screen of the app, tap the Cash Card tab. 
Now, tap "Get a Free Cash Card" and continue. 
Once you've followed all the prompts and ordered a card, wait a few days for it to be delivered to your doorstep. 
If you've received the card, the next step would be to activate it. 
#Step 2: Activate Cash Card. 
Using QR code
Open your app and click the Cash Card icon on your home screen.
Tap on the Cash card image.
Next, tap "Activate Cash Card.
Now Scan the QR code (May ask for permission). 
Without QR code 
Launch the app, and click on the Cash Card icon.
Click the Cash card image.
Click Activate Cash Card and Use CVV Instead.
At last, enter your CVV and Cash card details. That's it.
#Step 3 Adding Cash Card to Klarna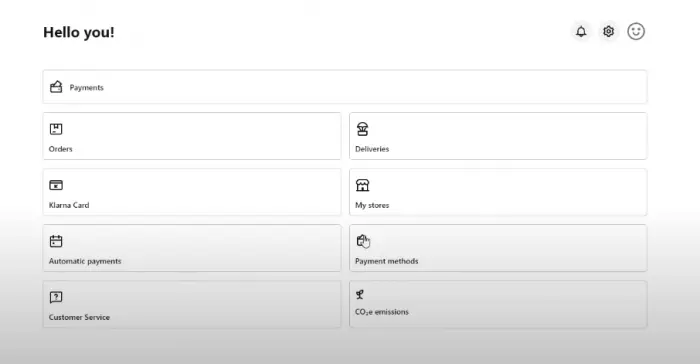 Below "Hello you!" you'll see many options. Tap "Payment methods.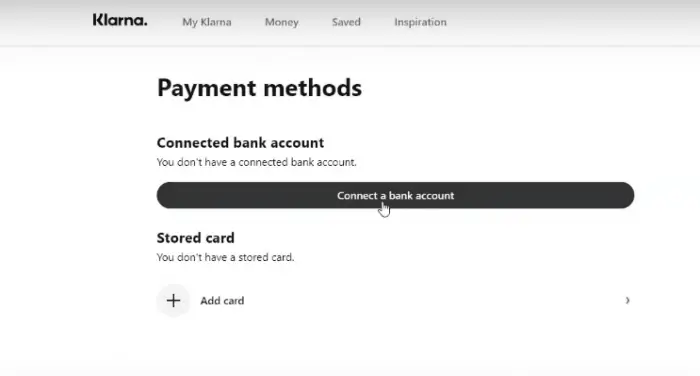 In "Payment methods," click "Connect a bank account."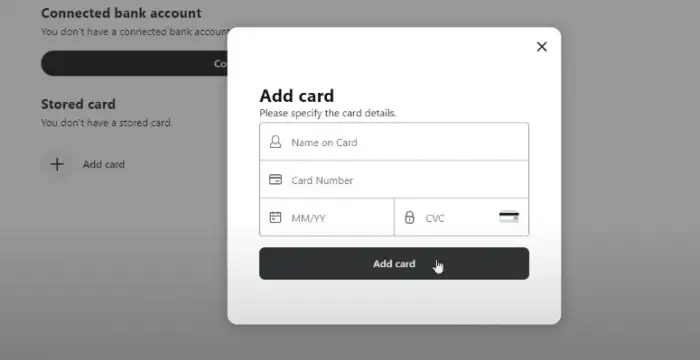 Next, enter your Cash card information into the box and tap Add card. 
You can link any card to Klarna and make a payment in chunks. Note: Klarna doesn't accept prepaid cards. 
What Payment Methods Does Klarna Support?
It is crucial to know what payment options Klarna accepts so we can better understand Klarna. 
Klarna supports Visa, Mastercard, Maestro, and Discover debit and credit cards but doesn't accept prepaid or gift cards. 
If you have a debit or credit card, you can link it to the Klarna payment method and shop online. 
Unfortunately, if your bank is Capital One, you can't use it on any Buy Now, Pay Later website or app, including Klarna. 
Also, it's worth noting that Klarna doesn't accept credit cards for Klarna card purchases. 
As far as the Cash app is concerned, it can accept the Cash card to shop online. We've already covered the significant steps for ordering and activating the Cash card. 
Cash App's debit card doesn't link to your bank account. Instead, it uses your Cash App balance. So, whenever you make a payment or purchase anything on Klarna via your Cash Card, you've to ensure you've sufficient balance in your CashApp account to cover an expense. 
Things To Keep In Mind When Using Cash App With Klarna
When using the Cash App with Klarna, there are several essential things to remember. 
First, it is important to know the fees associated with using the Cash App with Klarna. Klarna may charge additional costs depending on the type of purchase and payment plan chosen. Be sure to read the terms and conditions carefully and understand the fees associated with your purchase. 
It is also important to ensure you have enough funds in your Cash App account before completing the purchase. If you don't have sufficient funds, the payment may fail. 
Also, ensure you enter the correct billing address for your Klarna account. If the address is incorrect, the payment will not be processed correctly, and you may have to initiate a refund or cancel a product. 
Wrapping it Up
Using the Cash App with Klarna can greatly aid shopping online. Cash App allows you to pay with your balance quickly, and Klarna gives you the option to choose your payment method—a Visa, Discover, or Mastercard. 
If you own the Cash Card, you can easily link it to your Klarna payment methods and pay with a few taps. 
In case your can't connect your card to Klarna, you've to find a different way, which could be your bank account or credit card. 
Frequently Asked Questions (FAQs)
Can I pay klarna with the cash app?
Yes, only if you add the CashApp debit card to Klarna can you purchase stuff.
Why can't I connect my Cash app account?
Klarna doesn't support third-party apps like Venmo or Cash, so you don't see any payment options.
Related:
– Does Cash App work with SpotMe?
– Best apps like Klarna you should know