We all have stories that we want to share with friends, colleagues, and people acroumd the world, and Instagram is the platform that can help us post collages and stories, but do we have a right app for creating Instagram stories and templates?. Let's shed some light on the best Instagram stories editor apps that you can use to create dazzling memes, collages, video stories, and templates to get eyeballs. 
As the data stats, images & videos work way better compared to texts if trying to engage with an audience, claimed by many professional SEO Agencies. Even though graphics editing made its way into smartphones, poeple don't seem to have been using apps as much as they should. As to graphics editing, the Web is still consuming 39% of a global audience, and only few sites corner a market with 80% of traffic, while rests have to go the extra mile to reach an audience.
Now you can pick any best Instagram story editor app and work the same way around as any web or software without acquiring any proper set of skills. So Without further ado, let's dive in.
Best free Instagram stories collage and template apps for android & iOS 2020
Story PIC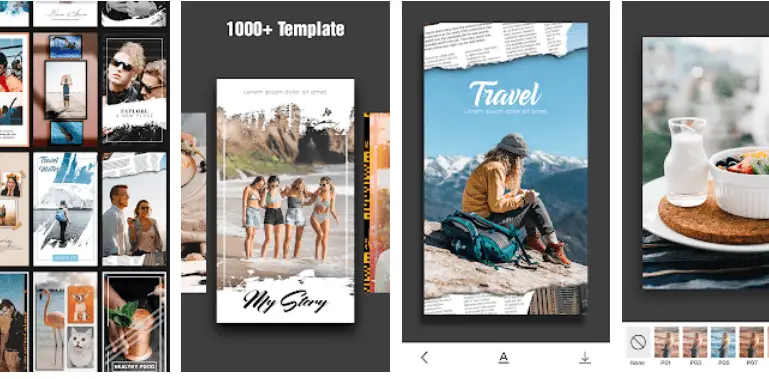 It's one of the best free Instagram stories editor apps with loads of template ideas. Whether you want a minimal, watercolor, cute, floral, or gradient template, it has more than 1000+ templates to choose from. All you have to do is select a template, attach your photos from the gallery, and you' r good to go. Try over 50+ unique fonts or high-quality filters, effects. The StoryPic has got your covered. 
It has templates to suit your need, allowing you to curve stories in a way that you can express them more clearly. You also get over 50+ themes in various topics and 300+ fonts to style up your collages photos. Its editor is relatively straightforward to use, as it's a blend of a few tools and a modern UI look. 
Even though it has stacks of themes and templates to choose from, only a few items are free to use; therefore, You've to lose your pocket for unlocking every content it has. Whereas, You can use tools with no strings attached, and create stories from the ground up, preview it before Serving it to the audience. Storypic has garnered over a million downloads with 4.8+ average rating at Google Playstore. 
StoryMaker – Templates for Instagram Story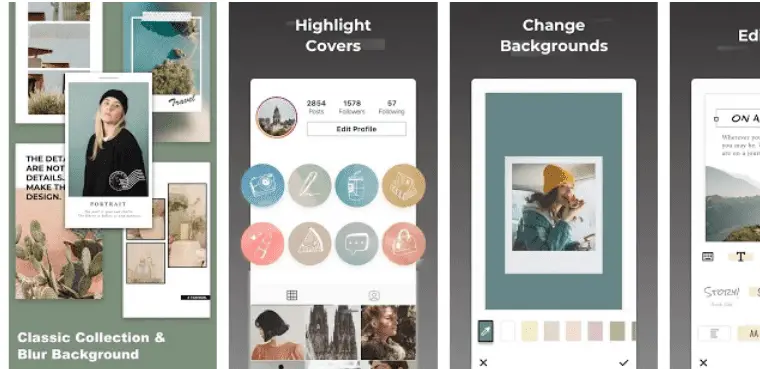 It's one of the best story collage maker app for Instagram with loads of templates and tools for creating lively stories fit for any occasion. It's intuitive, easy to use, and secure application compatible with any smartphone device. You can craft up chill & Unique collages straight from the template market and decorate with handpicked texts and backgrounds using StoryMaker. It offers 100+ elegant Icons to use in Insta profile cover, or you can make your highlight cover with the well-designed elements. 
You don't need login of any kind to have access and use its features unless you want to back up data. New templates roll in weekly, including travel, ripped paper, film, features, and other updates. You can use different types of texts to write down your mood and customize themes using advanced Text tools.
Despite no account registration, it does not lose photos qualities when exporting or sharing on social media. It's one of the best freemium apps offering a quality editor for designing stories collages for Instagram and a wide range of templates, fonts, and tools to help you craft up a chill posts.
StoryEditor – Story Maker for Instagram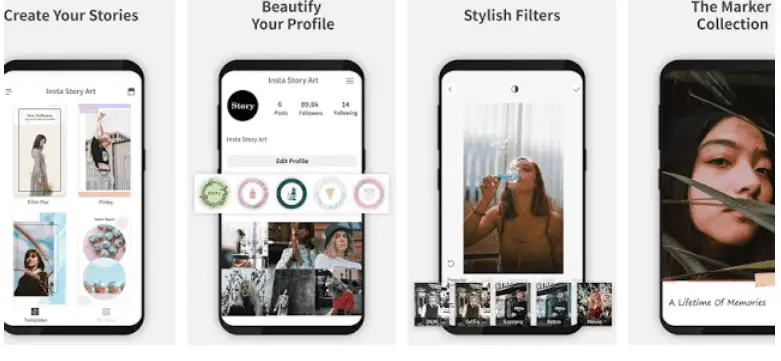 It's another run of the mill app to design an Instagram story collage and video story in a simple tools-packed editor. With Instagram StoryEditor, you can create an incredible highlight cover stories, collage, logo designs, flyers, and posters. On top of that, it has over 300+ free and paid templates to get ideas from, giving you pre-designed layouts and editing, so you don't have to start from the ground up. Before selecting a template, you've to download it first to reuse it in the editor easily. 
To make your Instagram posts memorable and stand out, you can use filters and effects like vintage, watercolor, minimal, or marker. It also has a blurr effect for blurring background images, and that works too in white borders. The text-in-photo effects allows you to fill colorful hype texts to photo highlight cover or caption, unfolding a color story to get maximum eyeballs. 
If you' r into poster or flyer making, Story editor can be your Go-to application. The editor it has is full of essential tools helping you design well-shaped posters, logos, quotes, and other stuff without reducing the quality. Because of its flexibility and jam-packed features, it's considered to be the best free Instagram story editor app. 
Mojito – Story Art Maker, Story editor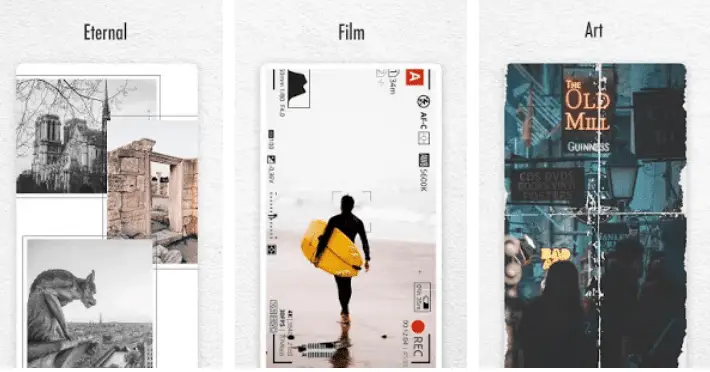 It's a one-stop solution for creating Instagram story collage and highlight cover to get the wheel greased. It's easy to use, stacked with tons of free resources, and has modern-looking UI making it easier for carving out a story. With Mojito, you can also create a video story using crop, cut, filters & effects. You can make use of its over 500+ free & paid 
Story collage templates, locked tools, stickers, logos, filters, backgrounds, fonts, and over 50+ themes in a seven-day free trial.
Select a predefined template, or build a static or animated story from scratch, you've options to add as many borders, fonts, BGs, and filters as you like. It has over 200+ customizable templates, 20+ high-quality themes, and 5+ advanced text tools to dip your fingers into. If looking to create an appealing static or video story collage for Instagram, Mojito is the option to go for. 
Like most of the apps, it has a premium templates market and other top-notch tools, but it requires you to pony up around $0.99 – $29.99 for each item to use whatever it stores for you. 
You might also like the best apps similar to Funimate for editing videos with music.
Unfold — Story Templates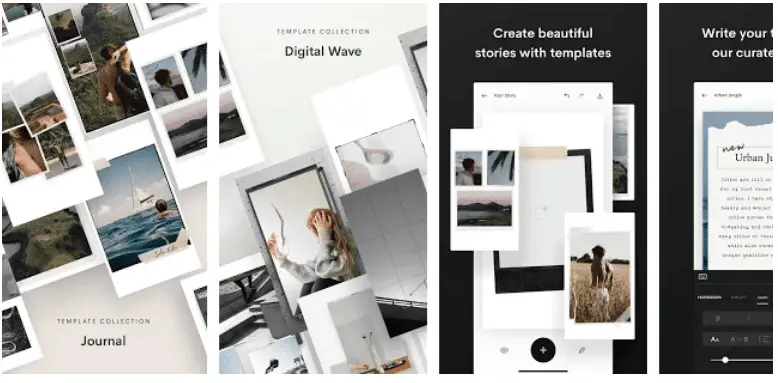 It is undeniably the best free Instagram story collage editor app with the creative templates market. It has a flexible user interface cluttered with tools that are quite straightforward to use. Apart from that, it has 300+ templates and themes that can make any Instagram story fly. Besides, the eye startling camera filters can turn any dull background into appealing grandeur. Not only has it filters and effects for crafting up Instagram stories, but also handpicked fonts to give your story a word power. 
Been featured in many well-known publishers like Forbes, Vogue, CNBC, Wall Street Journal, e.t.c, the app continues to be an indispensable application for the Instagram influencers. It doesn't matter if you' r a novice or a professional photographer, you can be a master editor as all the essential tools are now in the palm of your hand for free. 
To use Unfold, you don't need to login to have access to all its features. It's a freemium app that comes with the free and pro templates, clamoring out for a hefty monthly & annual fee to unfold every feature, including templates. So far, it has garnered over a million downloads with 4.5+ ratings alone at the Play store. 
Adobe Spark Post: Graphic Design & Story Templates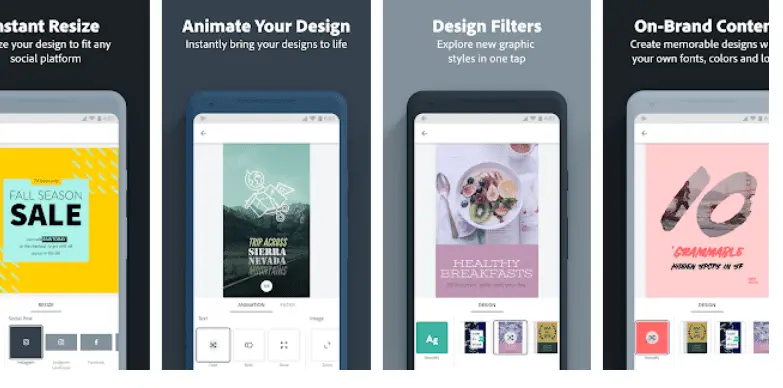 Have you been trying to figure out the best graphics design editor for Instagram? Well, Adobe spark post has got you covered. Built and backed by the Adobe, been managed to get many eyeballs because of its intuitive user-interface and friendly tools. Many graphics tools and templates are supported into this app, offering an ultimate solution for Instagram and other social platforms' influencers to create thumb-stopping graphics. 
With Adobe Spark, you get design filters, auto-resize, auto-recolor, magic layout, text cutout, text effects, animated posts, and magic texts. Out of the bunch, You also get a background eraser to quickly remove an unwanted background image and replace it with solid colors for a quick makeover. 
As the Adobe cloud and store back it, you have an eligibility to synchronize data to other devices to work from where you left off. You can also pick your design from the fresh feed templates shared by the community, along with the handpicked fonts curated by the graphic designers, logos, and millions of stock photos directly from the app. Best of all, it's a visual editor, and the best Canva alternative works for designing most of the stuff like flyers, memes, quotes, Facebook cover, Instagram story collage, and much more. 
Wrapping up 
These are some of the best Instagram story editor apps you can try for free. All the applications have enchilada of designed templates for story collages and other work. The professionals use filters, effects, and tools that such apps offer, so you've everything needed to make an elegant collage story. Unlike heavy software, you can effortlessly design complex graphics with these apps as if you' r an expert in the field