For millennials, Kahoot is the first choice to play, host, and create classroom quizzes. Users create kahoots or virtual quizzes and challenge with friends to have fun. Besides, they can host or join kahoots live classes and submit their answers. From searching millions of educational quizzes to create your own quizzes, Kahoot is the best choice. It's not just limited to home as you can use it in virtual meetings to engage an audience with polls and word cloud questions. Even though it seems to be an excellent app, it has grown to be sluggish, and bounty since the premium feature has rolled out. Due to this fact, users have started looking for quiz games like Kahoot.
If you don't want to shell out on any of its premium features, don't worry, we've rounded up a few apps similar to Kahoot that are worth trying. So let's barge forward without any further ado.  
Kahoot alternatives (android & iOS)
Quizizz: Play to learn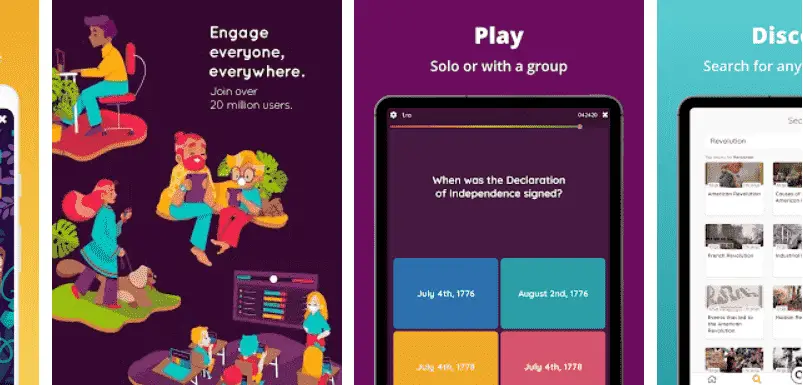 Quizizz is one of the best apps for classroom and work. But you can also use it for other activities, to learn or host multi-choice questions for others in different subjects. Whether you want to perk up your mathematics solving skills or dig into creative arts, chemistry, or other topics, it helps a lot. It doesn't show up step-by-step solutions to your problems as it's just a quiz app. You can download Brainly if looking for an app that answers your questions with steps. However, we've also listed a few math solving apps. 
Unlike Kahoot, it has no in-app purchases. That means you can host or create as many questions as you want and save your progress on the way. You don't have to download the app to join quizzes, as you can also access games through the website from any device. Before anything else, we suggest you make an account so you don't lose your progress along the way. To make things work out a little easier, enable read-aloud, or change the theme via settings. It's including the games like Kahoot and has a whopping 15 million monthly users. So create loads of free cross-question in flashcards or images, and challenge with friends. 
Get on android | iOS | Site
Quizzlet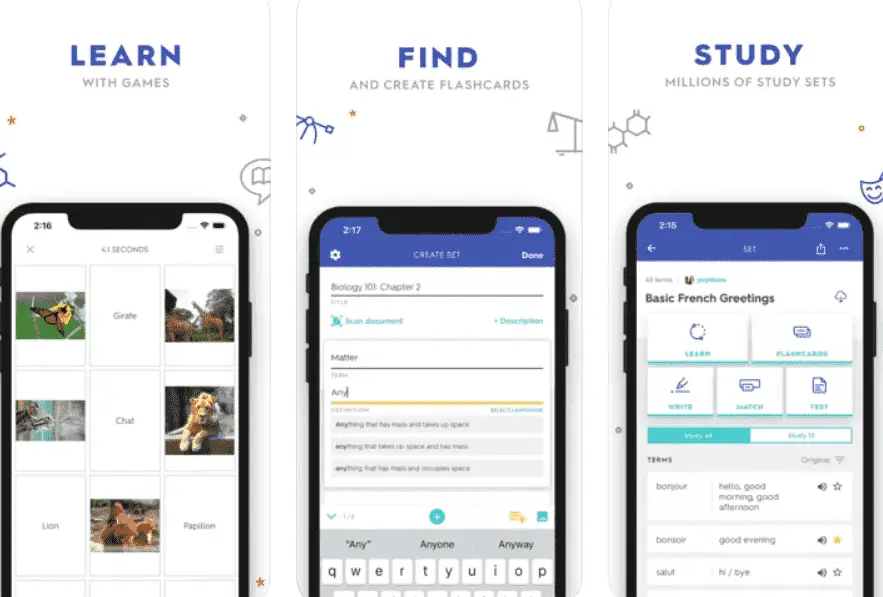 Kids using Quizzlet claims to have reported more school grades. It's one of the best flashcard apps, allowing users to create, host, and play quiz games on various topics like Kahoot. To play quizzes, all you need to do is search for terms or keywords – the more specific, the better. There are millions of quizzes that you can participate in. Just select any question and play in flashcards, learn facts, match, write, or give a test. Best of all, it displays quizzes in sets, classes, and users.  
It saves sets for offline use, and it's what makes it stand apart from the rest. For the night owlers, it supports a night theme. When upgrading for premium, you can unlock more features like – scan documents, progress insights, smart grading, and a few more with just $4 per month. Also, it comes with the seven days trial that gives you full access. 
Get on android | iOS | Site
Quiz World: Play and Win every day!
Studies have shown that kids learn more while playing or when they find something interesting. It is surely the best choice when it comes to online trivia games. It has unlimited questions that you can answer without having others to reply to. In short, the app is so engaging that you would love to spend your time on it. While testing your IQ or learning bits about this world, you can also make some real cash straight to your Paypal, isn't it amazing?. On top of that, you get to spin a wheel daily and scratcher to grab surprising rewards or complete tasks to make more money. It's a fun-packed cross-questions app.
Similar to Kahoot and other apps, it has thousands of cross-question games but is not as diverse. That said, you can't use to search any specific term, as it's solely for a fun purpose. When running out of coins, you can play games or watch ads for gaining rewards, including coins and real cash. To skip a slow start, hop for the VIP package, to unlock more challenges, supercharge coins, and quizzes.
Qureka: Play Quizzes & Learn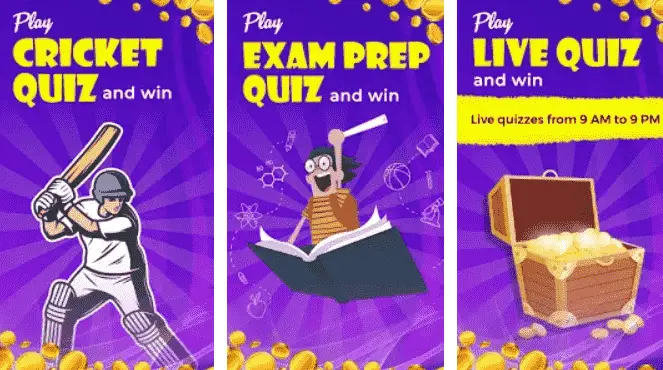 It's our all-time favorite quizzing learning app that we recommend for folks who want to make their general knowledge pop. Just take part in any activities here, and answer the questions with learning facts and points. There are live games too when you play from 9 AM to 9 PM, where you get ten seconds each to answer ten questions. Not only do you play quizzes, but also earn coins that you can use in a live quiz games from being eliminated. And guess what, each live game winner gets a reward equally. And there will be no fee to join such activities, except for a few quiz games that will require coins to access.
To prep exams, it includes multiple questions that appeared in competitive exams in the last few years. If you don't want to indulge in a live or exam quiz, just play hourly quiz and rack up points. Because it's a free app, you can play as many hourly games as you want and build up knowledge on the go. It's worth noting that the coins you collect cannot be redeemed to real cash, as they can only be applied in a live or special quiz game. So keep collecting the coins and stay afloat.
Get on android | Play on the site
Quiz maker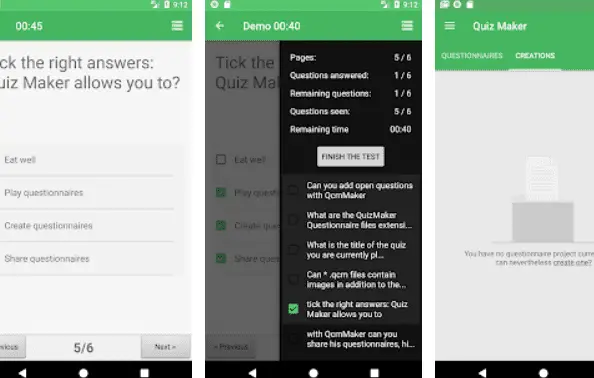 There are a few apps like Kahoot having quiz games, but this app takes a unique spin. Using Quiz maker, creating multi-choice questions and single answer quizzes is super easy and fun. Here a questioner creates multi-choice questions with images and sound to make it interactive and sharable. If you strive to create simple quizzes in an intuitive way that your friends can play for a gaming purpose, Quiz maker can help. Also, Students can use this app to create exam quizzes or test papers with automatic scoring. 
It has. Qcm file format that aims to support interactive quizzes, allowing users to read questions offline. Please note that it's not a stockpile of thousands of quiz, as it's simply a quiz making app. So if you want a heap of quizzes right before our eyes, you can surely ignore this app. However, it has a pro version that offers different sets of quizzes compared to the basic version.
Trivia Quiz Mania – Quiz with Answers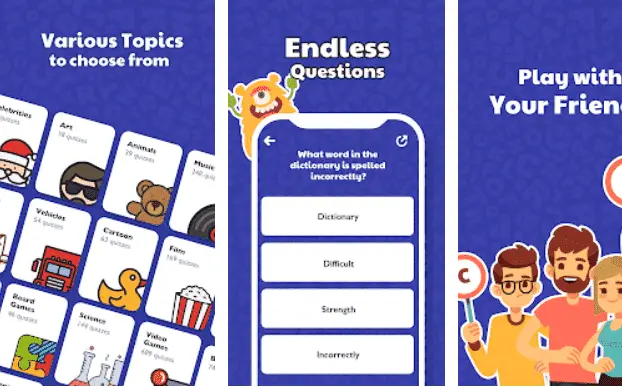 As the name suggests, it's the quiz games app, much like Kahoot. It includes over 3000+ trivia quizzes that you can play with no strings attached. There are a plethora of subjects for you to choose from – geography, animals, vehicle, cartoon, mathematics e.t.c. To crack a quiz, you must answer the right answer out of four options. You can crack as many quizzes as you want, and share with friends just with one click. 
On top of that, its voguish user interface allows users to solve quizzes with ease. So whenever you feel as dry as a dust, don't forget to fit this app into your regime to make your boring time witty. So much of what it offers is free. But it has a premium plan that removes ads and gives more flexibility to users. 
PanQuiz!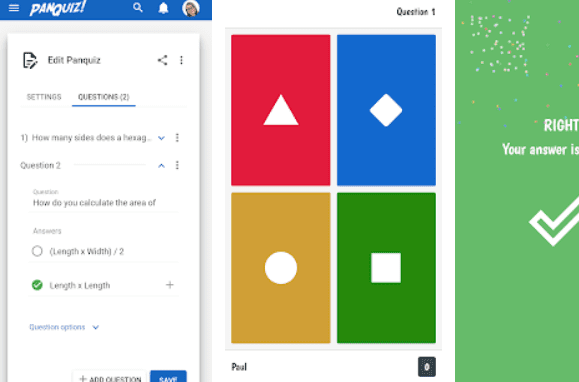 Another well-crafted, advanced app is the PanQuiz. It allows users to create and host real-time quizzes on big screens. That means users can add questions that fit their needs and project them on a TV, or any multimedia, and answer with any device. After signing up, you will be able to look at other feeds or ideas and get inspired. You can directly join any quiz by entering a code or add a question and invite others to join it. When joining a quiz by others, you need to apply a pin shared by the questioner; every quiz has a set of questions with the scoring system. 
Also, you get 14 seconds to answer each question, or you can skip a question if you don't know the answer. Best of all, who answers most of the questions correctly will be picked as the top three winners, is that sound cool?. Since its launch, it has garnered over 50000+ downloads with a 4.5+ rating.
Get on android | Play on the site
QuizUp
If you don't like to play alone, Quiz up has your back. It's intuitive, stuffed with ship tons of quizzes ranging from General knowledge, harry potter, action movies, books, and much more. Just play online, participate in daily tournaments to prove your mettle, create your questions and challenge a friend head to head. The app lets you earn badges in categories you are best at, flaunting banners on your profile. Winning daily challenges and tournaments earn you badges and fortune, as well as boast rank in the global leaderboard.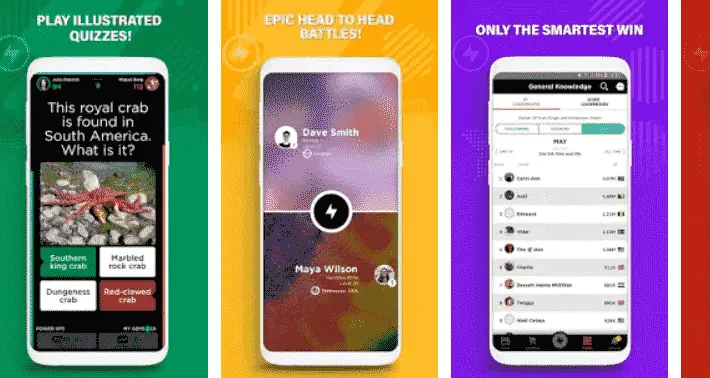 What's more? Get social, follow anybody from their profiles or know others' worth. Quiz up ticks all the boxes, whether it is a user interface, features, or flexibility. It has a vast community of over 20 million users, more than any other Kahoot's alternatives. So keep blitzing through victories while making friends.
Wrapping up
Playing quizzes are a great way to kill time. Surely, we would've played quizzes in our life, but as we grow up, we never try to delve into such canvass amusement. To be blunt, it's never too late to be a child again. We've rounded up some of the best apps like Kahoot that have games quiz, so you can learn while having fun. Not only can you answer quizzes, but also create and share them with friends on the flow. Apart from that, a few apps let users join a quiz challenge and make real cash.