Instagram is one of the few apps where most of the audience is lurking, spending time checking out other people, or anything that entice them. If you already know, So far, Instagram has no download button anywhere to save videos, so relying on the third party application is the only way to go. With the help of the Play Store or App Store, you can find any best app to save or download Instagram videos if saving time is not a priority for you. We've curated the list of the best Instagram video downloader apps that not only save you videos or pics but are also very secure, intuitive, and easy to use.
As much as you're aware of the Instagram terms & policy, it's quite strict if one foul play against it. However, Instagram has already reported no restrictions on downloading videos or images; the only the thing they're against is manipulating data or copyright Content. Before heading on to the best Instagram videos downloader apps, you must comply with Instagram's rules for further protecting your account from getting banned or temporarily inactive. So without further ado, let's barge forward. 
Best apps to download multiple Instagram videos (android) 2021

Story Saver – InShot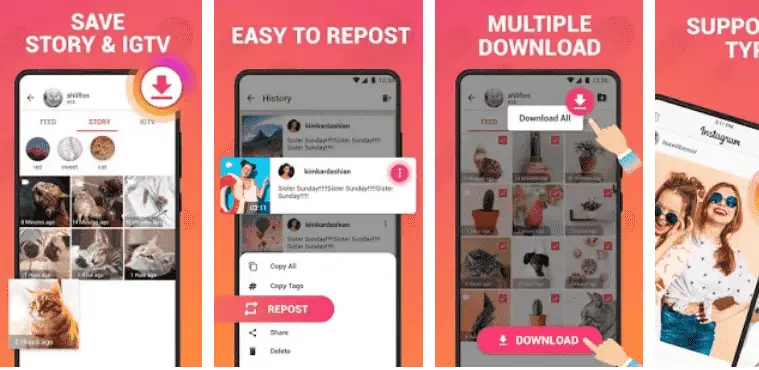 If you need an app to download or save multiple Instagram photos and videos, then Inshot story saver is what you're looking for. It's quite minimalistic and easy to use, offering a whole new Insta experience within the app. Not only it's the best app to download Instagram videos, but also a sort of Insta version with the Save button option. Things it doesn't let users do posts, repost, or comment . With Story Download, you can surf stories and save them to later watch offline in the saved folder. There are no restrictions on downloading videos either, you can save as many photos and videos as you can.
To use this app, all you need to do is log in to your Instagram account, and you're good to go. All the features and tools are available for no cost, allowing you to save and look into feeds, stories, IGTV, highlight, history, favorites, and saved videos & images. In the setting, you have options like night mode, language options, change download location, download video cover image, and also, you can request a new feature by messaging them. It also lets you add multiple Instagram accounts so that you can manage all from one place. When you use it for free, you will have to cope with ads, so we recommend spending a one-time $2.99 to permanently ticking off ads.
 Key features – 
Downloads Unlimited stories.
Supports night mode to suit your need. 
Allows you to copy tags, and save every activity connected to your account
Has a host of languages to choose from.
Has a flexible support system. 
Free | $2.99 (ads)
Android –
Story saver by Magic Mobile Studio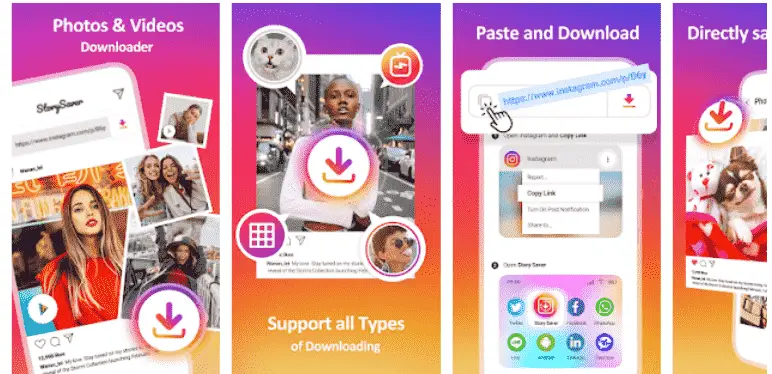 As the name suggests, it's quite a popular app to save Instagram stories. Despite having run of the mill features, it does its job flawlessly. Unlike other relevant apps, you cannot log in to Insta and save stories within the app – you can save stories by copying a link via the setting bar and pasting into the box. It's a steady fast application built to save any type of stories and repost and share dynamic stories socially.
Once you copy-paste a story, it gets saved instantly without even clicking on the save button. You can view downloaded stories loaded up in the downloaded bar placed find next to the home button. The setting bar is totally ignoring, though you can change your download folder and share feedback. On the whole, Story Saver is nothing sort of as a feather-light app to download or save multiple Instagram photos/videos stories for android and iPhone that you can share with friends and repost them later. Statistically, it has got over a million downloads with positive 4.5+ ratings.  
 Key Features – 
Saves Images, videos, IGTV, Highlights Stories instantly. 
Reposts and share stories socially.
Quite straightforward to use, secure, and Insta friendly. 
Free
InsHand Download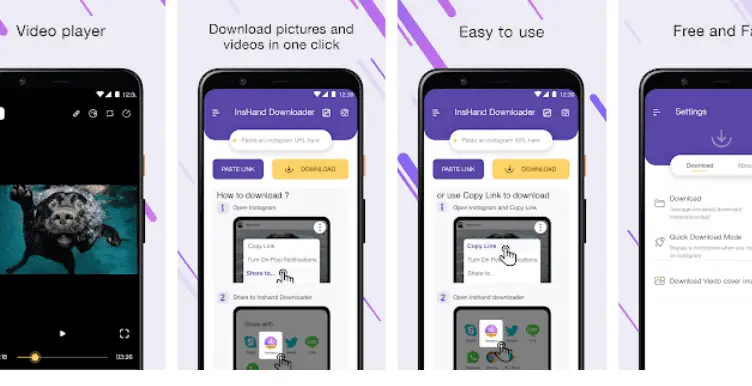 Another app that instantly downloads multiple Instagram photos and videos using a link. It's quite similar to Story Saver, except it has a night mode. When you use it, make sure you paste a link correctly, else it won't work correctly. This app's user interface is as easy to use as walking on a cake, allowing users to navigate tools effortlessly. Apart from that, it supports all sorts of stories such as Images, Videos, Highlight, IGTV e.t.c. Once you have downloaded a story, you can see it right below the box or inside the Downloaded folder placed next to the home button.
If you're starting out or need a quick look through on how to use this app, there is a "How to download" Tutorial to help you start. Moreover, you have the option to clear browser cookies, change the download folder, and download the video cover image. Best of all, you can enable quick download mode from the settings to display a notification when copying the link on Insta. It comes with the free tools and has support for unlimited downloads. After upgrading for a One-time $3.99, the ads will disappear forever. 
Key Features –
Quirky, secure, and easy to use.
Downloads almost every kind of story at the tap of a button.
Backs night mode.
Has a quick download mode. 
Lets you repost stories.
Free | $3.99 (ads)
Downloader for Instagram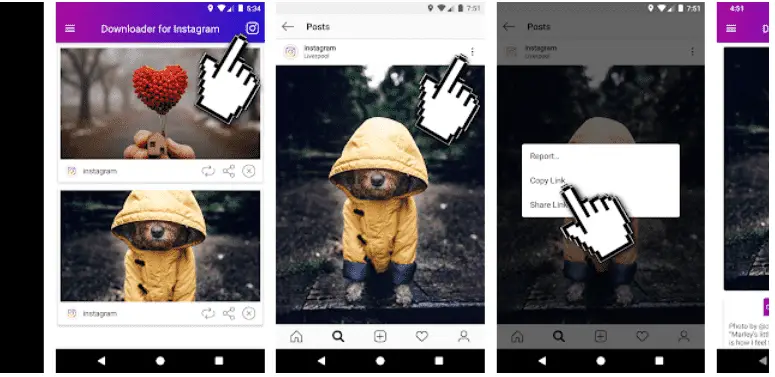 Many Instagram downloader apps come with a copy-paste feature, but it's the case here. It's a one-stop solution to download or save Instagram videos for android and iPhone, allows users to access Insta galleries and friends within the app. However, it will help if you have Instagram installed in your device in order to use the gallery feature. It has "Insta Story Downloader" that lets you save, share, and repost feeds your friends publish. It's worth noting that "Insta Story Downloader" will only show feeds, as you won't be able to search profiles manually or find friends list amass.
 Unless you don't download a Insta, it won't let you search through random profiles or see your friends' every Instagram story. On top of that, it's quite a useful application to download multiple Instagram photos & videos. The app has the help option in the settings you can use to understand how to download or save Instagram videos on android and iPhone. Although it's enforcing us to download the Insta app, it's still a notable application been downloaded over a million times alone at the Playstore. 
Key Features –
Saves, shares, and reposts stories.
After installing Instagram, it becomes a complete package for downloading, sharing, reposting stories. 
Straightforward to use. 
Free 
Removed from android-
Instake Downloader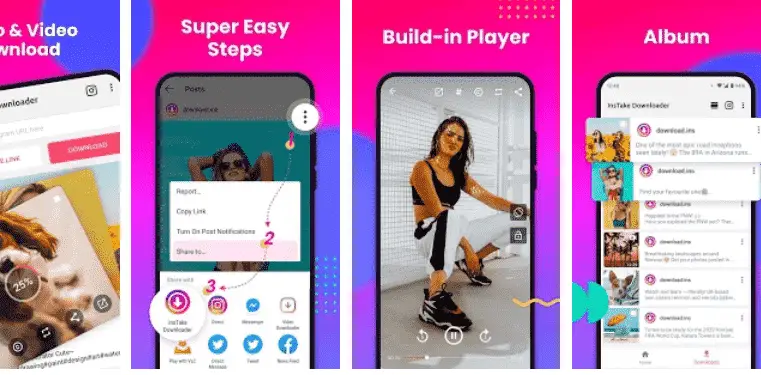 It is not so different than the apps listed here. It sizes around 10 Megabytes and having a clean, straightforward interface. With Instake, you can save an Instagram story by copying and pasting the URL into the box or sharing a link to Instake Downloader via the Instagram app. It immediately downloads a story once you tap a download button, and display it into the Downloads section seated next to the Home bar. If you get stuck trying to download Instagram photos or videos, you can press the dot Icon resting at the top right corner and tap on the "How to download" option for a quick look through. 
As we've already mentioned, not all apps have an inbuilt Insta feature lurking, so downloading the Instagram app is crucial and necessary. After installing Insta, you'll save IGTV, Highlights, Videos, Images & more by sharing them to the InsTake Downloader. For night owls, it has the night-mode that can be enabled via Settings/Appearance. Also, it has the language and other options like Quick download mode, download video cover image, clear cookies, and the option for recommending posts on the homepage. You can opt for an ad-free experience for its $11.99 one-time purchase, or $0.99 monthly. Anyway, we don't recommend or aren't in favor of any of these options.
 Key Features –
Supports the dark theme.
Has multilingual support. 
Downloads stories – IGTV, Highlights, Videos, Photos. 
Free | $0.99 one time, and $0.99 monthly (ads)
Removed from android-
Quick Save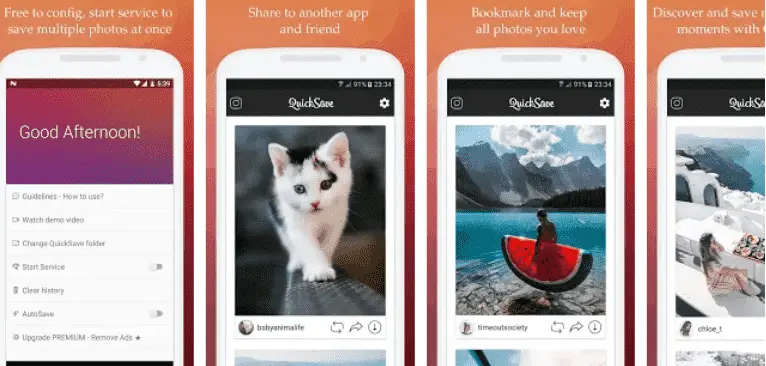 The app takes a unique spin when it comes to download or save Instagram videos for android & iPhone. It's jam-packed with tools that help you share, repost, and save Instagram stories straight to your gallery. On the homepage, the app has the option to start "multiple photos & and videos download" service, and to know how it works, you can read the guidelines below the tick button. After installing Insta, all you have to do is copy a link via post, and the app auto-saves a story. On the other hand, share a story to Quick Save for saving with an image. 
Akin to relevant apps, it also has essential tools, but what's more weighs in is the flexibility it offers for users. Whether you want to autosave a story or not, change the QuickSave folder, or turn off/on service, it has options in the settings that might interest you. $0.99 premium is also nothing sort of a boon if aspiring to save Instagram videos or other stories autosave to a gallery, Change SD folder, and remove ads permanently. It has pretty solid user base of over 1 million people who've rated an average of 4.5+ ratings. 
Key features –
Downloads multiple videos/photos straight to a gallery.
Offers flexible options is easy to use and secure.
Backs IGTV, highlights, photos, videos. 
Fee | $0.99 (ads/features)
InstaSave – Download multiple Instagram Videos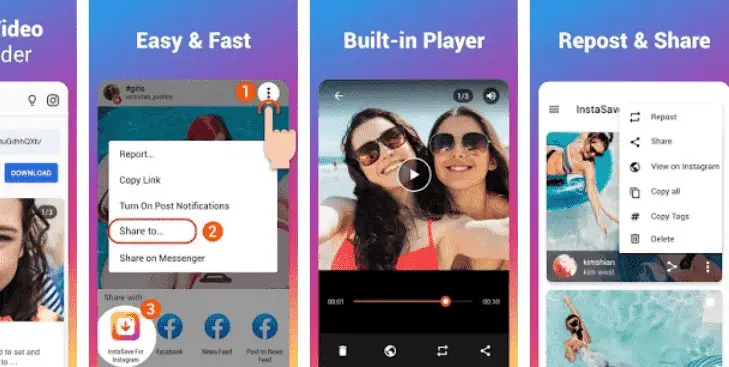 It's Another best yet a free app to download multiple Instagram photos & videos for android & iPhone without a copy-paste functionality. It's quite minimalist with not so many tools floating around. Using it is completely fuss-free, as it only takes an Instagram login so that you can share a story that you want it to save with or without a cover image. All the stories you share get saved to your gallery or see them on the app's homepage. It has all the vital tools to help you pile up your favorite insta stories around the world. Not only it's the best Instagram stories downloader app, but it also is free of any ads and in-app purchases.  
The setting panel houses a few standard features like download video cover image, change download location, language options, and feedback. To top things up, you get a night mode and an option to request a new feature. Despite having run of the mill features, it has been managed to garner over five million downloads across the globe with a positive 4.2+ ratings. 
Key Features –
Free app to download multiple Instagram videos, photos, IGTV. feeds. Highlights and more. 
Has night-mode.
Straightforward to use, secure, and ad-free. 
Free