Kik has been created a tremendous amount of buzz over the last few years and is still one of the lightweight socialistic apps for despo folks out there. It's way more than just messaging. It lets you connect to the people with similar interests, sharing expression via Giphy, emojis, texts, pictures, and vids, all in a loop. Though developers aim to improve the app's aesthetics and features with every update, it's still uncertain that everything will go smoothly, and people won't complain. Due to arising in large numbers of spam accounts, people are trying to switch to a whole new platform where they can chat with authenticity & more flexibility. However, you can join Kik, as it's still bustling and doing well. We are going to walk you through a few similar but different apps like Kik you'd love to know about in 2020.
Best messaging chat apps similar to Kik (2020 edition)
1. Ablo – Make new friends worldwide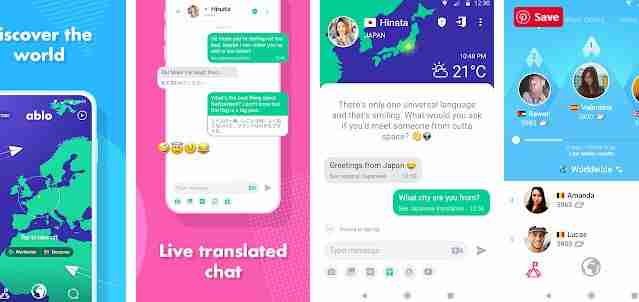 Ablo is one of the best apps like Kik to chat with random people from over 200+ countries. It takes a unique spin on a way people communicate socially through video & text chat. To be able to connect with strangers, all you need to tell your interests and tap the location on the map. It's easy to use, minimalist and backs up to 10 trips per day. However, you can always increase trips as long as you earn or buy coins by inviting new folks or shopping. In the conversation with friends, you get many tools like Gifs, emojis, picture, camera, gifts, and video to share what you feel. Ablo also monitors your friends' distance with flags, so you may know who is on the other side of the chat. 
It has a striking translation feature that translates over 20 languages in a live conversation using vivid subtitles. It's quite a notable app with a whacking 10 million downloads and decent 4.2+ ratings.
Translates languages in live video and text chat.
Discover new people around the world
Jam-packed with essential tools for chatting
2. Litmatch—Make new friends
One more app with slaying features, making it easier to connect with random souls much efficiently. Unlike Kik, you can chat anonymously without sharing your identity. To get access, create an account via your phone number or sign up using Facebook or Google. Once you're all set after filling up your basic information, you can read feeds of the people living in your proximity or hit up Soul or Voice match option to join nearby people. It's an intuitive app with a modern-looking interface built to read, write, and chat. Using Litmatch, you can match up to 10 random people living close and join in chat or voice for about 7 minutes. When a Soul match takes time, accelerate a process by watching a video or availing of two diamonds.
You can invite friends for more matching and grab five diamonds for each friend you invite via your link. It also comes with a $4.99/month for unlocking unlimited acceleration, match times, match records, and more. Also, premium members have more prominent profiles than basic members.
Lets you chat anonymously.
Discover random folks around your proximity.
Secure, snazzy user interface.
Allows you to publish and read feeds. 
3. Yubo: Make New Friends – Meet & Chat Livestream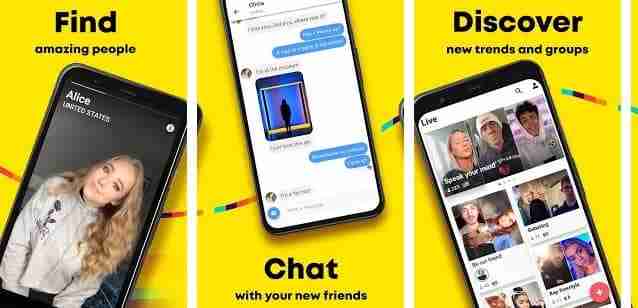 Yubo is one of the best apps similar to Kik for finding friends and go live stream. It's way better than just chatting app; it's a community, stacked with tons of interest like art, theater, yoga, music, dance, travel, to name a few. In a community, you can find many like-minded people holding a rainbow flag to celebrate with you using live video streaming and feeds. Discovering new people around you is as simple as swiping your finger, connecting you with all the gems in a blink of an eye. The user interface of this app looks a bit intuitive but is easy to hang of. 
It has a Q&A game you can play to have hours of fun with your friends. It is a freemium app, which means you've to shell out a monthly fee to be able to use every feature uninterruptedly or invite friends to gain points to hook up with more folks.
Key features
Supports live video streaming with friends.
Has a spacious collection of interests in a community.
Invites people on Snapchat, & other social media to join Yubo.
Has a delightful Q&A game.
4. MICO Chat: Make New Friends & Live Chat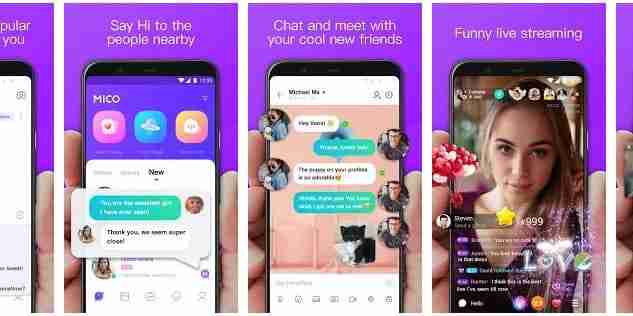 It's quite a notable app with a gigantic community sharing thoughts. Unlike many apps like Kik, Mico also lets you chat globally, along with people nearby you. It matches people more creatively as it uses your curiosities and then matches someone you share the same interests with. With Mico, you can chat, share short moments of your life, and draw strangers' eyes to chat. Above all, it lets you go live house, live battel, or live chat, allowing up to 9 people to be on cloud 9. At a tap of a button, you can unearth random folks around the world, get them to chat with real-time language translation.
It has plenty of stickers and filters to be applied in a live chat so that you can appear more confident and engaging. To unlock unlimited chat and other stuff, you need to have paid for a premium subscription or invite friends.
Key features. 
Popular broadcasters perform live streams around the world.
Great platform for finding random people.
Supports real-time language translation.
Lets you go live with up to nine people. 
5. MeWe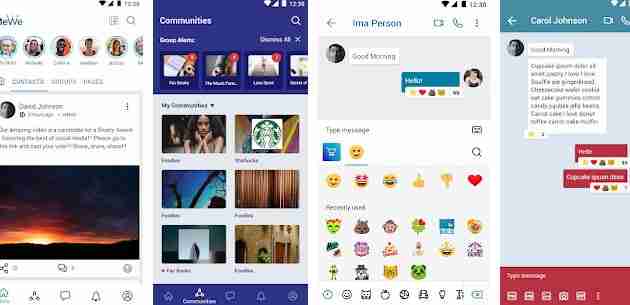 For authentic and secure messaging, it's one of the best chat apps similar to Kik. It's easy to use and has intuitive features that make random chatting fun. Using MeWe, you can join collections of groups showing similar interests or allow others to join your group to share their ideas and moments of life. The groups and communities you are part display every new post published on the community tab. In a chat, you get a bunch of tools, making a conversation more friendly & definable. Best of all, Sir Tim Berners-Lee backs MeWe, a renowned privacy advocate. That means your privacy is safe and secure.
The app includes stickers and other stuff in the store that you can find fascinating. If you want to organize your stories or journals, and want them saved on your profile, then going premium is best.
Key features
Secure supports authentic chat.
Allows you to join and create groups, communities & pages.
Has an intuitive chatting platform.