Social media technology has come a long way since the giants like Facebook, skype or twitter has arrived. We can find almost any kind of chatting app from anonymous to a more flexible one that offers on-sleazy features with the extra layer of security.
We can create as many friends, groups, pages we want without paying a dime and find our nearby locations and people at a push of a button. Even though we are getting alternatives to engaging social apps, we find it hard fitting in for some reason.
Whisper is an anonymous app that is in buzz for years because of its unique way of engaging with the picture-in-text messaging feature, allowing us to share and see interests and to discover nearby users. There are a few apps like a whisper that we are going to be summed up here, So let's dive in.
What is whisper app used for
It's just like any other social media app that we use to chat, join, or create group groups. However, unlike Facebook and Twitter, Whisper doesn't allow text posting without a background image that you can upload locally or find inside it. You can have an anonymous social profile or usually chat with and without an image when both have accepted each other's requests. Other than that, you would find its user interface quite appealing and easy to use. 
Apps like Whisper you'd love to use for android & iPhone (2020 edition)
Konfesso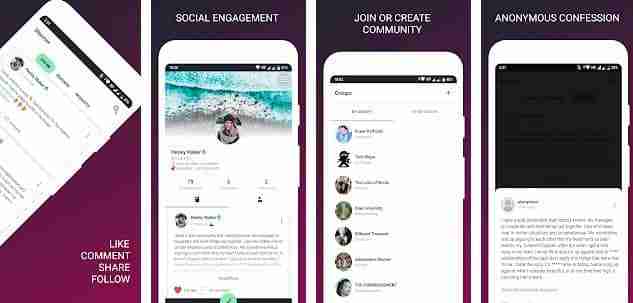 Interested in an open discussion similar to your interest? Well, Konfesso has your back. It's one of the best alternatives to whisper you can use to express yourself and to know what's happening around. You need to log in via Facebook or Gmail to create a new account and pick interests, and then it suggests you some recommended interests and users along with featured stories. Once you create a profile, the next task would be to get a bit exposer to share your interests and join groups.
It allows you to see anyone's profile and send a confessor private message with a name hidden or publicly. The best of all, you don't need an approval to view posts you want to follow, thus, revealing everything like an open book. You only need to ask for permission when joining any group.
The app is quite clean, and you find every tool right to your eyes. It has a decent rating, millions of community speaking their hearts out. It is undoubtedly not so different, like the Whisper app, as everything from chatting to checking others' profiles is the same.
Kik
Kik is quite a popular app to chat anonymously, find random mates, join groups, and much more. Using it you can discover peoples of your curiosities, and talk to them glibly for around 15 minutes, and if both gels well in the chat can be friends to speak for an as long time as they want. However, you get a daily 15 free conversations to meet new people based on your interests, allowing you to pick up up to 5 filters that you can use to find people with similar interests.
Apart from that, the app will enable you to hunt groups and people, narrowing down the results so you can go off the beat, and connect with any folk. Best of all, you can have bots to chat if you want to disconnect from the real humans for a while. It has a KIN balance, a balance you can earn joining friends, and answering a few polls, and quizzes to unlock a chance to meet new people, and find stuff to spend you KIN on. 
It's undoubtedly one of the best apps like Whisper you can like for its easy to use layouts, and quick response. It has been garnered over 50 million downloads worldwide across multiple platforms and stays on the top as to the anonymous chatting app. 
Wink – find & make new Snapchat friends.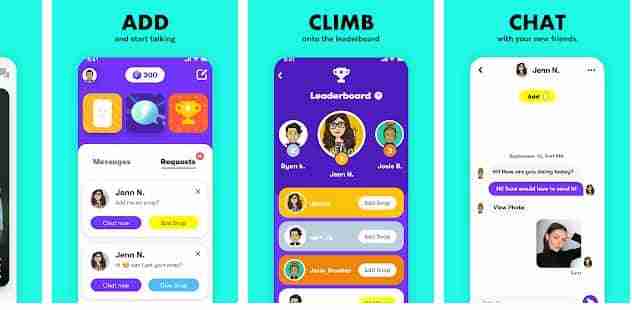 Do you love swiping left and right to meet friends around your country, and to give a snap straight from the app? Wink is here to help. With this app, you can easily add friends you share the same quotes with, can get access to their bios, and allowed to wink them or snap them. Its snap feature ensures that you can add anyone to Snapchat right from the app, or decide to chat on the Wink itself.
On top of that, It allows you to earn gems that you can use to send friends requests and make more friends – the more flowers you collect, the more friends you can make. You'll have a leadership board that boasts the top three people who have most friends or holds most gems – Climbing onto the leaderboard displays your profile to millions of people using Wink. 
Wink is nothing sort of a fantastic platform, turning people into your friends, so you share most of what you feel and can express yourself unfiltered. It has clocked over 10 million downloads so far and is still growing fast.
Girls ask boys
You are wondering if boys can ask questions to girls? Well, the app has a two-way street. It allows you to get the opposite gender's opinion on your question that you can ask through polls or normally. You can find a plethora of questions about any topic or your interests with amazing replies, making you know helpful answers from relationship to dating. You can be anonymous while creating a poll and get your question answered as likely as possible.
To be blunt, this app may not be for people who don't like participating in polls, waiting for opinions for hours. It is for you if you have a longing to understand the opposite gender's perspective or anything. However, Apart from polls, you can shoot up texts to anyone, and join a private chat once they accept your request. 
It has a vast community that you can leverage to know some inexplicable questions about opposite genders. Also, you receive rewards for creating polls and other activities. Surely it is one of the best apps like whisper that you can try.
TalkLife – Lonely, Stressed, or Battling Anxiety?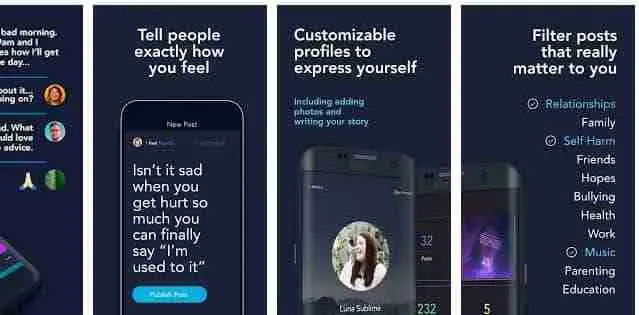 Do you want to talk about life? Well, TalkLife ensures you do and share every aspect of your life like "what you have felt today while sitting alone at the airport" or anything that you feel like saying it. The app has an eye-catching Ui with the pizazz of tools helping you put your thoughts across in an elegant colorful card box, showing anyone who shares the same mood with you.
You can see a host of contents ranging from health, love, hate, business to almost anything. All the popular, new, and random posts can be seen in different tabs. You can also set your custom feeds and see only posts you are interested in.
Best of all, it includes loads of options to customize in the settings, allowing you to manage your personal stuff from your profile, and other stuff of the app. It is free with advertising, and some locked feature, though you won't need them, you have to cough up $5.99 monthly to remove ads and to unwrap some items.
CuriousCat – Anonymous Q&A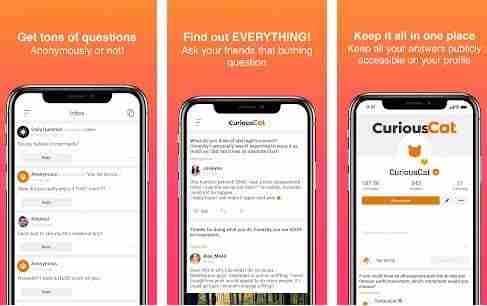 As the name suggests, It's for the question fanatics who want to sink their teeth into all kinds of discussions and connect with the people around the world. Using it, you will be able to ask or reply to those burning questions that would be a bit awkward to put across friends, or even your spouse. The community therein is packed with such enthusiasts like you, So without feeling ashamed, you can openly engage with them.
It allows you to ask questions with or without being anonymous, offering others to share, give diamonds, and answer your question. Unlike some relevant apps, you can't discover nearby people; therefore, the only way to know about anybody is by accessing their profile. 
It's pretty aesthetic, easy to use, and out of a bunch of apps, it is much like the Whisper. However, you may not like ad banners at the bottom, but removing them won't cost you as much as $5. It doesn't back third-party options like Facebook or Twitter for logging in, So it's a bummer for certain folks out there.
Vent – Express yourself freely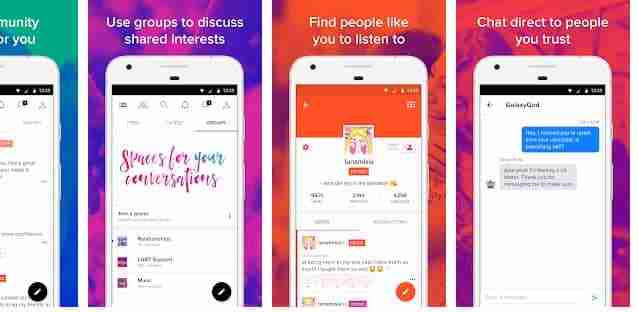 The vent is nothing sort of a social diary thing, making it easy to express feelings with thousands of people, uplifting mood. It's minimalistic and has an intriguing community that gel on with you with every post, and offer advice, or anything making you feel beefed up, and important. You can sort out your moods, and get the type of content that correlates with your mood.
The app lets you chat with anyone, and comment on any posts without any restrictions – you can hide your name when talking. Again you might not like its registration process as you don't find any other source to sign up, though it won't take a long time to fill a few details.
It is one of the best apps like whisper, developed by the same team built Reflectly, the best journaling app. It's free to use, has no later purchase, so you have every tool to explore. Moreover, you can increase followers by resolving other problems and be proud out there. 
Profoundly: Live Chat, Random Video & Games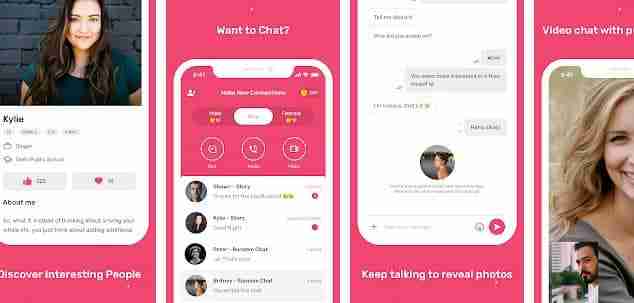 Profoundly takes a unique spin on social engagement apps. It's quite a notable in the field, sharing some vogue features. It supports Facebook and Gmail to create an account, and allow you to discover and connect with nearby people at a click of a button. Its multicolored card post layout and its ability to display the total distance of the users is just a wow factor.
The app lets you find mates based on distance, age, and gender. To connect with random folks, you can send texts, audio, and video only when if you've at least 10 coins as it uses 10 coins to make a single connection. However, you can reply to anyone's posts, and expect to get a reply from them.
If you want to earn more coins, invite people, or purchase them. The app stores several coins plans ranging from 1000 to 10000 coins that you see later.
MeWe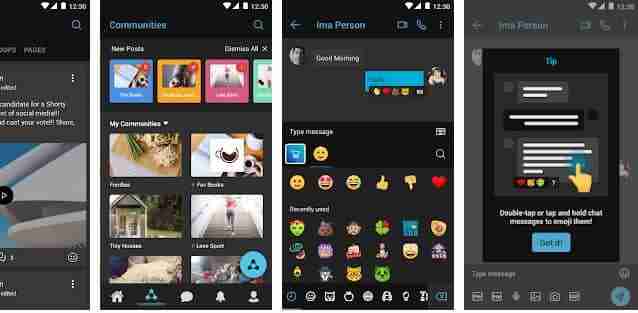 If you are an Emoji frenzy, this app might be the best option. It costs $5 a month, and also you can wish to splurge some on cool premium emojis; Though it is unneeded. The app allows chatting authentically, post brilliant ideas with others under the umbrella of trust and safety. It is a clean, minimalistic app with no newsfeed to tick you off, or content manipulation – You can fully control the content you post on your timeline.
Besides chatting, you can create a group or be a part of any open group, fan page, and business page and play with cool Gifs, custom camera, emojis, live voice, live video, to name a few. If you do not know, you first need to sign up or log in via Facebook to get access to the app and explore things out. In the timeline, you generally see your activities and the activities of friends connected to you. The community page includes everything you are interested in, displaying recent posts of friends, communities of similar interests, and all kinds.
This app may demand some of your hard-pressed money, So it is not like Whisper, but it is equally worth it because it has a bit more advanced features – it's ad-free, and resonates with the Facebook.
Ablo – Make new friends worldwide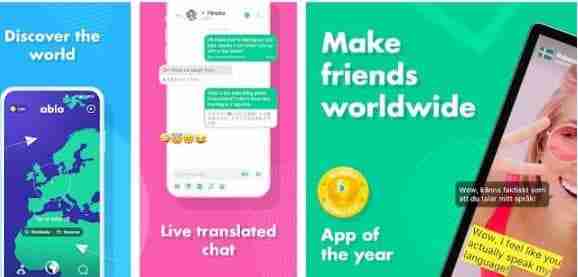 It's another trusted app that shows users' identity, allowing them to connect with anyone around the world. It's easy to use, free to join, and backs in-app purchases for the users who want to leverage premium features. The live language translation feature is what stands it apart from the crowd, making it easier for users to chat in other languages without leaving a country.
It cannot only translate texts from the chat but can also convert video-audio script with ease. Being into a conversation, you will be able to send texts, audio recordings, images, files, Gifts, emojis Gifs, and video live calls for as long as you want without any further interruptions. 
For unlimited chatting, and to hook up in a dialect of languages, Ablo is one of the best apps like Whisper you can bank on. It uses a limited ten people quota as a free member, but the premium membership lets you chat endlessly.  
Also Featured in the best apps like Monkey
Wrapping Up
Expecting more? Soon we will cover more apps like Whisper. We've listed every app after using them for a while, So that you can experience the best. There are couples of similar apps we didn't bother to list here due to low ratings, and growing complaints of the users. If you know better alternatives to Whisper, let us know.