As we know that the Picsart is one of the best graphics editing apps that work on cross platforms. It's the freemium application stacked with a host of templates and useful tools to help you create graphics that fit your needs.
However, it doesn't seem to be working out the way users want it, due to some restrictions of templates, tools, or any other reason. To create a Facebook cover, Instagram story, or other social projects from scratch, it's the best bet.
Apart from that, it has decent stickers, graphics, filters, effects, and images to be draped into a project, but to be able to use every stuff, you need to go premium.
If that's the case with you, we have come up with the best apps like PicsArt you can use for free. Let's dive in.
Best free apps similar to picsart you can have right now.
Adobe Lightroom

Adobe Lightroom is the most notable app built by Adobe, aimed at creating a top-notch service for all image editors or graphics designers out there.
Released in 2015, the Lightroom app has been collated around 100 million downloads worldwide, ensuring great feedbacks by users.
To continue the work from where you left off, you need to log in via social accounts, and then can manage your work from windows, Mac, iOS, or Android, it's everywhere, but the web.
Unlike Softwares, you get a few options to take your photos further, requiring a premium upgrade to unclip every tool and feature.
 However, without sprinting to premium, you can play with the cool color effects, sharpen, and crop an image professionally.
Heading to the Discover tab, you find a plethora of edited pictures shared by a community like you. With Adobe Lightroom, not only do you explore or upload your images for further editing, but you also learn a lot about photo editing without any strings attached. 
It's an intuitive app loaded with essential information as to photography editing. The advance of using Adobe is that you can back up and synchronize your work across all platforms, so that you don't lose your progress, and may get tools of your choice.
However, the app is hiding all premium features like Healing Brush, Raw Editing, Selective Adjustments, and other useful stuff that play a crucial role in editing. The quality of tools & features and security it offers is praisable. 
Freemium| $3.99 – $55.99 
Snapseed

If you haven't heard the name Snapseed before, there is a chance you seem to underestimate its propensity. Snapseed is the juvenile of Google, sizing about 23 MB, and is entirely free to use. We hope not if anything can be better than that.
Though it's free, you'll find it full of striking tools than many relevant apps even like Canva or Adobe Lightroom. To give your photo pro-level editing, all you have to do is get adapt to tools like Tune Image, Details, Curves, Healing, White Balance, Perspective, Brush, HDR Scape, and a few more.
There are many filters like vintage, noir, grainy, drama, or grunge that blend Into pics to give a new look. 
On top of that, it backs jpg and Raw files, a file not processed or compressed by any device. Here is a catch, as you see templates doing rounds in other pics editing apps, Snapseed doesn't do that, as it only uploads your local drive images and lets you share with friends, cool enough?.
It backs your progress, synchronizes it, and allows you to manage work across other devices, and platforms. It has an elongated list of tools like any paid app can offer, delivering a top-notch experience without any later in-app purchases.
However, you cannot create video stories or infographics with this app, but it's still worth a shot. It has racked in over 150 million downloads So far, with an average of 4.2+ ratings. 
Completely Free
Canva

It is one of the best alternatives to Picsart with a myriad of features that even Picsart doesn't include. It is intuitive, easy to use, and has a snazzy interface.
launched in 2013, this Australian based startup has been leading in the fray, is available on multiple platforms for free.
With Canva, you can generate intricate visuals, logos, and video collages using the tools and templates' help. It has beautiful templates for holidays, birthdays, marriage invitation cards, and many categories that you can share with friends on the flow. Besides, it has amazing images, vectors, graphics, and also you can use gallery images in projects. 
It's quite a useful application specifically for designing logos out of scratch, piling up efficient tools, and vector graphics that you can edit later on any platform support vector file.
On top of that, it lets you put effects and filters onto pics, giving a unique and contemporary look. Though Canva has a few similar features like Picsart, it's much better in terms of authenticity, aesthetics, and user experience that make Canva better alternatives to Picsart. 
Freemium| $1.49 – $119.99 
Pixlr 

Another one of the leading apps you can vouch for, sharing similar features and tools like Picsart. It's an intuitive, easy-to-use, and secure platform, allowing you to manage data across Android, iOS, and Web.
Using Pixlr, you can play with effects, filters, texts, and overlays to add a layer or blend photos seamlessly.
Whether you want to auto-fix colors in one tap, create a collage, add stickers or add text on pictures, it has a wide range of tools to unleash your creativity. However, it has no support for video collage, as it's ultimately a jam-packed go-to photo editor app built for the community. 
Akin to relevant apps, it enables you to choose various grid styles so that you can design projects like the Facebook cover, Instagram story, or ads, it's quiet up here.
It has a diversified list of tools such as removing blemishes, red-eye, color splash effect, tone, smoothen skin, whiten teeth, and a few more. After finishing off the editing process, you can crop and resize an image before sharing it with the community or saving it to a camera roll. 
The community it has is the cherry on the top, bringing lots of gems together to share the creative side. With over 50 million downloads alone at the Play store, and 4.3+ ratings, It's one of the best apps similar to Picsart you can use for free, and premium for removing ads, and unlocking every feature and tool. 
Freemium| $1.50 – $20.99 
FOTOR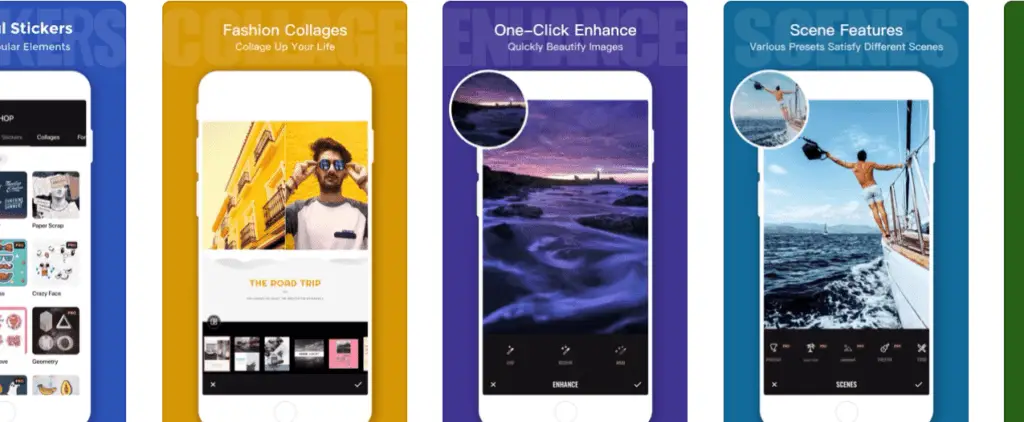 When it comes to photo editing, it takes a unique spin. It's available on multiple platforms, creating a community of graphics editing enthusiasts. It's a freemium, featured-packed app, built by the Everimaging Ltd. specifically for photographers and graphics creators.
With Fotor, you can do pretty much anything you want, like logo making, applying effects, filters, erasing background, collage and billboard designing, or Instagram story.
To make sure your work gets saved, you've to log in via social accounts to do so. Unlike other applications, you've to install each tool, effect, filter, collage, or anything before bringing them into action. 
It comes as a surprise that it has hundreds of unique effects, and features like one-touch image, color balance, curve, denoise, after focus, enhance, crop & rotate, distort, and many more, when used rightly, can make you a pro in the field.
Out of the bunch, the one-touch image or one-click enhance brings out the best in your photos by adjusting shadows, lighting, and other 11 conditions. 
All the tools come in handy as soon as you adapt to its user interface. As it's a freemium platform, it's jumbled with the free and paid stuff that you can unlock by going premium.
To top things up, it has a community sharing creative images of all kinds, and it offers personal cloud storage for collage images only for premium users. 
Freemium| $0.99 – $25.99 
Polar photo editor

Polar is quite similar to Picsart because it has a video editing feature that some apps lined up here do not has. It's a straightforward app, developed by Polarr for editing photos and videos.
Once you've uploaded an image from your gallery, you can use its tools, and push your creative limits. However, it neither has a community to show your creative angle nor is flooded with templates to get ideas from.
If you already have the knack to play with such tools, then Polarr can meet your needs.
Using One of its tools, you can blend colors into a pic while adjusting colors until they meet your eye. In addition to it, Polarr has amazing style scenes, ranging from art to retro that you can use to give your photos an appealing look. There are arrays of overlays like soft light, screen, multiply, vivid light that you can play with to further adjust the temperature of photos. 
Above all, as the app claims to have A. I help you make complex edits by segmenting your photo. On top of that, you can use a QR code to share styles with your friends, so they may know what style your photo includes.
It has over 10 million downloads on Android and iOS, combined with an average rating of 4.1+. 
Freemium | $1.99- $19.99 in-app purchases.
Wrapping up 
These listed apps are some of the best alternatives to Picsart, as they share a few similar features like filters, effects, overlays, and a few tools.
Even though many do not support video editing, they still offer a decent service with robust security and an engaging community for sharing artwork. However, all are free and have easy-to-use tools that come in handy on the first try.