Funimate is one of the best apps we consider for editing videos with fun effects and snazzy graphics. Built by AVCR Inc., an independent app developing platform, launched the app in 2016, now has over 15 million daily users enjoying every bit of it. However, many editing apps like Funimate are so close to its features, specifically the way its editor offers. Due to its popularity, many similar apps coming into the fray with the host of top-notch features that interest users a lot. 
Some of the best features Funimate offers are lip-synching, video loops, crop, add texts, and emoji to videos, add music to videos, add cool video effects, create custom effects, and merge, trim, and cut videos.
Apart from that, it has a behemoth music video community of around 10 million people alone at the play store, who shoot creative videos for daily challenges and get featured to grow fan base on Funimate.
This is why Funimate has been in buzz for years, and as seen on many well-known publishers. We take you to the best Funimate alternatives to edit videos with music and effects without further delay.
Best apps like Funimate for editing videos with music and effects. (Funimate alternatives)
Tempo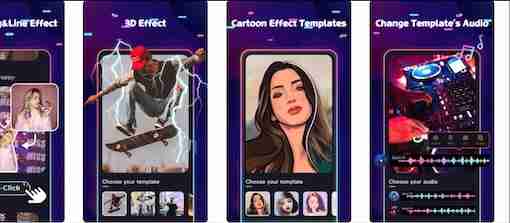 Tempo is one of the best apps like Funimate when considering its features and effects. It is jam-packed with transitions effects to give your videos a thumb-stopping look that INSTAGRAM REELERS OR TICKTOCKERS will love to share.
When you open an open, you see tons of creative short videos of different categories shared by users straight from Instagram or Ticktock. By clicking on a video, you can use your photos with the same editing that a video is having. It has a clean design without any like button for your videos or leaderboard to push your creative boundaries, but it's a decent video music editor tool, and that is all it claims to be.
On top of doping effects, you can also use Tempo to build Instagram friends by sharing vids or following them separately. Here is how it works – you watch videos and pick up what you love, and the app recommends minimum pictures to use to finish editing.
It's a premium app that comes with a three-day free trial and then asks for $6.99/month without any further in-app purchases. The kinds of video effects it offers are something users crave, so spending a few dollars is not a big deal. As of now, the app has notched up over a million downloads and 4,6+ ratings at the play store. 
Key features –
Merges pictures into videos at a tap of a button.
Have a separate button for clearing up caches. 
Lets you share videos directly to/from Instagram or Ticktock.
Has a wide range of creative videos coupled with templates, themes shared by people around the world. 
Easy to use, secure, and has support for Night-Mode.
Premium| Trial 3 days then $6.99 a month. 
Vinkle

If any app that can give Funimate a tough knock, then we can count on Vinkle. It's the blend of exceptional transitions effects and unraveling creative videos shared by the community. It requires you to log in to have access to its amazing templates, ready to use at a push of a button. You get to explore varieties of edited videos such as – fun, birthday, face, rhythmic, lyrics, beat, new, and recommend videos that you likely watch. The app's user interface is quite similar to Funimate, thus making it easier for users to navigate sections and use templates on the flow.
Before making any judgment, make sure you're acquainted with its premium subscription plan. It comes with the three days trial, then asks for a whopping $59.99/year fee for unwrapping every content and service it has. However, if you think the price could be a tidbit less, let's move on to the other apps like Funimate.
Key features – 
Thousands of templates to choose from different categories. 
Awesome transition effects and themes to be draped into your photos and videos.
Editors can grow rank and create a group.
Lets you delete an account for security purposes. 
3 days trial (no card required) | $59.99 per year.
You might like the best apps like canva for creating graphics stories
Beat.ly

Beat.ly is another great app for editing photos and videos using transitions and templates. Just choose any video from the app that you want to use, and select required photos by allowing the app to access your gallery. That's there for it. Now you have a fantastic template showing up your photo video story in seconds.
In case you want to edit the photos that you've already picked up, you can still replace and crop pictures by selecting one by one in the editing panel. In addition to it, you have an option to change music from default and download a video by tapping on the download icon. 
Free members have to deal with the watermark of the Beat.Ly, or they can replace it with something else, but can't empty the space until going premium. Though you're a free member, you still get a host of templates with creative transitions in the categories like Beat, Emoji, Fun, Love, and Vlog.
Premium users unlock all templates, remove ads, disable watermark, and export HD videos. This app has the features quite similar to the Funimate. 
Key features – 
Tons of templates for free users, and even more after an upgrade.
Users can use random music from the app's library and a local library.
Replaces, crop photos, and lets users change watermark images with a different image.
Easy-to-use, clean, and quirky.
Freemium| $39.99/yearly or $8.99/monthly
Vmix

It takes a unique spin on editing photos and videos. Unlike Funimate, it doesn't include thousands of templates or merges your photos into a template automatically for free. Vmix has some decent tools to edit photos and videos e.g., edit clip, overlay, text, VFX, music, split, duplicate, canvas, and background.
Whether you want to create Instagram stories or dazzling collages, the app offers utilities to fit your need. There is a downside to it – the templates, like the one Funimate app offer, but you can instead use VFX for transitions. 
It's pretty much flexible about selecting sizes, allowing you to create stories for various social media platforms. On the flip side of the coin, it unlocks every stuff like pro filters, pro VFX, pro blending, pro transitions, and more, when upgrading for the premium subscription.
Vmix has around a million downloads so far alone at the play store with an impressive rating of 4.5. You can try out the premium on three days trial plan while it charges around a one-time $29.99 to unlock premium for a lifetime.
Key features –
Offers nearly 12 tools to customize photos & videos.
Lets you add VFX, texts, overlay, music, and background into pictures and videos.
Has tons of fonts, and other options like stroke, color, mask, and shadow for texts.
Pro members get more unlocked transitions and other stuff that are hidden for free.
Freemium| 3 days trial | $29.99 one-time | $8.99/yearly
Motion Ninja

It's one of the best editing apps like Funimate you can use to give your photos awesome transition effects and eye-catching look. The tools it offers are top-notch and not easy to get the hang of, so you can play around with the tools or read tutorials to understand mechanisms better.
There are loads of free stuff Motion Ninja houses for free users, as with premium, you unlock a bunch of transitions, filters, and a few stickers, effects, and a few stickers. 
The app also includes pairs of tools to adjust photos such as – saturation, exposure, highlight, shadow, ambiance, grain, temperature, fade, blur, and brightness. On top of that, you can add texts in the picture – including audio, voiceover, and mixer into a clip – depending on your need.
If you don't want to enjoy all resources and features, you can also pay for an individual item and grab it forever. 
Key features – 
Has over 200+ stickers, 200+ music, blends, filters, 50+ video FX, and 100+ fonts.
Users can learn editing watching free tutorials.
Adjusts photos brightness, exposure, contrast, and more.
Users can create unlimited editings for free.
Freemium| $11.99 one time | $5.99/ yearly.
VivaCut

It's undeniably the best app for high-quality video editing. It comes equipped with the dynamic free and paid tools such as Pro blending, pro transition, Ultra HD 4K, pro filters, and a few more. Similar to Funimate, this app has even more templates to use for free; yes, you don't have to edit anything manually. Having thousands of templates to allowing you to create a video from scratch is something set VivaCut apart from the rest. 
If any of those templates miss something you're looking for, then you can try to create a unique video using its editor. The editor in itself is quite intuitive, yet easy-to-use. However, to use the editor like a pro, you may watch tutorials from the top left corner of a screen or take a hint from the demo video you can find in your draft. As to apps like Funimate, VivaCut is the best option to go for. It's already topping the chart with over 10 million downloads. 
Key features – 
Loads of free content is available for basic members. 
You can find a plethora of free and paid templates on different categories.
No ads to freak you out.
Intuitive editor decluttered with brainstorming tools. 
Premium or 3 days free trial
Magisto

Magisto is undeniably the best application for video marketing that shares the same features like Funimate. Built by the Vimeo, the renowned video sharing platform, for editing videos out of thousands of templates and advance tools. It's the perfect option for those who don't want to go for a premium app, and miss essential tools in a free plan. Anyone can create an account for free and start making a video with the help of templates, themes, or from scratch. The tools that it offers are quite straightforward to use, allowing users to place images, edit texts in styles, and effects. 

The best part is it has no shortage of videos as you can explore wide range of videos in different categories that will help you on the way. Above all, It lets you upload random stock images to videos along with camera roll or gallery pictures. Despite housing plethora of templates & themes, you don't miss advances tools either for creating a creative video. However, upgrading to a premium plan will remove the watermark, unlock advance tools, effects, and let you generate more extensive videos with higher quality. 

Key Features 
Users can grow followers sharing videos. 
It has too many templates and themes to choose from.
Offers excellent tools to edit videos for free.
Lets you use stock images in videos.
Most trusted and easy to use. 
Freemium | $3.99/monthly.  
Boosted
Booster by Lightworks is another funky app for editing videos for your social media craze. With thousands of templates in categories like COVID 19, business, love, real states, fashion, travel, food, and many more, you'd never run out of ideas. The user interface is undoubtedly the best ingredient that this app offers, making it easier to navigate content. 

Boosted houses tons of templates, including premium and free. Just pick any template or theme, choose your format and start editing like a pro. In the basic plan, it has options like trim and cut, filters, media, colors, music, scene, while for editing texts, it has fonts, size, align, and shadow. When upgrading to the premium, you unwrap unlimited templates, polished filters, stock photos, custom platelets, 30+ fonts, and you can upload your videos. 

Key Features –
Clean User interface with a separate section for free templates.
Varieties of tools for editing texts.
Has custom colors platelet.
No obstruction to downloading high-quality videos.
Secure with straightforward features. 
Freemium| $7/monthly or $25/yearly
Kinemaster
Here comes the most popular app in the fray with the feasible, yet simple features. Not only is kinemaster the best alternative to Funimate, but also a less expensive option. Been featured in several notable publications like Forbes, Vogue, the app has managed to garner over 10 million users worldwide, attracting investors along the way. 

Using Kinemaster, you can upload multiple photos in layers, sprinkle texts, stickers all over with some animations, and lastly, add music before finishing off editing. At its core, with Kinemaster, you can also use tools like filters, reverse tool, chroma key, trim, and cut for editing photos. So far, we have discussed what you can do for free, but after you switch to a premium account possibilities are infinite. 

Key Features
Allows editing images in layers.
The only video editor that is available online with loads of tutorials. 
Supports high-quality video projects at up to 60 fps. 
Has eight different blending modes to be overlaid.
Secure, and intuitive. 
Freemium, $4.99/monthly or $18/yearly
Wrapping up – 
Funimate is the powerbank of dazzling short videos, themes, and templates with such amazing transition effects. It's quite straightforward, as users don't need to play around with tools to create editings. We've rounded up the few editing apps like Funimate that'd save the time and effort we put into making groundbreaking photos & videos.