Canva has become an indispensable graphic designing application that seamlessly works well for most of the graphics project. Unlike other heavy apps, Canva is faster and easy to use with all the necessary tools required for creating amazing posters, Facebook covers, Instagram stories, or collage. Using it, you can create pretty much what you want flawlessly. It has stored up lots of templates, and designs for every sort of project, so you do not have to recreate a design all the way from the start. As to the feature, and flexibility, it can fit your criteria, but the quality is the caveat. Whenever you publish high-quality photos, you have to purchase its premium plan worth $1.49 onwards. 
The perk of using this app is its availability on multiple platforms, allowing you to access from different devices using a single login id. However, there are some of the best Canva alternatives apps that retain the quality of your work and offer more flexibility. So, let's barge forward. 
Best apps similar to Canva
Picsart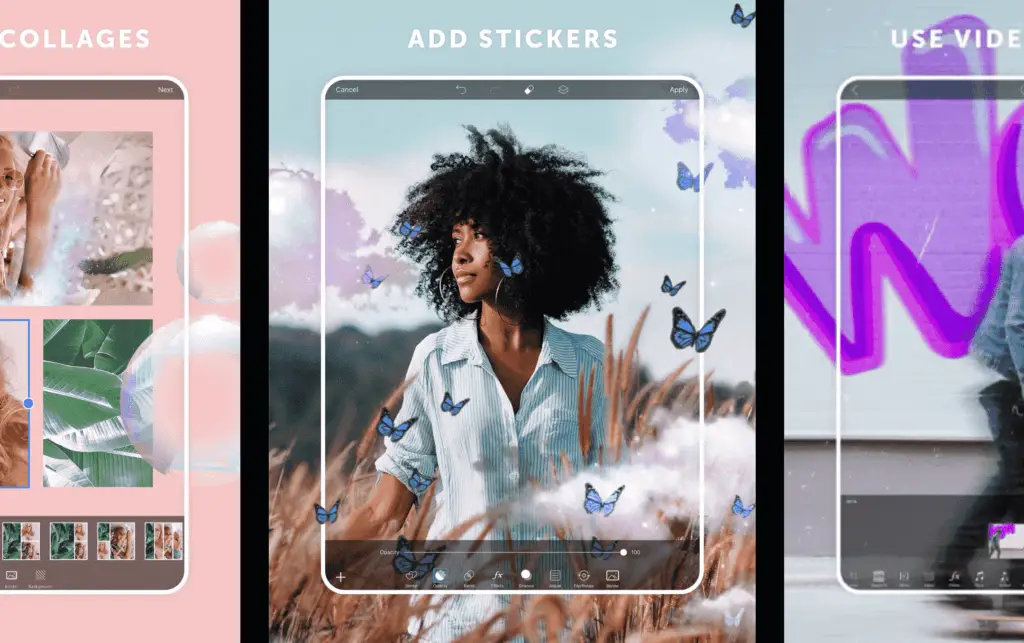 It's one of the best alternatives to Canva with over 3000+ tools to give you a headstart in fine-tuning your arts. It's intuitive and backs most of the features for free. If you use photoshop for erasing a background, remixing photos, adding some noise, or any editing, then you can ditch photoshop for Picsart. It's an all in one app that is a blend of top-notch tools, and thousands of remixes with similar photos shared by the users around the world. You can manually discover remixes by following tags or search panel and save photos for further remixing or other use. Using this app, you can explore other people's abstract arts, and scratch something out of them, helping you tap into the bandwagon of art quite effortlessly. Once you get a hang of every tool, you can easily create more complex graphics of different types. 
Besides, it has a challenge section, where users share creative photos built out of Canva editing tools, challenging others to complete a task given by a user. On top of editing photos, it has tools such as video editor, collage maker, sticker maker, drawing tool, photo effects, and other stuff. For more convenience and freedom, you can opt for its premium plan that unlocks every feature, and paid ads. Picsart is up for download at Google play store, and AppStore.
Graphionica Photo & Video Collages: sticker & text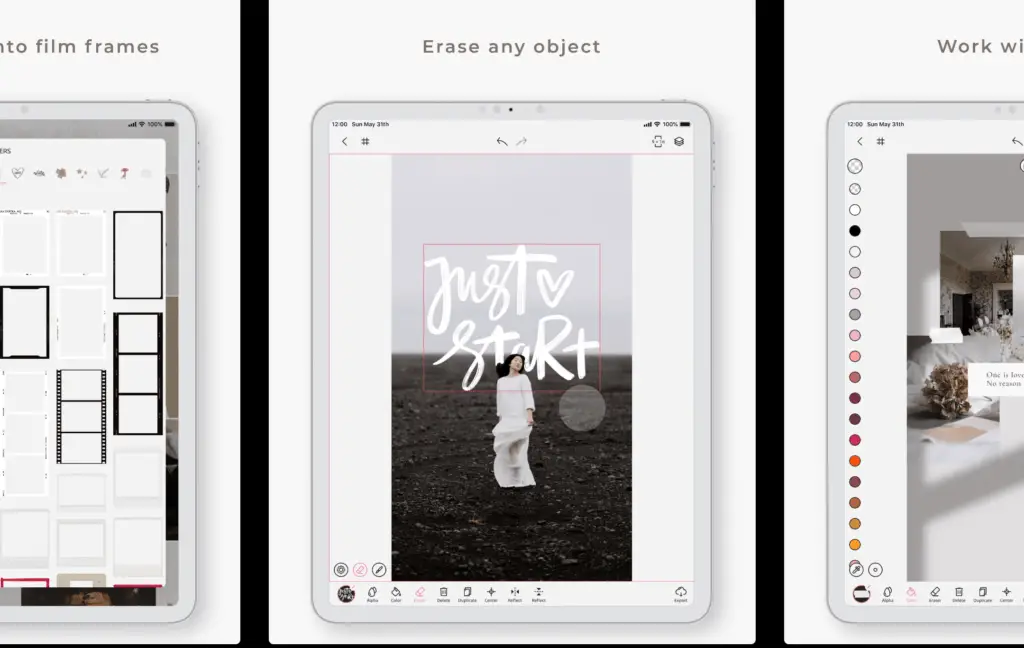 Graphiionica takes a unique spin when it comes to graphics designing. It's an excellent application for the people who like designing loads of cards, quotes, Video collages, and posters. As for tools & usability, it is minimalistic and easy to use as it requires you to drag & drop of elements much like any other tool. To get started, you need to allow this app to access your personal storage, so you can use all the photos your device have. On the home screen, you see great back to back images designed by the gems out there. Having picked any pic, you can find out the illustrations, stickers, or other elements used in the picture just by clicking on it. Apart from that, create your own project by tapping on the My project button
 Whatever stickers, texts, or pictures you use, get saved in layers, allowing you to manage elements in trunches. Also, you can adjust the size and location of elements using your fingers. There are many things to stylize a text – Whether you want to fill-opacity, color, or font style, the app has got you covered. 
Compared to other relevant apps, it's much like Canva considering the type of projects it lets you create. There is no shortage of elements, meaning you get more varieties of texts and stickers for styling your project. Best of all, it is completely free of ads and supports dark mode too. 
Desynger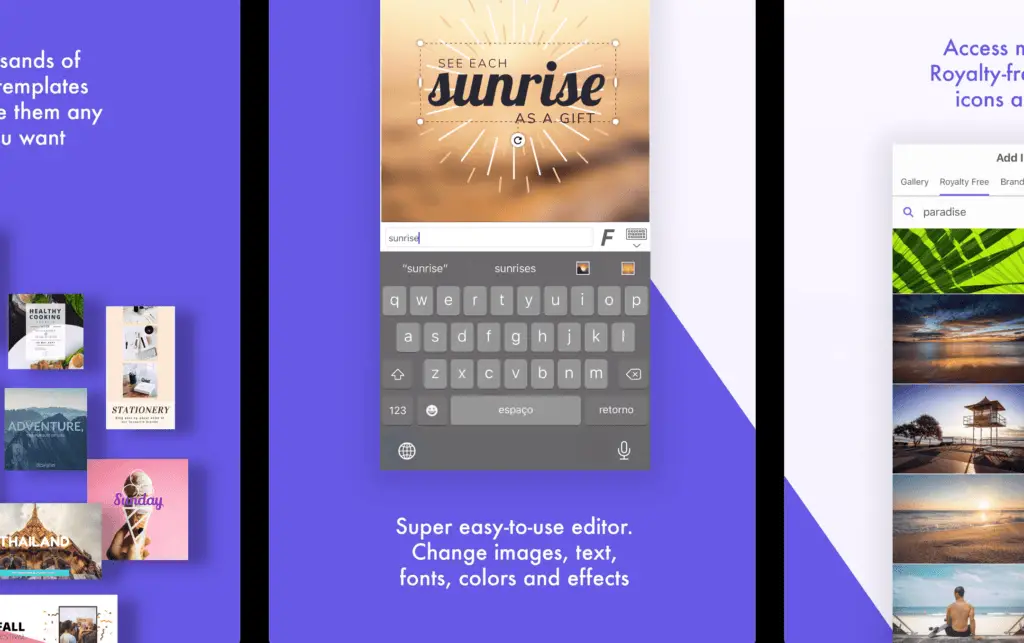 Want to craft templates? Desynger has your back. It does not only make the best alternatives to Canva but also gives a tough rivalry to it. With Desynger, you can create different types of stuff for Facebook, Twitter, Pinterest, and others, along with posters, greetings, adverts, web banners, book covers, business cards, visual boards, and to name a few. It's a freemium app, but all the tools are free to use without having you to go for a premium option. Nevertheless, you may have much better fonts and unlock premium templates, image search, schedule social media posts, Edit PDF, and build a content-rich library, if you consider having a premium subscription. New users get one credit to use a one premium template, then need to upgrade to Use more. However, you get to pick a host of free templates, or you can start a project from scratch.   
Whether you want to add texts, opacity, elements, stickers, backgrounds, and images into a single grid, multigrid, or custom template, Desynger lets you do it for free. If you Crave for the faster & quality graphics, it suggests you going premium worth $4.99 monthly, or $18.99 yearly. Much like Canva, it lets you create all sorts of projects, offering useful tools, and share images direct to social media or camera roll. 
Story Lab

Story Lab is another beast for creating bundles of templates stories from the start. It's highly intuitive, and freemium application loaded with a variety of stickers, fonts, and templates. At a click of a button, you can design an elegant story or feeds with tools like cutout, brush, and texts. To decorate, you can place oodles of backgrounds of different textures right after downloading them or pick any background color. Moreover, it also lets you use many photos with effects, along with your gallery pictures. Once you have everything in place or have been finished making a story or feed, you can save it to the album, or share to Instagram right from the Story Lab.
If you post Instagram stories or feeds so often, then StoryLab is what you're looking for. As to template size, you only get a single template both for story and feed, so if looking for a custom one, you should better switch to another app. Even though it has no flexible options like Canva, still it's a better alternative as it has various tools, and templates to choose from. 
When upgrading to premium, it unwraps all items, including templates, stickers, frames, backgrounds, filers, and stave off ads from freak you out. It comes with a monthly, yearly, and one-time fee structure. So far, it has over one million downloads alone at play store and boasts 4.5+ ratings. 
Crello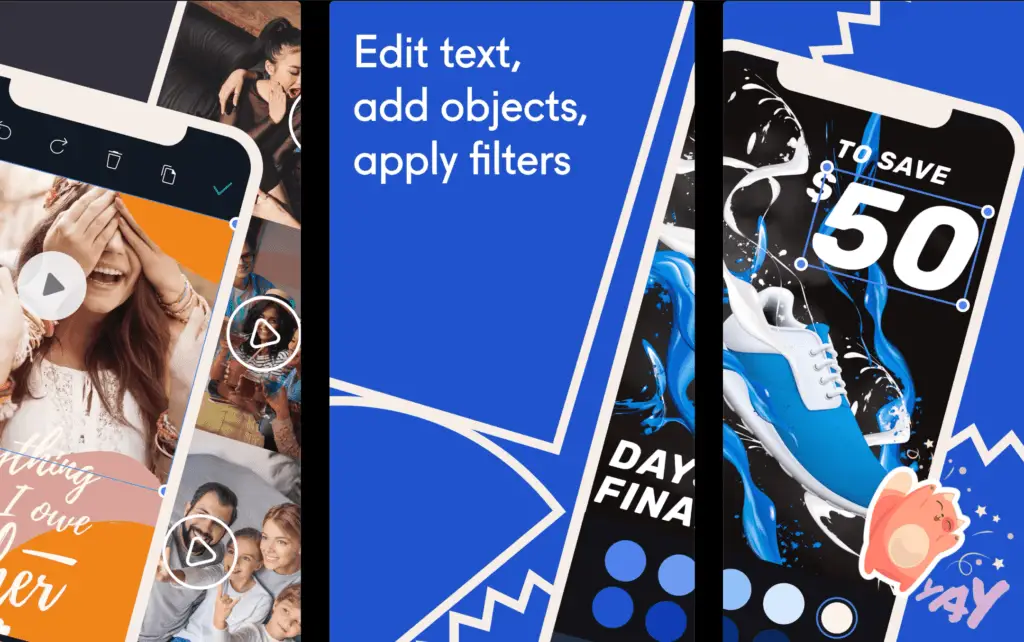 It's one of the best apps like Canva to build all types of templates. Unlike many relevant applications, it stores templates that can fit your need in any category. With Crello, you have an opportunity to explore intricate and elegant templates sized for various social media platforms. You can choose any template you want, be it a Facebook event cover, video post, Instagram story, or blog header, it arranges all the tools and formats in your service. Despite having such assorted templates, it doesn't charge you a penny, instead allow you to use all tools, and features for free. To get started, you need to choose a format of your choice by clicking on an add button.
After that, you can either pick any one template out of the bunch or start from scratch. The editor is just awe-striking, giving much flexibility that you can shape your project as much any other top-notch application. Your all projects, pending or completed, get saved in the My Projects page. 
Aesthetically, and tools wise, Crello stands apart from most similar apps that put a limitation on the contents, and tools. Not only it has decent templates and tools, but also it is an ad-free and striving for dedicating a free, and efficient platform for everybody. Just log in via any social account to save your progress, and you're good to go. 
GoDaddy Studio (Ex. Over)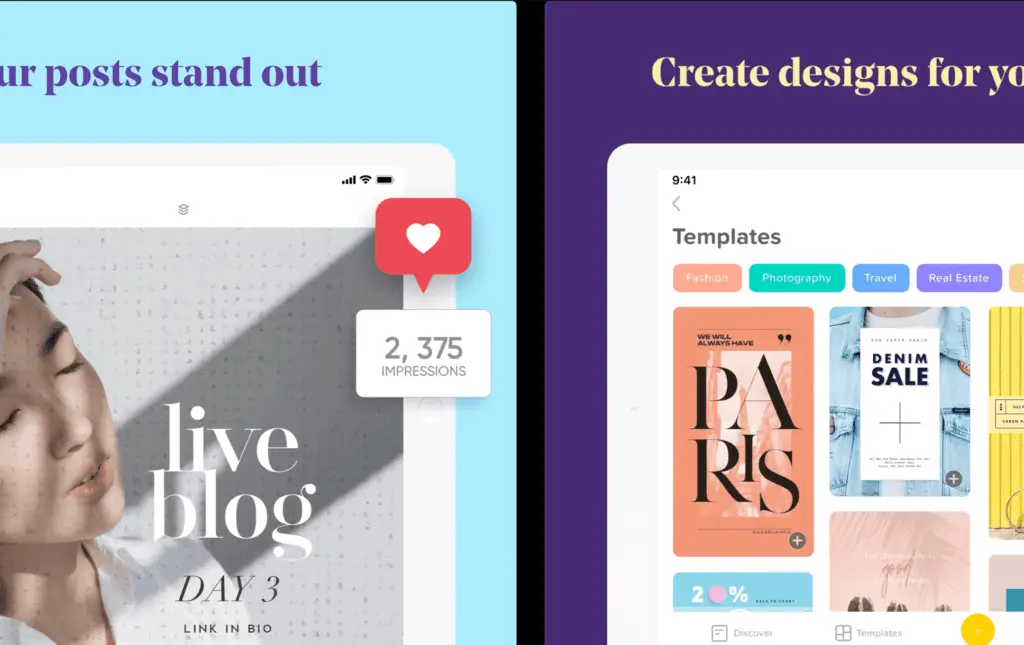 Yearning to explore a wide range of templates? The Over has got you covered. It's an intuitive, easy to use platform for creating a template of multiple formats. From the start, you get to scroll tons of editable templates just like any other app, though most of the templates are premium, thus require an upgrade. Anyway, templates give you ideas of what tools are capable of. Adding a custom template is as simple as it can be, putting forward several formats be it portrait, landscape, facebook-square, post, leaderboard, and many. After setting up a format, fill a blank canvas with snazzy texts, artful graphics, vector shapes, images, or with pretty much what you like. Every item you add has its layer, so that you can manage a whole project from the layer box, regardless of tapping, and dropping. 
Using Over, you can design intricate projects with ease, using several texts from the library, and custom fonts. Similarly, you get free and paid graphics for building your project, whereas shapes are only for premium users. It supports the night mode, and push notifications whenever a new update, or template surfaces. Undeniably, Over is one of the best apps like Canva that racked up over a million downloads and has 4.3+ ratings at the play store.